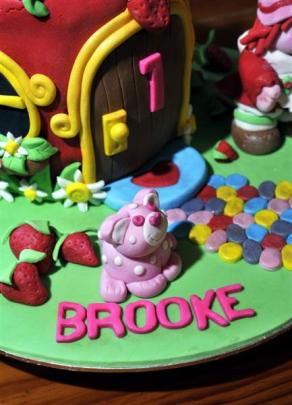 A young boy's simple request set Sharon Davies on a passionate cake-decorating mission.
"My best friend's wee boy wanted a Cars cake for his birthday, so that's where it started," she said.
That was in 2008 and, ever since, she has been the go-to woman for her friends, relatives, neighbours and distant acquaintances in need of a beautifully decorated, unique cake.
"Word gets around, so you do all sorts. Every year, I get something different. It keeps me busy."
Miss Davies works full-time as a locksmith and often has to reassure those who collect their creations from her workplace that she washed her hands and wore gloves when she made them.
"It's funny, because when I meet people they get a shock, but everyone has something different they do," she said.
She can spend up to eight hours making one cake, as she is "really fussy" and often becomes "caught up in it".
However, she rarely accepts payment in return, except maybe some eggs, and plenty of children's drawings, because she is doing it for friends and family.
"I just love making them, because of their wee faces - they get so excited. A lot of them won't let their parents cut the cake."
Miss Davies taught herself how to forge all the different requests people have made - from barometers, to guitars, trains, jandals, and cartoon characters - by reading books and searching the internet.
Her favourite, though, was a Simpsons cake, complete with Homer covered in doughnuts.
Her tools include Christmas icing, which she tints to suit each creation, and a rag-bag of odds and ends from around her home that have proved perfect templates for different-sized circles and patterns. For example, the tip of a ballpoint pen and top of a toothpick bottle are good for small circles, a chipper makes great "wiggly bits", and uncooked spaghetti helps keep figures upright.
"It's like playdough - you can mould stuff. I'm a chef by trade, so I've always dabbled in it, but becoming a locksmith, you don't get to do that stuff and you miss it." Each creation is documented in an album, and Miss Davies said it was interesting looking back to her earliest cakes and seeing how far she had come in three years.
While she would love to make a career of decorating cakes, her busiest period is "birthday month" in September, and the possibility of having too few assignments at other times of the year is too great a risk.
---
Tips
• "It's not as hard as people think. If you just let your imagination go, you can create anything."
• "You've got to trust your eye and just do what looks good." "It's always good to get a good book because it gives you, from the ground up, how to shape the cake and little tips."
• The internet is another source of information and inspiration.
• Sharon Davies buys her dyes from Total Food Equipment.
---