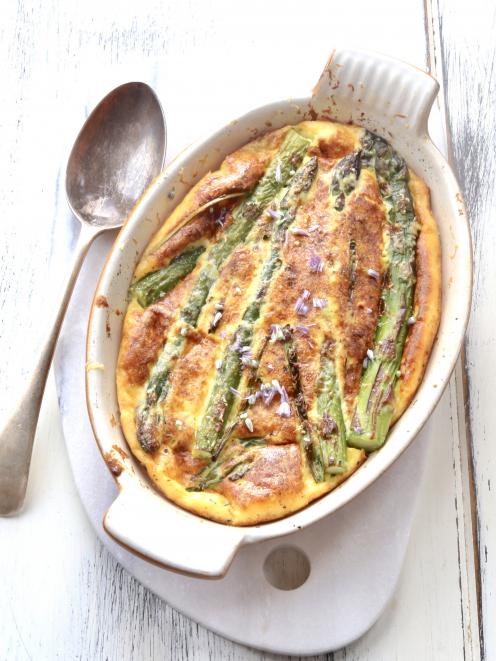 Simple combinations like this just work. It is almost souffle-like in texture and taste and works well as a lighter dinner.
Serves 2
Ingredients
1 Tbsp butter for greasing dish
12 asparagus spears, ends removed
6 spring onions, cut into 3cm lengths
4 eggs, lightly beaten
125g ricotta
50g fresh parmesan cheese, finely grated
½ tsp fresh tarragon leaves, roughly chopped (or thyme)
salt and cracked black pepper
Method
Heat oven to 180degC.
Lightly grease medium-sized oven dish with the butter. Set aside.
Bring a medium-sized pot of lightly salted water to the boil. Plunge the asparagus into the boiling water and cook for 1 minute.
Then add the spring onions and cook for a further minute. Drain and refresh under cold running water immediately. Drain once again.
Beat the eggs lightly and fold through the ricotta and parmesan cheese. Add the tarragon and season lightly with salt and cracked pepper, mix gently to combine.
Pour the batter into the prepared dish and lay over the asparagus and spring onions.
Bake for 20-25 minutes or until puffy and lightly golden and cooked through.
Enjoy with a crisp green salad.