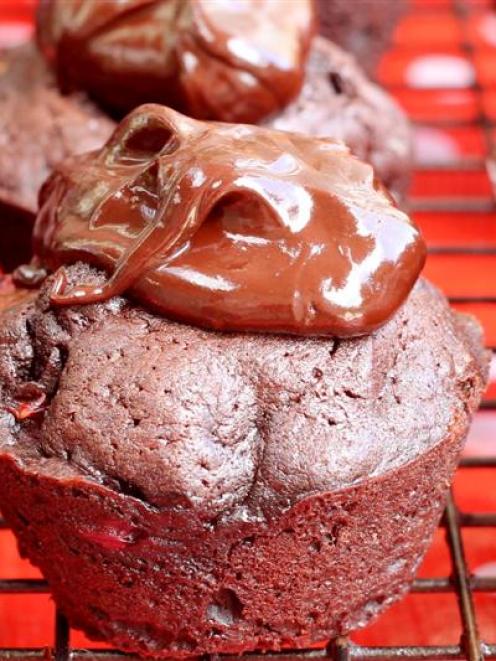 Fresh cherries and dark chocolate is one of those combinations which is hard to resist and these simple little cakes are a decadent treat. 
Cherry and chocolate mini-cakes
Makes 18
Ingredients
175g butter, softened
1 cup sugar
3 eggs
Drop of rose water (optional)
¾ cup unsweetened cocoa
¾ cup flour
½ tsp baking powder
½ cup sour cream or thick yoghurt
250g fresh cherries, cut in half and stones removed
Icing
2 Tbsp cream
100g dark chocolate
Method
Preheat oven to 180degC.
Grease 18 medium-sized muffin tins well with butter or use paper liners. Set aside.
Cream butter and sugar until light and fluffy, add eggs one at a time, beating well after each addition. Sift dry ingredients together and fold through the mixture alternately with the sour cream or yoghurt. Add the cherries and lightly mix to combine. Remember to stop mixing as soon as no flour is visible.
Spoon mixture into prepared tins so they are full and bake until risen and the centre is firm to the touch, about 15-20 minutes.
Remove from oven and cool in tin for five minutes before removing and cooling on rack.
To make icing: Heat the cream in pot or microwave until hot, add the chocolate and take off heat. Stir until the chocolate has melted and the mixture is silky and glossy.
Ice your mini-cakes however you like. Enjoy.
---
Alison Lambert, chef at the Otago Farmers Market, demonstrated this recipe at the market .
---