Flavours of Home is a series of recipes from around the world cooked by people at home in Otago. This week Selly Van Aalst from Indonesia shows us how to make beef rendang and yellow rice.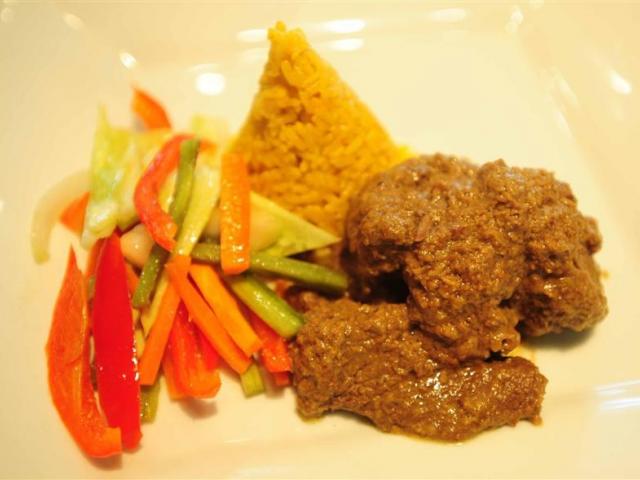 Rendang is a traditional dish from west Sumatra but which is popular in the rest of Indonesia and neighbouring Malaysia. It is served on special occasions, to honour invited guests and for national celebrations.
Traditionally, water buffalo was used, but now beef, chicken, lamb, duck are common, or vegetables like potato or the tropical jackfruit.
The long slow cooking allows the meat to absorb the flavours and become tender, and the liquid is reduced, leaving a thick coating of spice and coconut sauce.

Beef rendang
1kg blade or gravy beef cut into chunky pieces about 3-4 cm
7 shallots, chopped, or two onions
5 cloves garlic
1 thick slice of ginger or ½ tsp ginger powder
1 ½ tsp ground cumin
½ tsp turmeric
1 ½ tsp galangal powder
2 chillies or a sprinkle of chilli powder
2 tsp ground coriander
4 candlenuts or macadamia nutssalt to taste
3 Tbsp oil
1 can (400ml) coconut milk
250ml water
4 salam leaves or bay leaves
4-5 lemon or lime leaves
1 piece (about a walnut size) tamarind paste soaked in cup warm water (use the water only)
3 stems lemon grass, bruised
3 turmeric leaves
¾ cup desiccated coconut browned in a hot pan.

Cut the beef into largish pieces, about 3-4cm. Put the tamarind into cup warm water.
Put the shallots, garlic, ginger, cumin, galangal, chillies, coriander and candlenuts into a processor and pulse until it becomes a paste but is still slightly chunky.
Heat the oil in a deep pan, stir in the spice paste and cook for a minute or two. Add the beef and stir until it changes colour.
Add lime leaves, bay leaves, bruised lemongrass and folded turmeric leaves, and stir well until the spicy aroma wafts out.
Add coconut milk and water and stir well so the spices stuck on the bottom are incorporated. Squeeze the tamarind pulp which has been soaking in water to extract the flavour, remove, and add the soaking water to the rendang. Bring to the boil, then reduce the heat and simmer for about an hour with the lid off the pan.
Heat a frying pan and add the coconut, stirring until it changes colour, but be careful it doesn't burn. Stir into the beef and continue to simmer for another hour until the meat is tender.
The cooking process changes from boiling to frying at this stage as the liquid has evaporated and the meat and spices have become a light brown colour. Stir often to prevent the sauce sticking or burning on the bottom of the pan. You may cover the pan as the thick liquid may spit at this stage.
Serve with yellow rice and stir-fried vegetables.
Rendang keeps in the fridge for a week or more and is good reheated.
Nasi kuning (yellow rice)
Turmeric powder gives this rice a golden yellow colour. It is made for special events and celebrations, and is also distributed to neighbours to mark three and six months after a baby's birth.
Serve with beef rendang, grated coconut and spices, or omelette, spiced boiled eggs or chicken.
1 ½ cups long grain rice
1 Tbsp oil
20g butter
¼ cup chicken stock
1 ½ tsp ground cumin
2 ¼ tsp turmeric
2 ½ cups coconut milk or a mix of coconut milk and water
3 bay or salam leaves
2 pandan leaves
2 sticks lemongrass, bruised
2cm slice dried galangal
Salt to taste

Wash the rice and drain. Heat the oil and butter in a pan and stir in the rice until it is well coated with the hot fat. Stir in the turmeric and cumin, then add the bay or salam leaves. Add the chicken stock and coconut milk. The liquid should come just above the first joint of your middle finger.
If you are using a rice cooker, place the rice and spices in the bowl then add the liquid as above.
Add the pandan leaves, bruised lemongrass, dried galangal and salt to taste.
Allow to cook slowly until the liquid is absorbed. Remove the pandan and bay or salam leaves, lemongrass and galangal before serving.
For special occasions, Mrs Van Aalst likes to mould the rice into a small cone to serve. Push the rice into a cone or other mould and turn out on the plate.

TIPS:
• These dishes call for some unusual ingredients, which can be found in Asian grocery stores and some supermarkets.
• Lemongrass can be found fresh, frozen or dried. To use, cut off the top part of the stalk and bash the thicker bulbous end with a steak hammer or side of a knife to bruise it. Remove after cooking.
• Tamarind comes in a sticky brown block. To use, soak it in warm water for 10 minutes or more, then squeeze or sieve so the water is cloudy and coloured. Throw away the pulp and use the water.
• Salam leaves are used like bay leaves. Remove the leaves before serving.
• Kaffir lime leaves add a tangy flavour, but Mrs Van Aalst substitutes fresh lemon leaves from her lemon tree.
• Turmeric leaves are not common but can be found dried in Asian shops.
• Pandan leaves are used fresh but can be found frozen in some Asian shops.
• Candlenuts are oily tropical nuts, usually crushed and used as a thickening agent in sauces. They are mildly toxic when raw so are always cooked. You can substitute macadamias.
---
Selly Van Aalst was born in the Moluccas in eastern Indonesia but grew up in Jakarta in Indonesia, then married a New Zealander and came here in 1989.
- Thanks to Afife Harris and Leith Distributors.