Flavours of home is a series of recipes from around the world cooked by people at home in Otago. This week, Linda McCallum-Jackson, from Havoc free-range pig farm, shows us how to cook one of her favourite pork recipes.
Pork cooked in milk is a traditional recipe cooked in homes in Italy and other parts of Europe.
Linda McCallum-Jackson's grandmother used to cook this version although she didn't use garlic back in those days.
It makes a nice curdy sauce as it cooks.
---
Havoc Pork Scotch fillet in milk
1 pork Scotch fillet, approx 1kg
50g butter
A splash of good quality oil
1 cinnamon stick
6 rosemary quills
1 lemon, zest and juice
6 whole cloves of garlic (skin on)
500ml milk (use full fat or blue top)
Salt and pepper to taste
Heat butter and oil in pan. Lightly salt the pork scotch fillet and sear until browned all over.
Take the meat from pan, cut 6 slits with the point of a sharp knife and insert rosemary quills.
Put the meat into greased casserole dish and add milk, lemon zest and juice, garlic cloves, broken cinnamon stick and salt & pepper to taste.
Cover the casserole dish with lid or foil and bake in preheated oven. Cook at 180degC for 1 hour 10 minutes.
Remove casserole from oven and uncover. Take the meat out of the casserole, cover and stand in a warm place for 5 minutes to rest. Keep the wonderful curdy sauce warm.
Remove the garlic and rosemary, slice the meat and serve with the curdy sauce, accompanied by greens and potatoes mashed with carrot and pumpkin.
Serves 6 ordinary people or 4 farm workers
TIPS:
• Linda McCallum-Jackson likes to make rosemary quills. Strip the lower leaves off a stick of rosemary then cut the stick diagonally a few leaves higher so you have a 3cm- to 4cm-long sharpish stick with a few leaves on top. They keep well in the fridge and can be stuck into meat or used like a toothpick to flavour it as well as keep things like rolls together.
• When you unwrap vacuum-packed meat, allow it to rest and reoxidize for about five minutes before you do anything with it.
• Searing the meat in butter and oil gives a better colour than oil by itself. If you are cooking pork rolls at the same time, keep the meat juices to cook onions and stuffing ingredients.
• There is no need to peel the garlic for this recipe as the garlic is left behind along with the cinnamon sticks and rosemary quills after it has flavoured the sauce.
• The lemon makes the milk curdle as it cooks, providing the nice curdy sauce.
---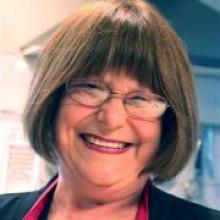 Linda McCallum-Jackson grew up in Auckland, where she worked in human resources and other aspects of the corporate world.
Then, at the end of 1999, she met Ian Jackson, who loved farming pigs on his free-range farm at the foot of the Hunter Hills near Waimate. She left corporate city life and turned her hand to raising piglets.
Together they established Havoc, their own brand of pork and pork products, and have been selling their wares at the Otago Farmers Market in Dunedin since 2003.
---
- Thanks to Afife Harris.