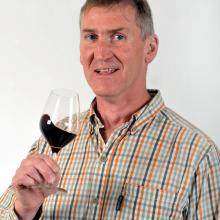 While in France recently, I farewelled a group of wine-loving friends who were off to Bordeaux to further indulge their passion.
The merlot and cabernet dominant blends crafted there have long been something of a template for producers around the world.
The Hawkes Bay wines featured here certainly nod to their Bordeaux counterparts, yet are forging their own path rather than mimicking a style and can comfortably stand alongside them.
Mr Collins and I certainly enjoyed our work today.
2009 Villa Maria Gimblett Gravels Library Release Reserve Cabernet Merlot
Price:  $70
Rating:  Excellent to outstanding 
Tobacco, cigar box, dustiness, the fruit melding into the whole. Showing development but the fruit weight still excellent with red and dark fruits and a touch of  Christmas cake. Higher acidity brings a tingle to the palate and a cooler feel to the mouth.
This comes together in the glass strutting its stuff and would be a great food choice.
2010 Villa Maria Gimblett Gravels Library Release Merlot Cabernet
Price:  $70
Rating:  Excellent 
Distinctive nose of bramble, smoke, cooked asparagus with mellowed cassis fruit. A sweet fruit core caresses the palate adding a menthol note to the marked asparagus. Luscious on the mid palate with powerful tannins, bright acidity and good balance. 
The distinctive flavours may make for a love it or hate it response.
2009 Villa Maria Gimblett Gravels Library Release Cabernet Sauvignon
Price: $70 
Rating: Outstanding  
Moving into secondary characters with plums, dark fruits, milk chocolate and a distinctive savoury aspect. A silky, creamy entry, the wine filling every crevice of the mouth before the tannins flood in to remind you of the structure. Generosity of flavour, intense fruit, chocolate, oak seasoning and a zingy backdrop. Complete and delicious.
Vidal Legacy Gimblett Gravels Cabernet Merlot
Price:  $70 
Rating:  Outstanding 
Complex nose with smoke, dustiness, peppery spice, and tobacco with lovely fruit in support. The palate leads with tobacco, cassis and plum; a hint of leaf on the beautiful and very long finish. Intensity here, yet finesse, elegant, fine and with bags of class: superb potential too.
Leaves you salivating and wanting more!
2015 Craggy Range Gimblett Gravels Sophia
Price:  $115
Rating:  Excellent  
Subtle but ripe nose with red fruits, fruit cake and a touch of mint/ menthol. Sumptuous on entry with creamy richness, the evident power matched by a core of freshness with ripe tannins encircling the wine. Red fruits and spice lead with hints of blueberry and a schisty close.
Nicely balanced though embryonic, promising more.
2013 Kidnapper Cliffs Gimblett Gravels Cabernet Merlot
Price: $65
Rating: Excellent to outstanding 
A sweetness to the perfumed nose with mint/menthol and cedar backing the red and dark fruits. Smoky and earthy with a crushed leaf twist on a palate that is supple, mouthfilling and intense; a lovely brightness framing the very long and delicious close.
Tightens a little in the glass, suggesting the best is yet to come.