Feeling like a wine-focused weekend away? Then the Alexandra Basin Winegrowers Annual New Releases Tasting might be just the push you need.
This year is the 12th edition and it will be held on Labour Weekend Sunday (October 25) in the gardens of Olivers in Clyde. This year's special guest is Candice Chow.
Your $30 ticket allows you to meet the owners and sample the wines from more than 15 local producers, with cheese, crackers and bread. There is also live music.
Tickets always sell out fast, so visit info@alexandrabasinwines.co.nz for more information. (There will be a full refund in the unlikely event of a Covid level change.)
Tonnellerie de Mercurey Central Otago Young Winemaker Competition
The Otago regional finals of the Tonnellerie de Mercurey Young Winemaker Competition were held in mid-September. Eight young men and women convened at Vinpro in Cromwell for a series of Covid Alert Level 2-influenced challenges.
Congratulations to Ben Tombs (Peregrine Wines), who successfully defended his title, making it a double for Peregrine following Annabel Angland's win in the young viticulturist competition. He will represent Otago in the national finals in Hawke's Bay next month.
Congratulations also to Jordan Moores (Felton Road Wines) and Rachel Bradley (Burn Cottage), who were second and third respectively.
New World Wine Awards 2020
Covid restrictions provided some extra challenges for the New World Wine Awards judging panels this year, but they successfully sniffed, sipped and spat their way through more than 1200 wines to compile their Top 50, which New World has now made available for sale.
With a $25 or less entry requirement, and candidates for the Top 50 required to have 4000 bottles available for purchase, this makes the NWWA gold medal winners truly accessible and affordable. Here are three from the Top 50.
2020 Rocky Point
(by Prophet's Rock)
Central Otago
Pinot Gris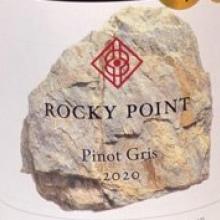 Price: $19.99
Rating: Excellent
Attractively floral nose, rose 
petal, Turkish delight, spiced 
pear. Just ripe apricot leads 
the palate with pear, spices 
and a refreshing tanginess 
that runs through the wine. 
A little citrus and nectarine 
pop up, while the texture 
develops a chalky nuance. 
Delightfully fresh and zesty 
style with fabulous length. 
Has spring/summer 
drinking written all over it.
2019 Vidal Reserve
Hawke's Bay
Pinot Gris 
Price: $25
Rating: Very good
Boiled sweets, creamed honey, 
toffee apple, a savouriness. 
Drier palate, tightly coiled with 
apple, apricot and nutty 
characters; a touch of apricot 
kernel adding a bittersweet 
element to the close. This 
grows in the glass, 
developing in flavour 
intensity, fruit sweetness 
and zestiness, yet retains 
that tighter, firmer finish 
that should pair well with 
food.
2019 Roaring Meg
(by Mt Difficulty)
Central Otago
Pinot Gris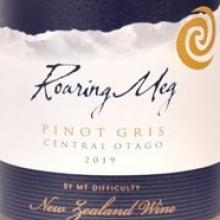 Price: $18.99
Rating: Excellent
Subtly expressed nose at first 
building with notes of citrus, 
apple and dry honey. The 
palate more powerful than 
the nose suggests, a burst 
of flavour, gum, mixed 
stonefruit, a hint of fruit 
sweetness and a 
mandarin-like note on the 
close. Remains bright and 
fresh to the very finish. 
Lovely poise and 
integration and absolutely 
bang on to enjoy now.