After a string of pinot noir tastings, the dynamic duo of Collins and McLaren sat down with me for a tasting of sauvignon blanc, highlighting a number of value offerings.
The variety is often dubbed our "hero'' for its dominance in vineyard plantings and huge importance in our export markets, and it was heartwarming to taste a well-made group of wines that offered subtle variation rather than sameness.
We each had our own stylistic preferences, yet there's good drinking to be enjoyed across all these wines, with promotional activity often leading to seriously good value.
2018 Giesen Marlborough Sauvignon Blanc
Price: $15.99
Rating: Very good to excellent
Attractively pungent nose with capsicum, cut grass, citrus and gooseberry. Rich and supple entry, nice weight and texture, driven by tangy gooseberry notes tinged with herbs. The nose settles, becoming more perfumed, while the acidity becomes more zesty.
Fruit sweetness is balanced by the tangy palate, flowing to a vibrant, lip-smacking, crisp finish.
2018 Saint Clair Marlborough Sauvignon Blanc
Price: $16.99
Rating: Very good
Delicacy on the nose yet appealing with hints of smoke, gooseberry and herbs; a little wisp of lime cordial with time. Crisp, fresh entry, a hint of sweetness on the palate countered by zesty gooseberry and herbaceous notes as it runs to a cool, bright close.
Highly charged acidity makes this quite a racy style.
2018 Stoneleigh Marlborough Sauvignon Blanc
Price: $15.99
Rating: Very good
A hint of struck match leads, before gooseberry, passionfruit and grassy notes take over: a perfumed soapy note too. Lovely freshness to the palate adding lemon and lime to the ripe gooseberry with the herbal notes on the close tending to bramble and tobacco. There's suppleness to the acidity, giving zest without sharpness.
A nicely done package with real drinkability.
2018 Brancott Estate Marlborough Sauvignon Blanc
Price: $13.99
Rating: Very good to excellent
Hints of just ripe banana, moving to bramble and cut grass, perfumed gooseberry skin over time. Grassy and bright palate, gooseberry to the fore with hints of mandarin too. Creamy palate adding wood smoke and a citrusy twist to the typical grassy elements running to a long and zesty close.
Nice intensity and carry, typically Marlborough and great bang for buck.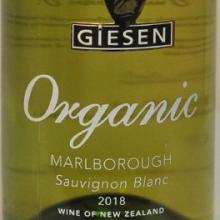 2018 Giesen Organic Marlborough Sauvignon Blanc
Price: $19.99
Rating: Very good to excellent
Musk, lanolin, peach, oak nuances, building to tropical fruit and grassy notes. Initially thought that a Chardonnay had slipped into the flight, with peach and a sour cream like note on the palate, but the grassy, gooseberry and citrus notes start flooding in. Different yet nice balance and integration, lovely texture, suppleness and freshness. 
Real drinkability.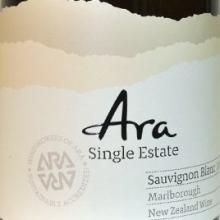 2018 Ara Single Estate Marlborough Sauvignon Blanc
Price: $19.99
Rating: Very good to excellent
Hints of sour jube evolve into perfumed fragrance with juicy, fruity appeal. Bright, zesty palate with that attractive tutti frutti note running through the palate.
The acidity is supple at first with good flavour intensity flowing to a long, bright finish with hints of grape jelly: the flavours hanging nicely in the mouth.
The zestiness builds, creating lots of appeal.