My editor contacted me in the lead-up to this edition with the grim news that they'd run out of columns. But no, was my first thought, as I do normally try to keep at least one or two ahead. I quickly went back through emails, checked appropriate Word folders, and — gasp — it was true.
Fortunately my tastings are up to date so it was a rush to get this little set together that were waiting for their moment in the (albeit watery at the mo') sun. Pinot Gris; a grape that wears its heart on its sleeve, with a couple of more serious examples. Stay warm.
2021 Loveblock Marlborough Pinot Gris
Price
$22.99
Rating
Very Good to Excellent
Fragrant nose with
aromas of fruit pastille
mixed with pear and a
wisp of herb.
Perfumed without
overt sweetness.
Supple and rounded
palate, yet an
appealing crispness
too which keeps this
fresh and lively.
Spiced pears fill the
palate, lime cordial
notes with aeration.
Very true to the grape,
showing a touch of
sweetness with time.
Appealing style.
2020 Te Kano Bannockburn Fume Blanc de Noir
Price
RRP $45
Rating
Very Good to Excellent
Fascinating nose,
Mackintosh's toffee,
fruit lozenge, clotted
cream, nectarine.
The palate follows a
similar path, adding
light grassy/herb
notes and a shift to
stonefruit characters
with citrus framing
the finish. Bright
acidity keeps this
racy and zesty, with
that little toffee note
on the close. I could
see this going a treat
with a creamy pork
dish.
2021 McArthur Ridge Falls Dam Central Otago Pinot Gris
Price
RRP $24.99
Rating
Very Good to Excellent
Powerful nose, wafts
of fruit sherbet, talc,
spices, chewing gum,
pear fruit in support.
Fruit sweetness and
viscosity in the mouth,
yet closes relatively
dry. Gum and fruit
jube, a tingly quality,
an almond nuance on
the finish creates a
nice counterpoint to
the fruit sweetness.
Blossoms nicely in the
glass, offering super
drinking now.
2020 Valli Waitaki Vineyard Pinot Gris
Price
RRP $34.50
Rating
Excellent to Outstanding
Intense nose, fragrance,
musk, apple pie,
perhaps white peach, a
savoury quality. The
palate is drier than the
nose suggests with
crisp apple, orange/
mandarin, spices, wet
stone minerality; that
savoury quality gives a
deeper note. Excellent
structure with some
chewy grip, adding a
little wildness. Flavour
intensity and
complexity, yet
refreshing too. A
serious style.
2020 Main Divide North Canterbury Pinot Gris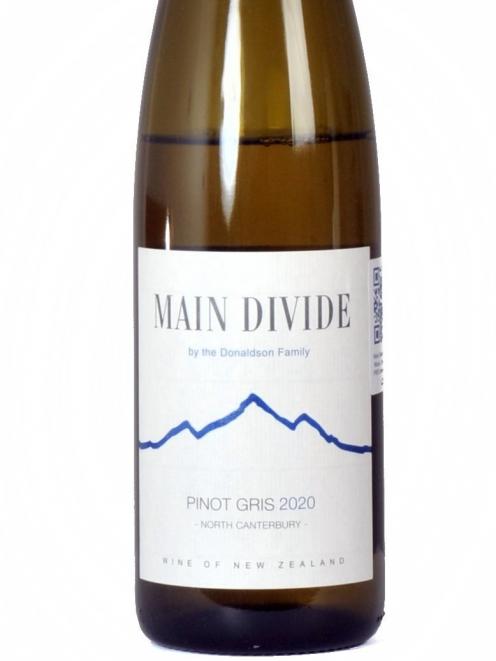 Price
RRP $20.99
Rating
Excellent
Smoky, bonfire
embers, perhaps
botrytis here adding
musk and comb honey.
Interest, intrigue. Richly
mouthfilling, a little
prickle at first, spices,
lightly honeyed, exotic
flavours hinting at
Turkish delight and
talcum. Fruit
sweetness nicely
matched by a
bittersweet quality to
the close, which gives
a refreshing twist.
Lovely depth here and
very moreish.
2021 Wild Irishman Tuturi Alexandra Pinot Gris
Price
RRP $40
Rating
Excellent to Outstanding
Attractively perfumed,
musk, hay, biscuit,
apple, some different
and rather engaging
notes. Super textural
richness and
creaminess, front
palate sweetness yet
closing dry. Dancing
between stonefruit and
apple, dry honey, flirts
with a little beeswax
leading to a long,
ginger and spice-
inflected finish. Quite a
serious, 'grown up'
style that draws you
back for more.