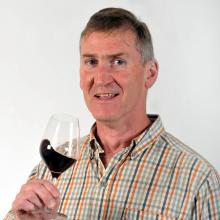 Aussies Shiraz. I cut my vinous milk teeth on wines like this.
With McLaren away doing the grape harvest in Central, Collins and I applied ourselves to this very accessible collection that you will find in almost every supermarket or bottle shop.
Promotional offers can see some of them at or under $10.
These are not wines to intellectualise over, but meant to be enjoyed with food, family and friends.
Soft, cuddly, sunshine-in-a-glass wines offering pretty smart bang for your buck. Enjoy!
2014 George Wyndham Bin 555 Shiraz
Price: $13
Rating: Very good to excellent
Black pepper, dark fruits and a charry underlay, becoming smoky with time. A zesty tingliness on the tongue with generosity to the flavours: a core of dark fruits and char with a top note of red fruits and a whisper of mint. Juicy, bright and with good carry of flavours. Tasty, utterly moreish and excellent value for money!
2015 Jacob's Creek Reserve Barossa Shiraz
Price: $17
Rating: Good
Liqueur fruits/berry compote lead the charge suggesting richness and sumptuousness. Bold, sweet fruit entry with mixed berry/red fruits, spices, warm leather and evident oak. A tangy, brash edginess to this youthful wine with woodsy/earthy notes on the close suggest a good complement to barbecued meats.
2016 Jacob's Creek Classic Shiraz
Price: $10
Rating: Very good
Berry coulis and a perfumed lift to the nose with fruit purity and understated oak. Sweet fruit and Fruit Jubes on the palate give way to a soft plumminess with a hint of milk chocolate on the close. Attractively crisp, refreshing and very easy to drink. A very tasty package that just cries out for a second glass and excellent value to boot!
2014 Grant Burge Benchmark Shiraz
Price: $18-19
Rating: Very good
Charry oak and brambles leap out on the nose; the fruit shines with time. Rich and mouthfilling palate, warm and inviting with squishy mixed berries, a tinge of cough syrup and spice notes leading to plum and fruitcake. Tannins and acidity lend structure to a wine that quietly grows in assuredness with time, becoming tastily polished.
2015 Taylors Promised Land Shiraz
Price: $15
Rating: Good to very good
Liqueur fruits, cough medicine, five spice and oak nuances.Sweeter liqueur fruits on entry with spices and mixed berries. A slippery viscosity to the palate: powerful fruit with noticeably intense sweetness that is held in check by some freshening acidity. Big, cuddly and right in the mould of the wee Aussie belter.
2014 De Bortoli DB Family Selection Shiraz
Price: $17-18
Rating: Good to very good
Red fruits, toffee/fudge and oak scents, adding in tilled earth and perfume with time. Juicy entry and a lovely, crunchy chewiness to the bright red fruits. Good long finish with a fresh zing on the close: the palate relying on fruit rather than oak. Very tasty and neatly balanced: this just works very nicely.