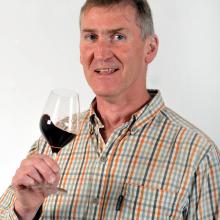 Our first commercial release of syrah in the modern age was just 25 years ago.
Call it a quarter century and it sounds like an age, yet 25 years in wine-making is not all that long, as growers and wine-makers work out where syrah grows best, the viticultural practices that most suit it, how it handles different vintage conditions, and how to sensitively turn the resulting fruit into compelling wine.
On the basis of today's tasting, they appear to have learned their craft rather well with a superlative collection that were a thrill to taste.
2014 Craggy Range Single Vineyard Gimblett Gravels Syrah 
Price: $32
Rating: Excellent to outstanding
Dusty nose with pepper, florality, blueberry and berryfruit; a touch brooding. Delightful savoury and spice notes on the palate with mixed dark berries evolving to smoked meats and dried herb, rich and intense while offering lovely balance.
The structure to age here, but also drinking beautifully now. Even more delightful as it opens up.
2014 Te Awa Single Vineyard Gimblett Gravels Syrah
Price: $30
Rating: Excellent to outstanding
A little wilder and a touch funky at first before the fruit floods in. Dark fruits to the fore with a note of red currant. A sweet fruit core here, with brighter acidity and lovely freshness, this wine offers a lovely breadth of flavours that grow with aeration on a fine tannic backbone.
Still rather youthful but with excellent promise.
2014 Craggy Range Le Sol Syrah
Price: $120
Rating: Outstanding
Smoky, savoury, licorice, perfume with notes of raspberry and sweet fruit.  Mouth-filling and intense, ripe fruit; yet avoiding being overdone with very, powerful tannins. Black olives and savoury elements build on the very long finish.
Not to broach now, this definitely needs time to unfurl, and will be fabulous.
2015 Soho Valentina Waiheke Island Syrah
Price: $38
Rating: Excellent
Quite open nose with oak spices, pepper and black tea. Bright in the mouth with crisp acidity, a beam of mixed, dark fruits through the wine with oak, spice, black olive and perfume on the close. While youthful and with clear potential, this feels more open for business.
With time this becomes delightfully savoury with a youthful brashness.
2015 Alpha Domus The Barnstormer Syrah
Price: $34
Rating: Very good to excellent
Spicy, floral and perfumed, with pepper on a cedar/oak backdrop. A fine boned and elegant style with nice balance and brightness, with a cinnamon oak undercurrent. This is still youthful and needing a little time to fully integrate though the elements are there.
Develops a sweet perfume (reminiscent of smokers lollies) with time.
2015 Mission Estate Gimblett Gravels Barrique Reserve Syrah
Price: $29
Rating: Excellent to outstanding
Pronounced florality, spices and inviting juicy berryfuit. Supple; medium to full bodied with an engaging roundness; plump without being overdone, and bringing in notes of black pepper, plum, blueberry and tea leaf.
Aeration brings the fine, chalky tannins into play, while a tangy edge brings refreshment to the long finish. Delicious.