Festive times are upon us once again.  It all gets a bit frantic as the money keeps pouring out and stress levels rise, adding an unnecessary burden to our Christmas Day menu.
I remember when I was young, Mum planned the menu months in advance, delegated dishes to family members and then it just seemed to go crazy getting all the preparation done and food cooked. 
Even though the dinner was amazing, I used to look at my mum - who looked happy, yet exhausted - and wonder why it has to be so hard?
This year, I have kept the budget low, foraged for some ingredients and created recipes that you can make well in advance, so all you need to do is to get a bit creative to make it look amazing.
Merry Christmas everyone. Stay safe, be happy and enjoy your time with family and friends.  
- Alison
Raspberry and cream cheese cakes
These little cakes are keto, gluten-free and diabetic-friendly. I also use monk sugar, which is derived from the monk fruit and makes them refined sugar free!
They need to be kept in the fridge until ready to eat and can be frozen to make life easier!
MAKES 24 SMALL CAKES
1 24 Teflon mini round muffin  (4-5cm) tray
Base
1 cup almonds, soaked in water for 12 hours
1/2 cup coconut flakes
3 Tbsp monk sugar
pinch salt
1/4 cup coconut oil, melted
Topping
250g cream cheese, softened
4 Tbsp butter, room temperature
2 Tbsp coconut oil
2-3 Tbsp monk sugar
1 tsp rose water (optional)
1 cup fresh or frozen raspberries
METHOD
Add the base ingredients together in a blender and mix until combined.
Quickly spoon the mix into the Teflon moulds and refrigerate until  set.
To make the topping
Blend the cream cheese, butter, coconut oil and monk sugar until combined.
Add the rose water and raspberries and blend until smooth.
Spoon on top of the bases and "bang" the moulds on a hard surface to even out the mix.
Refrigerate until set. Cakes will last in your fridge for up to 5-7 days and they can be frozen for up to 1 month.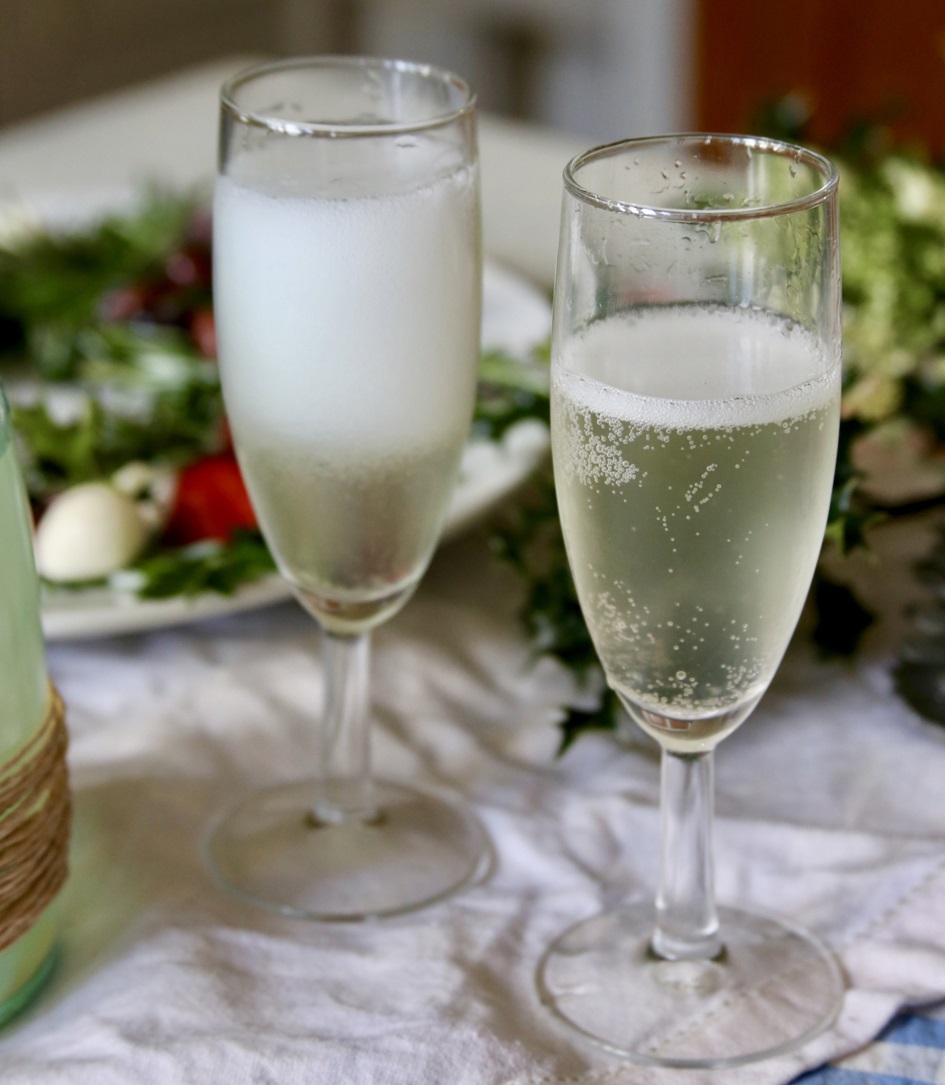 Sparkling Elderflower wine
This has been a tradition within our family and one that we eagerly love to share on Christmas Day.  Some years the batch is more heady and floral than others, but we all rejoice nevertheless as it has been made from our hedgerow elderflowers.
MAKES 8 LITRES
20 sprigs fresh elderflowers, remove any dead flowers and insects
2 litres boiling water
6 litres water
1kg sugar
3 lemons, peel cut off in strips
1 orange, peel cut off in strips
5g of yeast, (buy Champagne yeast from a homebrewing shop or online)
muslin cloth
Equipment
10-litre container
funnel
4 2 litre plastic bottles with lids
METHOD
Dissolve sugar in 2 litres of boiling water, set aside until cool.
Once the sugar syrup has cooled to room temperature, pour it into a large, clean 10-litre container. Add the rest of the water, citrus peel, the juice from 1 of the lemons, the elderflowers and the Champagne yeast. Give the mixture a good stir, cover with a muslin cloth and leave to ferment at room temperature for 3-4 days, giving it a little stir every day. You will notice a beautiful fragrance and it will start to bubble as the fermentation process begins.
For this next stage, ensure your plastic screw top bottles are clean. It is important to use plastic bottles, as the fermentation process produces carbon dioxide, which is what makes your wine sparkling but can also make bottles explode. The plastic bottles have a little give so can expand a little, and the screw-top lid isn't as airtight as a cork.
Pass the wine through a muslin cloth, then decant into bottles using a funnel. Tightly screw on the lids. The second stage of fermentation occurs in the sealed bottles and is what gives your the fizz.
Leave the bottles for another few days, checking each day and carefully opening each lid to let some of the gas escape if needed. After a couple of days the second fermentation should be taking place.
We have successfully stored our vintage brew to drink the following year.
Olive wreath
I was looking for a show-stopping centrepiece and found inspiration in the Greek olive wreaths. However, I couldn't find any olive branches, so decided to use something that is abundant in my garden - sprigs of rosemary - instead.
MAKES 1
380g olives
250ml olive oil (approx)
1 orange, zest of half
1/4 tsp fennel seeds
10 sprigs rosemary (approx)
1 roasted red capsicum
4-6 bocconcini balls or feta cut into cubes
METHOD
Begin by marinating the olives.
This can be done weeks or even months in advance by simply draining the olives of any brine.
Return them to the jar, add the orange zest, fennel seeds and cover with enough oil so they are submerged.
Seal and leave it to sit for at least a week, but a month would be better.
To assemble the wreath
Layer the rosemary around a large plate or something similar so you get a round wreath shape. You can add Christmas decorations if you want.
Then place the olives and bocconcini around the wreath. Tear up the capsicum before adding it to the wreath - this will add a little colour.
It is as easy as that! If you want, you could put a dip or even one of the baked camemberts in the centre of the wreath.
Enjoy!
Oozy baked camembert
This idea is a bit retro but it is absolutely delicious and easy to prepare. You can add any variety of toppings to the cheese and bake it until the cheese is bubbling and melted. It works with simple raw vegetables alongside and crusty bread if desired.
SERVES 4-6
250g camembert or brie
Topping suggestions
dried cranberries, balsamic and rosemary
walnuts, maple syrup, fresh dates
garlic slivers, thyme and olive oil
pesto and olives
prosciutto, thyme, shallot, balsamic
METHOD
Heat the oven to 180degC.
Prepare the cheese by using a small knife and remove the top layer of the skin, allowing about 1/2cm in from the sides.
Spoon on your desired toppings and bake for 15 minutes or until bubbling and melted.
Eat straight away with your desired accompaniments.