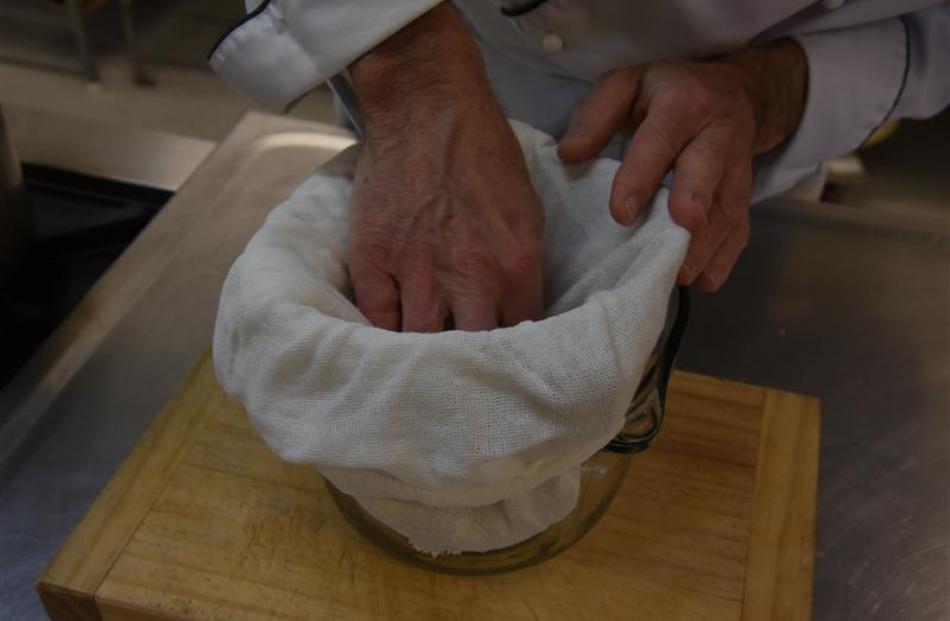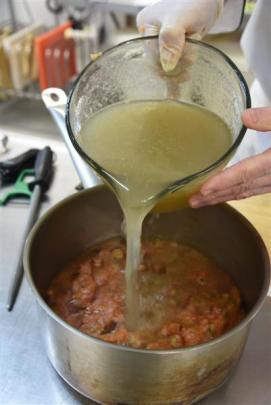 Daniel Pfyl, senior lecturer at Otago Polytechnic's Food Design Institute, shares some professional techniques to make your cooking easier. This month he shows us how to make a chicken stock in a pressure cooker and then do a consommé clarification to make a clear soup.
With a pressure cooker you can make a stock in about 45 minutes, a fraction of the time it would take in a conventional pot (4 hours). Ensure you have read the instructions on your pressure cooker before starting this recipe.
Consommé clarification
Ingredients
1 whole fresh chicken
700g onions (about 2-3)
200g carrots
1 bay leaf
1 sprig fresh thyme
3 litres of water (check water does not go above maximum level of pressure cooker) 
Method 
1) Blanch the chicken carcass in boiling water for a few minutes and then rinse under cold water until it runs clear.
2) Put carcass in 3 litres of cold water, add vegetables and herbs and bring to boil. Skim any scum off the top.
3) Seal the pressure cooker and bring to a full heat, reduce to a minimum of one bar or 15psi. Cook for 45 minutes then let the pressure cooker naturally depressurise. Open carefully, remove the chicken and reserve the chicken meat to make soup.
4) To make a simple stock, strain through sieve and refrigerate until cool. Chill or freeze until needed.
To take it a step further to make a consommé, it needs to be clarified. 
Ingredients 
200g raw chicken meat (thighs)
1 carrot, chopped
1 stick celery, chopped
¼ leek, chopped
1 tomato
about 1 cup of ice
4 egg whites
1 bunch parsley 
Method 
1) Coarsely mince the meat and then the vegetables in a food processor or mincer.
2) In a pot with a heavy base, thoroughly mix the mince mixture with the ice and egg white, followed by the cold (it must be cold) stock.
Gently bring to the boil, while stirring regularly with a flat-bottomed spatula to ensure it does not stick to the bottom of the pot. Add any flavourings of your choice.
3) When it boils, if a solid raft of the chicken mixture has formed on top of the stock, stop stirring and lower the heat to a simmer.
Allow the mixture to gently simmer for up to an hour.
Turn off the heat and let stand for 10-15 minutes, allowing the raft to settle.
4) Using a ladle, carefully draw off the consommé and gently strain through double layers of muslin. Overenthusiasm could make it go cloudy.
5) Correct seasoning and skim off any fat lying on the surface (a paper towel placed gently on the surface and quickly lifted can do the trick).
Reheat consommé and use as required.
---
Next month chef Pfyl will make a ramen-style wasabi and pulled-chicken noodle soup.
Jocelyn Moran (83) requested the consommé recipe after seeing it done on television.
• If you would like to request a particular technique we haven't already shown, please let us know. Write to Cooking 101, Editorial Features, Otago Daily Times, PO Box 715, Dunedin or email odt.features@odt.co.nz with cooking 101 in the subject line. To check earlier Cooking 101 columns visit: www.odt.co.nz and search for ''cooking 101''. More information on cooking from Otago Polytechnic can be found on www.otagocookeryl4.blogspot.com
---