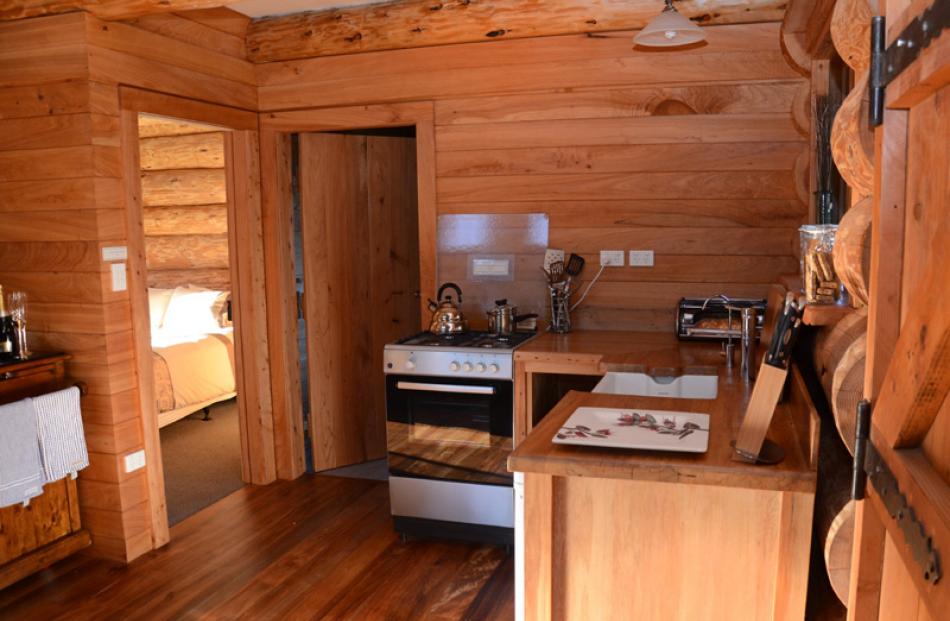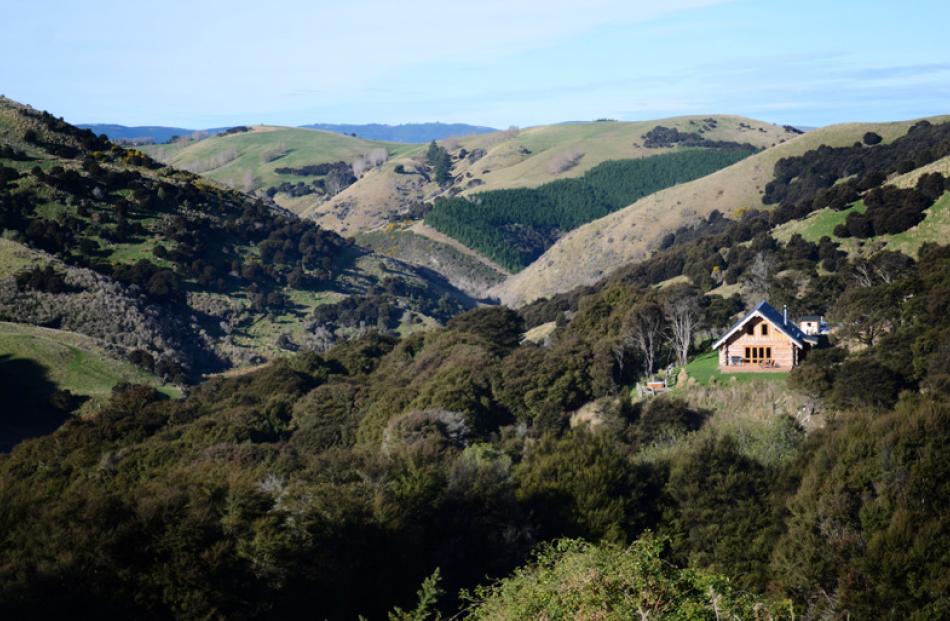 A cabin in the South Otago hills provides a retreat into another world, Emily Cannan discovers.
Nestled in a sheltered valley, the log cabin built by Dave and Janene Divers looks for all the world like a slice of back-country North America.
At any moment a homesteader might emerge complete with 'coon-skin hat, banjo and whisky jar.
But the distinctively rural New Zealand setting, with its kanuka and birdsong dispels the illusion. We're not far from Milton.
Nevertheless, there is an offshore influence at work here.
Mr Divers says his travels in Canada sparked the desire to build a log structure, a vision now fulfilled and christened Cascade Creek Retreat.
The cabin sits on a flat spot surrounded by rolling hills and native bush, on the Divers' 1500ha property, 10km inland from Milton. It has taken the past two years to build, but they think it is a unique and special "piece of paradise".
The journey started in earnest about six years ago when Mr Divers was investigating how he might build a log cabin entirely himself. In trying to source logs from the owner of a nearby forest, he was put in touch with Graeme Mould, of Natural Log Homes.
"They were running a six-week course annually on how to build using logs ... so I enrolled and over the next two years I did two weeks of the course. We were then asked if we wanted to sponsor the next year's course and I would learn the art of log building while building our own cabin. So Janene and I designed what we wanted both inside and out and employed an architect and an engineer to draw up the plans."
The first log was hand-peeled in October 2010 and the logs placed on the foundation in April 2011. It took six months to finish the basic build, then six months more to complete the finishing work and the landscaping. It was finally finished earlier this year.
There are about 50 logs in the retreat, the largest 11m long and almost 50cm in diameter. It weighs more than a tonne. The cabin has a 63sq m footprint, and another 16sq m of floor space on the mezzanine floor.
"The Oregon logs arehand-selected while still standing as a tree, for their size, straightness and minimal taper from butt to tip," Mr Divers said.
They are hand-peeled and measured for butt and tip diameters, straightness and length.
"From here, it is a repeated process of scribing, chainsawing and laying logs on top of each other with accuracy down to the millimetre. Overall, the highest logs will settle as much as 100mm as all the logs slowly shrink as they dry over four years."
The self-contained cabin sleeps up to six people, is wheelchair-friendly and designed to fit within the natural environment.
"It's location was chosen as it allows you to interact with nature as opposed to just observing from a distance," Mr Divers said.
The house uses solar power, with a small generator forback-up, and gas for the hot water, which is also connected to an outdoor bath.
"We wanted to utilise as many natural and recycled quality materials as possible that would enhance the rustic beauty of the property as well as allow us to handcraft many items ourselves. We made a conscious decision to source anything second-hand if possible and only buy materials new where this was not practical. The first questions were always: do we have this on the farm, or can we source it locally?"
The outdoor stone is from a local quarry and the stones used in the fireplace are from Alexandra. The timber windows and French doors are recycled from a local school that was renovating. The internal walls are macrocarpa. The carpets, insulation in the internal walls and between the logs is wool.
Many of the wood furnishings were crafted by the Divers themselves from old recycled rimu fence posts from their property, including the kitchen unit, bathroom vanity, mirror frames and the huge mantelpiece.
The fire pokers are made from steel from an old tramcar on the property and the main light fittings include parts of recycled farm implements.
Outside, a large deck sits above the valley and its kanuka bush tracks, creeks and winding waterfalls. A bird feeder is in constant use.
The Divers have been working to create a cohesive experience around the cabin, returning some of the farmland to its natural state.
"Over the past four years we have been identifying different areas of the property and establishing what the best use for that area was," Mr Divers said.
"We have established three areas of native bush, about 80ha, that have significant biodiversity and scenic value with the diverse birdlife, rivers, streams and numerous century-old totara, kahikatea, rimu and matai."
The approach has led to a relationship with Nic Hurring, who runs Project Kereru in Dunedin, an initiative dedicated to rehabilitating sick or injured kereru.
In the next year, the Divers will continue the native plantings around the cabin to improve food sources for native birds year round.
"We have many kereru on the property. A year ago we found a kereru that had been attacked by one of the native falcons, so we took it to Nic. She was able to rehabilitate it back to good health and brought it back to be released. She has since released more kereru here into the valley that Cascade Creek Retreat is located in."
---
More info
www.cascadecreekretreat.co.nz
www.projectkereru.org.nz
---

- Emily Cannan.