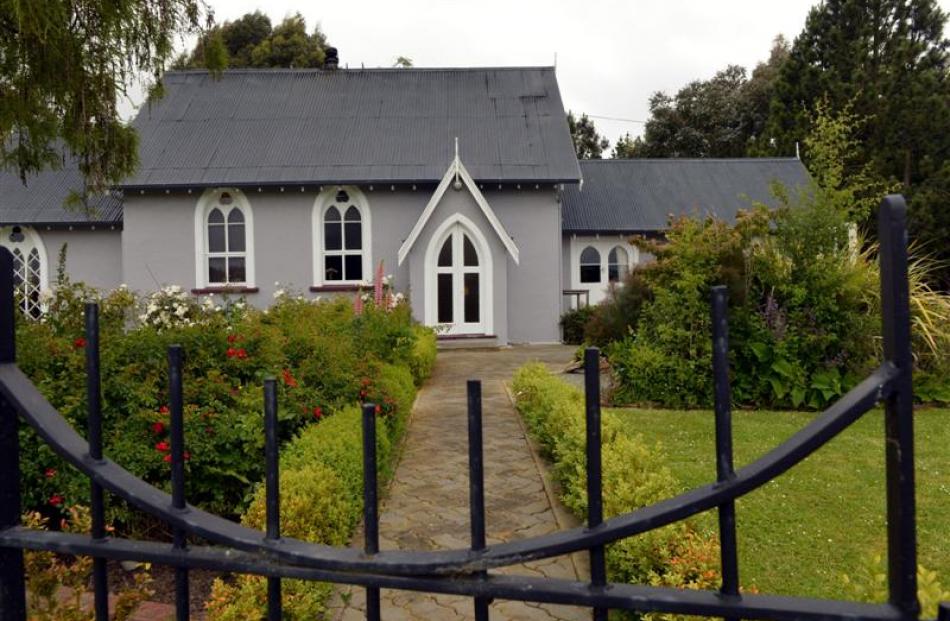 Marise Martin fell in love with the former St Mary's Anglican Church at Herbert and has put her heart and soul into making it a family home. Sally Rae talks to her about living in the historic church.
When it comes to residences, what better place for North Otago's self-titled Victorian domestic goddess to been domiciled than a converted historic church.
Home for Marise Martin and her husband Graeme is the former St Mary's Anglican Church at Herbert, in rural North Otago.
It was built in 1881, the foundation stone laid on August 3 that year, by the Rev Algernon Gifford, a well-known figure in North Otago's history.
Rev Gifford emigrated to New Zealand after 12 years as a missionary in Labrador and began his local ministry in 1862.
During his years of service, he was charged with building St Luke's Church and churches in Maheno and Hampden. A stained glass window above the high altar was installed at St Luke's as a memorial to him.
Rev Gifford also officiated at the dedication service at St Mary's in Herbert on December 21, 1881, and apparently he had to raise his voice to be heard over the rolling thunder, during a ''tremendous'' summer thunderstorm, Mrs Martin said.
Mrs Martin was unsure when the church started to fall into disrepair but, even by the 1930s, she understood that there was a long period when it was not used.
She and her first husband bought the property in 1980. The previous owners had bought it by tender from the church in the 1970s and ''saved it''.
There were holes in the roof and floors, no glass in the windows and even the local community thought it was only suitable for demolition.
''It wasn't thought anyone could bring it back to life,'' she said.
That couple did structural work, installing electricity, water, a septic tank - ''the back breaking stuff'' - before selling.
At the time, Mrs Martin and her husband were living in Christchurch and were looking to move to North Otago, where they had family.
They came down for a long weekend, thought they would have a look around and Mrs Martin recalled how she ''just absolutely fell in love'' with the church.
She was captivated by the feeling inside the building - ''it's just a very peaceful, nice place to spend time'' - and while it was an impulsive decision to purchase, it was one she had never regretted.
She was fortunate that her second husband, Graeme, brought with him a range of skills that she ''sorely needed''.
''He paints and he wallpapers beautifully ... he makes furniture and restores furniture. He's been an asset,'' she said.
Over the years, the living and bedroom spaces had been added to considerably, but all the work was sympathetic to the original building, including the installation of arched windows and exposed beams. It boasts a new kitchen, spiral staircase and extensively laid-out grounds.
Gardening and plants was something that was a passion for Mrs Martin and it was lovely to see trees, that she purchased as a young homeowner, from the bargain bins at local nurseries for no more than $1.50, grow into ''magnificent'' specimens, she said.
Her particular passion was for herbs and, alongside a large range of herbs for both culinary and cosmetic use, she also had a collection of rare and unusual herbs that were not used regularly, such as gypsywort, creeping Jenny, elecampane and figwort.
The Victorian domestic goddess made her debut at Oamaru's Victorian heritage celebrations in 2006, and has since enlightened audiences on everything from matters pertaining to housekeeping to how to snare a man. Her knowledge of herbs and passion for history underpinned each show.
Mrs Martin grew up in Central Otago and, as a very small child, could remember picking rosehips and cutting mint for a factory in Clyde.
She also recalled going out into the big pine plantation, behind Dunstan High School, when she was a secondary school pupil and cutting thyme to sell it to fund a school trip.
While ''green'' remedies and products were becoming trendy now, she had always been aware of using plants, she said.
As far as interior design, one thing that had to be kept in mind when living in such a building was the scale, and she tended to have ''bigger stuff'' than people would ordinarily have in a home.
''Little things get lost,'' she said.
One of the nice things about living in the church was that it brought ''people to the door ever-so-polite that say `I remember when'.''
They might have remembered it from their childhood, or had a family member who was married there. It brought people that were searching their family tree and people that were on a journey back in time ''for their own reasons''.
''As I've gotten older, I've really appreciated that,'' she said.
Mrs Martin raised her own two sons in the house and then two step-sons were integrated into the family there. It had been a real family home, which had also hosted some large events.
In 2006, the Martins hosted a 130th birthday party for the church, preparing a three-course meal for 35 family, friends and Herbert Heritage Group members.
Guest of honour, Michael Gifford, the great-grandson of Rev Algernon Gifford, unveiled a small brass plaque, just inside the front door, to mark the occasion.
''Hopefully, I'll be there for the 150th and we'll repeat the whole process with exactly the same guest list,'' she said.
Mrs Martin loved living at Herbert, which she described as an inclusive, friendly community which was ''loaded with good people and history''.
The Martins recently bought an Oamaru stone cottage in Oamaru, which dated back to the late 1860s, and was a ''work in progress''.
''We're thinking we own two of the oldest and quirkiest places in North Otago. It's an indication of how much we appreciate history.
''I think it's really nice to be able to re-use buildings. It would be sad if they just turned to dust,'' she said.