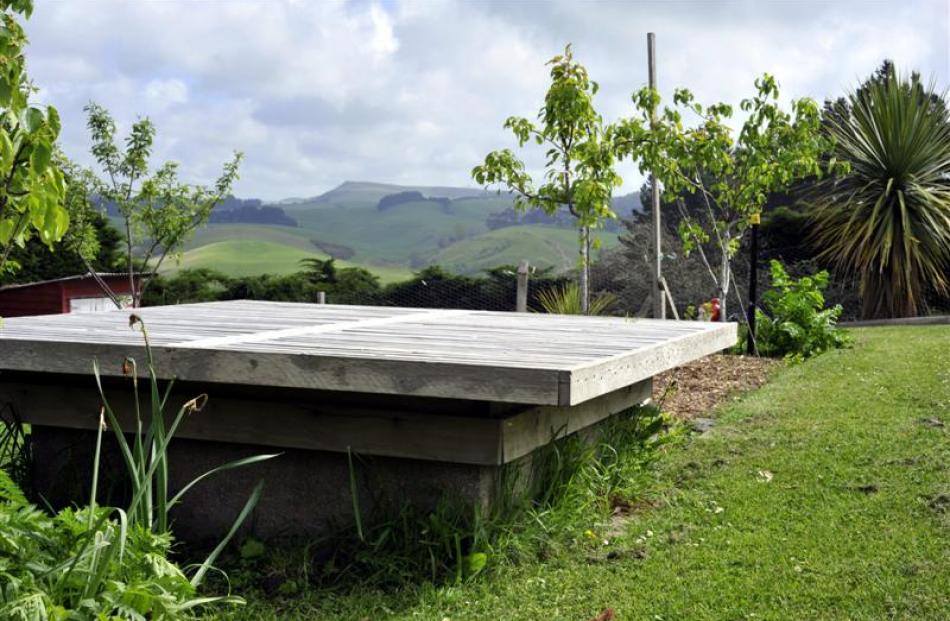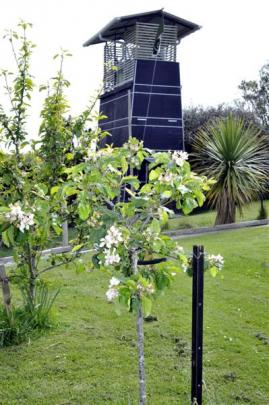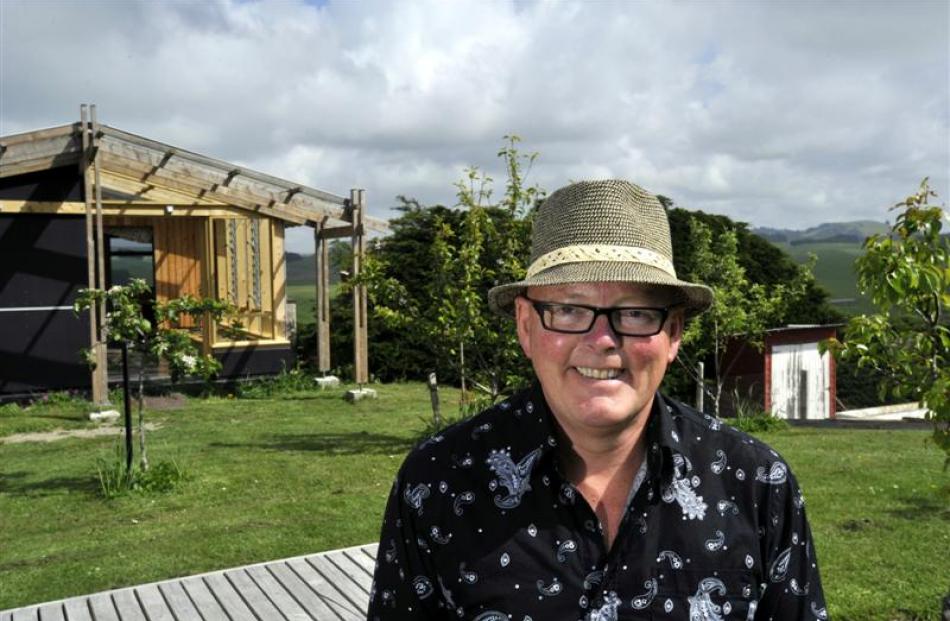 Who would buy a steep, scrub-covered, pocket handkerchief-sized slice of rural land with no water supply? Ian and Fliss Butcher would. Allison Rudd talks to the couple transforming their difficult plot into an oasis.
It was the view that swayed them. After settling in Dunedin in 1994, Ian Butcher and his wife, Dunedin city councillor Fliss Butcher, began searching Otago for a rural retreat from urban life. 
They had only one non-negotiable criterion. Because their central-city home is a converted Sunday School hall on a tiny section, their holiday home had to have enough space for a garden and trees.
On this day, they had taken the inland Pigroot from Palmerston, meandered here and there, and found themselves driving back towards Oamaru via Ngapara.
"Then, on Ardgowan Rd, we saw it - a `for sale' sign with white mountains behind," Mr Butcher recalls. "We fell in love with the view. It was ... similar to the view from the farm I grew up on in the southern Hawkes Bay."
The 1.4ha section was the former Ardgowan School site, about 3km from Oamaru. The school had been moved across the road and all that was left was the concrete swimming pool (so solid Mr Butcher gave up trying to demolish it and decided to build a house over it instead), some old foundations now turned into a shed, a seat, and several hedges.
Despite its magnificent vista west to the Kakanui mountains, there was limited interest in the land; in drought-prone North Otago, it lacked water.
There was no bore. The Weston township water scheme ran past the gate, but potential purchasers had been told the scheme was overloaded and the Waitaki District Council would not allow new connections or issue a building permit.
Those barriers might have been enough to put others off, but not the Butchers, who ignored those declaring them "mad", and bought the land in 1999.
"What the council said set us on a path to prove we didn't need to connect to the Weston supply and could get an adequate water supply in terms of the Building Act by collecting rainwater," Mr Butcher says.
They obtained a permit to build a water tower to collect rainwater they could use when camping. The Butchers did not want the standard utilitarian concrete or steel structure.
Instead, Mr Butcher designed a wooden, fort-like structure with a water tank on top and storage below.
"As it stands so tall [7.5m] and is so obvious in the streetscape, I needed to make it as beautiful as possible," he says.
In 2006, the year after it was completed, the water tower became the smallest structure in New Zealand to win a national architectural design award.
The Butchers had begun building the tower when the council had a change of heart.
With more development occurring along Ardgowan Rd, it decided to extend the Oamaru water supply, which also ran past the gate.
The Butchers had originally hoped to be totally self-sufficient with their food production, energy generation and water supply, but decided to connect to the town supply.
The storage space in the tower was converted into a tiny living room and sleeping loft and the Butchers progressed from camping to sleeping indoors.
More water enabled the couple to better care for their new plantings. They had planted hundreds of native and timber trees between the broom bushes, along with shelter belts and an extensive garden and orchard near the road where the old school buildings had been.
Their gardening efforts are literally bearing fruit. Between them, the couple reel off the varieties they now harvest - apples, pears, nectarines, apricots, peaches, plums, nashi pears, feijoas, kiwifruit, grapes, lemons, grapefruit, cherries, red currants, black currants, and "all the berries". They will soon plant another 100 apple trees.
Growing anything is "a mission", Mrs Butcher says, because of frosts, "vicious" westerly winds, and unwelcome visits from rabbits and possums.
But the Butchers are not defeated. They have replanted their garden (but not all the timber and native trees just yet) and trap the rabbits and possums.
Mr Butcher prefers to think of them as a resource rather than pests. The rabbits are eaten and the possums are skinned. Mr Butcher, who learnt to cure pelts as a boy, plans to cure enough possum skins to create a blanket or throw.
Once the water tower was completed, living accommodation was next on the agenda. The plan was for Mr Butcher to design a house and for the couple to build it with help from their family - they have five children and eight grandchildren between them.
It would be an environmentally friendly, low-energy house using as many recovered and recycled materials as possible and incorporating solar passive design, which uses location, solar energy, insulation and double-glazed windows to do most of the work of keeping the house warm in winter and cool in summer.
After finding the site was not suitable for wind turbines, they hoped to generate all their own power using photovoltaics - panels of solar cells that convert sunlight into electricity.
As the house plans progressed, Mr Butcher realised he was going to need a workshop and a hefty electricity supply to run his power tools. Although remaining off the mains grid was philosophically appealing, it was also "very expensive and bordering on the irresponsible", he says.
"So we did the responsible thing and connected." Mr Butcher thought a simple, cheap shed would suffice as his workshop. But the couple decided a shed would do nothing for their spirits, nothing for the property, and nothing for their aesthetic philosophy.
"So, it was back to the drawing board," Mrs Butcher says.
She came up with the great idea of building a two-level building with workshop below and a studio on top, something Mr Butcher enthusiastically supported.
"I had never dared to think that extensively, because of the cost, but it made perfect sense."
The workshop is finished and the 40sq m studio almost there. It is a light, open space facing north to tap solar energy and west for the mountain views.
A glass-roofed conservatory with citrus trees growing in an interior garden doubles as a dining room. Next to that is a bedroom screened off from the living room and beside that are a tea-making area and bathroom.
The walls are concrete to store and release heat, insulated with recycled wool matting and lined with timber.
The floor is concrete with timber detailing. All the glass, including the conservatory roof, is double glazed.
The whole effect is "like a big duvet", which keeps the warmth in, Mr Butcher says. For cooler, sunless days there is an energy-efficient Spanish-made electric heater on a permanent thermostat, which switches on between midnight and 7am if the temperature drops below 17degC.
The indoor flushing toilet feeds into an ecofriendly underground disposal system, which uses worms, beetles and other bugs to convert solid waste into liquids. The concept is similar to an above-ground worm farm.
On the Butchers' property, the liquid is pumped to a 200m-long effluent-disposal field, on top of which they will plant their apple trees.
Dotted around the property, under cover to protect them from the rain, are Mr Butcher's "finds" - unwanted timber he has saved from the firewood pile and dressed with the help of a sawmiller friend.
There is Lawson cypress from the Dunedin Town Belt reserve, black poplar from the Dunedin Botanic Garden and Logan Park, larch from Geraldine and macrocarpa from North Otago.
Mrs Butcher is quick to add she did not pull any strings to get the city council trees.
After seeing trees in the Town Belt with large white crosses on them, the Butchers approached council reserves staff and were told various trees around the city were felled because of disease or age and nothing was done with them, apart from being used for firewood.
They could have them for the cost of carting them away.
Mr Butcher says there must be many landowners and local authorities with trees going to waste. Wouldn't it be a great idea for someone to identify those trees, mill and air-dry them, then use them in council projects, he says, Or the timber could be sold or given to joiners or furniture-makers.
Unfortunately, with his own projects on the go, that person will not be him.
The Butchers expect to begin building their home next year. It will be a "snazzy" 90sq m, one-bedroom house similar in design, construction and finish to the studio.
Many people asked why they were not building at least a two-bedroom house, Mrs Butcher says. But with extra sleeping and living space already available in the water tower and the studio, one bedroom is all they require.
"This is not a building for other people; it is a building for us," she says.
However, the house will have a commercial kitchen. Within a few years, the Butchers plan to move to Ardgowan and into semi-retirement. Mr Butcher will continue his architecture practice and indulge a developing passion for furniture-making.
The couple also plan to sell produce and home-made apple cider, jams and jellies.