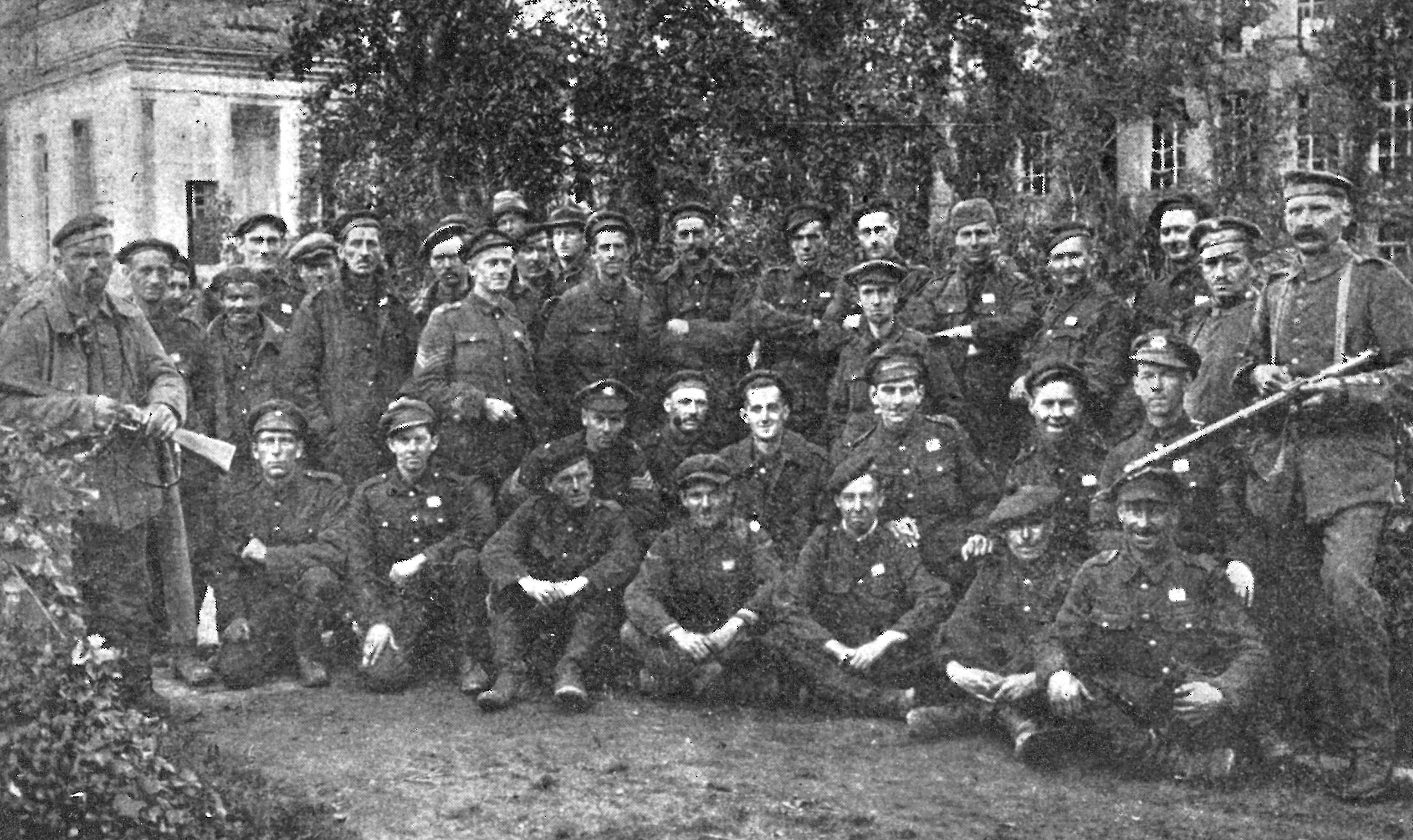 Relatively few New Zealanders were taken prisoner during World War 1, which makes the experience of Otago troops at Meteren - 100 years ago this week - exceptional, writes Tony Eyre
OUR perception of the experience of those held in German prisoner of war (POW) camps is likely to be shaped by Hollywood classics such as The Great Escape, or British favourites The Colditz Story and The Wooden Horse. And if wartime incarceration could be seen as a laughing matter, then the popular long-running TV series Hogan's Heroes did its best to create that impression.
More than 8000 New Zealanders were taken captive in World War 2 but only about 500 in World War 1. Little has been written about the small number of New Zealand servicemen taken prisoner during 1914-1918 but a single event on April 16, 1918 during the Battle of the Lys, on the Western Front, was notable in that a reported 210 New Zealand troops - many of them from the Otago Regiment - fell into Germans hands on the outskirts of the French village of Meteren near the Belgian border.
It was as part of the 2nd NZ Entrenching Battalion that two Otago companies were deployed in Meteren. Entrenching battalions were generally temporary units made up of previously active members of other battalions and new reinforcements. Their role was to improve existing defences in anticipation of German attacks and could include trench work, road formation and cable laying.
With the start of the German Spring offensive, the entrenching battalion had been ordered to move camp from Abeele to Meteren and on the way encountered heavy troop, artillery and transport movement along with fleeing civilian refugees as the anticipated enemy attack drew near. The Official History of the Otago Regiment in the Great War records the incident that resulted in the large-scale capture of New Zealand soldiers, later to be officially reported as prisoners of war.
The 2nd NZ Entrenching Battalion was ordered to dig in near the village of Meteren but a number of its platoons were soon deployed to strengthen English troops in defensive positions against the expected German attack.
Part of the 1st Otago Company took up positions with the Canterbury Company to the right of Meteren and the 2nd Otago Company and the remainder of the 1st Otago Company were assigned to the left of the village.
After the Germans had attacked and taken the nearby town of Bailleul, the English troops to the left of Meteren were put on standby to withdraw on the expectation that the enemy would continue its advance on Meteren.
It was at this point that a breakdown in communications had regrettable consequences. The English troops quietly withdrew during the night but failed to inform the adjoining New Zealand troops. The Germans, attacking at daybreak with heavy machine gun fire, surrounded the New Zealanders who, with no means of escape, were forced to surrender. As an entrenching battalion, ordered to dig in a line of defence for Allied troops, many of the platoon members were light on experience, without officers and little in the way of ammunition.
Sergeant Thomas Souness, from the small coastal North Otago town of Kakanui, in the absence of any superiors, was in command of a platoon of the 1st Otago Company at Meteren and tried unsuccessfully to get his men out; a few were wounded in the attempt.
Out of three platoons stationed to the left of the Meteren village, only two men escaped, one a lance-corporal despatched by Souness with a message for help. As well as the 210 men of the 2nd NZ Entrenching Battalion taken prisoner in the Meteren operation, a further 42 were killed and 148 wounded.
THOMAS SOUNESS first saw action at Gallipoli as a private in the 8th (Southland) Company of the 1st Otago Battalion. He was wounded sometime in August 1915 and shipped off to St David's hospital in Malta and later transferred to London military hospitals for further medical treatment. From Malta he wrote home to Dunedin saying of Gallipoli, "It was a good turn the Turk did me as I was getting a bit tired of it on bully beef and biscuits''. Later, in another postcard home from London, he wrote, "The Turk that wounded me was shot by one of our officers. He had his revolver ready.''
Six months later Souness rejoined his unit at the Moascar camp near Cairo and then shipped with his Otago Battalion to Marseilles in April 1916 to join the struggle on the Western Front. For three months he was engaged in action at Armentieres before moving on in September to the bloody battlefields of the Somme. Here Souness was wounded near the Gird Trench on September 27, Otago's worst day on the Somme. The same day, Souness' Northeast Valley friend, Private Edward Arthur, was mortally wounded and died in his arms.
In June 1917 at the Battle of Messines, Thomas Souness, now promoted to sergeant, accompanied Major J. Hargest on a reconnoitre behind enemy lines to gain accurate intelligence on enemy positions. Both were able to safely withdraw despite the presence of a German patrol. On the first day of the British attack on Messines, Souness was slightly wounded but remained on duty. A week later in the St Yves sector he was wounded again, more seriously in the left leg, and evacuated to a base hospital in Etaples. Recuperation took more than seven months before he was returned to the NZ Division in Abeele and then sent on leave to London.
Returning from leave to France at the beginning of 1918, Thomas Souness received what was to be his last posting, the 2nd NZ Entrenching Battalion, which placed him on the edge of Meteren under German attack, witnessing many casualties, and steeling himself for captivity as a prisoner of war only seven months before Armistice Day.
The captured troops were marched off and split into different parties, the majority taken via Armentieres to Lille. Some of the smaller groups were put to work at ammunition dumps throughout the day and night to load and unload shells. For two weeks after capture, Sgt Souness was assigned to this role before being separated from his group and sent to work on a motor transport in Belgium.
BY far the worst conditions were experienced in Lille, in northern France, where thousands of British prisoners were held. Sergeant Jack Skinner, from Dunedin, who later founded the seed and grain merchant, J.S. Skinner & Co was one of the many New Zealand soldiers taken prisoner at Meteren who were eventually quartered in Lille Citadel, a transit facility for processing prisoners before being sent on to labour or detention camps all over Germany. On his return to Dunedin in 1919, Skinner was interviewed by the Otago Daily Times and gave a detailed account of his experiences as a prisoner of war. From the citadel he was transferred to the notorious underground chambers of Fort MacDonald - known as the "Black Hole of Lille'' - on the outskirts of the city.
Sergeant Skinner described how he was put into a one-windowed room with about 250 others. Iron beds with boards on them were crammed in to accommodate three to five prisoners each. The only sanitary provision for all the prisoners was a single barrel that was emptied once a day. The room was lice and vermin ridden and there was no access to water. Prisoners were allowed out twice a day to an adjoining room for an issue of barley coffee and half a loaf of bread and then for sauerkraut, which Skinner described as "about as much stinking cabbage as you could get on a spoon boiled up in water''.
Dunedin's Lance-Corporal Gordon Neill was another Meteren captive to spend time in the inhumane conditions of the "Black Hole of Lille''. He described his experience as "hellish''. In a letter to Sgt Souness' daughter, Audrey Fogarty, in Dunedin, he wrote, "In no way can I forgive the Huns for what they did to us''. He was eventually evacuated with pneumonia to Soltau, the largest prisoner of war camp in Germany.
When released at war's end he was granted extended leave in Britain to study. He worked as an optical mechanic for his uncle in Glasgow and after passing his optometry exams, returned to Dunedin in 1921 to join his brother in partnership as Hugh & G.K. Neill, in George St.
At the time of the Meteren capture in 1918 there were well in excess of two million prisoners of war held in Germany and this sheer weight of numbers meant that the provisions of The Hague Convention for the protection of prisoners were not fully respected.
It was nearly four months after capture before Sgt Skinner and others in his group were registered as prisoners of war. The International Committee of the Red Cross maintained an index of prisoners from lists supplied by both sides of the conflict but no food parcels ever reached Skinner and his party despite being dispatched.
Jack Skinner's registered detention camp was Gardelegen, not far from Berlin, but he was never placed there during his time of captivity, remaining instead in working parties in France and Belgium and marched from billet to billet with little to eat.
LARGE numbers of the New Zealanders taken prisoner at Meteren in April 1918 were from Otago and Southland. Most returned home after the Armistice but a few died in camps or nearby hospitals from diseases such as typhus.
One who failed to return was Private Joseph Crowe, a farmer from Otautau. Interned in Giessen camp in Germany, he died nine days after the signing of the Armistice.
On being returned to London from captivity, Sergeant Souness was interviewed by NZ War Records Section and outlined the circumstances of his capture at Meteren and the events following. In his statement he recorded that on the morning of his capture he received word to retire to headquarters about a kilometre away and some of the men in his platoon were wounded on their attempt to retreat. "Presently,'' he said, "the Huns advanced on our own trench and we were surrounded. We started to fire on them but the odds were too great and I was taken prisoner with fourteen others.''
Of his time in captivity in Belgium where he was put to work by the Germans for the final months of the war, Sgt Souness succinctly summed up his ordeal in typical understatement, "I cannot complain about the treatment I received except that I was a bit hungry at times''.
As a prisoner in German hands, Thomas Souness' war was effectively over. Is it any wonder that he had little complaint of his time in captivity if you take at face value his official statement given in person at NZEF Headquarters in London in 1918?
Four times wounded (at Gallipoli, the Somme and Messines), Sgt Souness had seen and experienced it all - the nightmare of constant artillery shelling; hunger, cold and fatigue in the trenches; death and maiming of his mates; the stench of rotting and bloated corpses; shell shock and mental disintegration of many around him. All for the Empire's cause. Despite the unknown and uncertainty of being taken prisoner, it was probably a welcome alternative to his "Passport to Hell'' (writer Robyn Hyde's epithet for the ordeal of the soldier on the Western Front).
Certainly one of the lucky ones to return to civilian life, Thomas Souness settled in Dunedin, later buying a home in Titan St that is now the Robert Lord Writers' Cottage. He worked initially as a fireman and then as a maltster with the Dunedin Brewery and Wilson Malt Extract Co Ltd. He was one of the more than 50 POWs from Otago and Southland who made it home from the so-called Meteren incident.
Tony Eyre is a Dunedin writer.