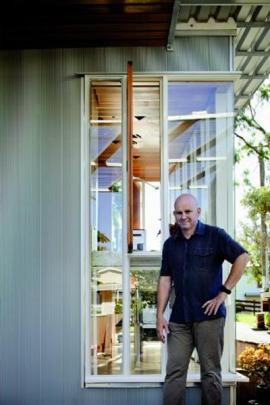 Amid all this talk of housing affordability (or unaffordability), do we need to regard our homes in a different light? A renovation of the mind perhaps? Shane Gilchrist reports.  
Michael O'Sullivan has designed all sorts of houses over the years, both big and small.
In the latter category is his own home, a 112sq m dwelling he completed in 2008 in the less-than-trendy South Auckland suburb of Mangere Bridge, where Sullivan live with his wife and their four children.
A partner in Auckland architecture firm Bull/O'Sullivan and lecturer at the University of Auckland's School of Architecture, O'Sullivan is also about to start a similarly small-home project for a friend in Arrowtown.
''My home is pretty tight and doesn't probably meet the bill of a large percentage of New Zealanders,'' O'Sullivan says, alluding to the fact our average house size has almost doubled since 1940, according to Quotable Value statistics.
Back then, the average new house in New Zealand had a floor area of 112sq m. By 1950 that figure stood at 117sq m, growing by roughly 10sq m per decade until 2010, when it reached 205sq m before scaling back to 192sq m in 2011.
Though three-bedroomed houses were the most popular configuration several years ago (according to the 2006 Census) the proportion of one, two and three-bedroom houses actually fell almost 5% in the decade up to that report and the number of houses with four or more bedrooms rose 5.3%.
''We can never get enough four-bedroomed houses to sell,'' Liz Nidd, Real Estate Institute of New Zealand director for the lower South Island, says.
''Now, people with two children want a four-bedroomed home with two bathrooms, so they'll have a spare room or a study, an ensuite for them and a bathroom for the kids.
''It has become the norm. People want space, sometimes far more than they actually need.''
Ms Nidd says people buy big houses for lots of reasons. Some do need the space; others believe such a dwelling will give them status.
''The aspirational purchaser is always going to exist. People will often buy beyond what they need - and beyond what they can comfortably afford - because they have an idea they need that type of house. This is in all markets, not just the current market. This relates to house buying full-stop.''
Yet this demand for size comes at a time when houses are, well, unaffordable.
In 1949, the average house cost 2.1 times the average annual salary. By 1989 that ratio was about 4.2. Now, according to the recently released ninth Annual Demographia International Housing Affordability Survey, median house prices are 5.3 times the median income. Historically, housing has been regarded as affordable when the average house costs about three times the median income.
Auckland continues to be the least affordable market, with a median multiple of 6.7, followed by Christchurch (6.6), Tauranga-Western Bay of Plenty (5.9), Wellington (5.4) and Dunedin (5.1) all severely unaffordable.
According to Real Estate Institute of New Zealand data released this week, the national median price rose 4.2% compared to January 2012 to $370,000, but eased 4.9% from the record $389,000 set in December 2012. One way to lessen or avoid the financial burden of buying a house is to see that configuration of walls and roof in a different light.
Ms Nidd suggests house tenure could be envisaged over a shorter time frame. Think in terms of five years, rather than, say, 10 or more. That way, people are more likely to address current needs - or those of the immediate future - rather than shelling out money for contingencies (i.e. all those extra bedrooms) that might not occur.
''That way people might not affect their cash-flow as badly as if they purchased, or built, something bigger than they need at the time.
''I've suggested to people who are looking at building to talk to their architect or designer about doing it in a modular fashion: build something now that meets your needs but has the ability to be extended. As long as the site has been developed with that in mind, it can be a really good way of doing it.''
However, she acknowledges ''future-proofing'' is a popular concept among those looking to buy or build. And if someone asks her advice as to what size home they should build, she often suggests - ''as long as they can afford it'' - a dwelling comprising four bedrooms, two bathrooms and a double garage.
''Also make sure the living space, main bedroom, bathroom and a second toilet are all on ground level. That immediately opens the market to families and those in retirement, who can have their own living but also have room upstairs for the wider family when they come to stay.''
O'Sullivan's grander designs have graced more than a few glossy pages of architecture magazines over the years, yet he is no less proud of his more humble abode.
''If you are on an average income*, you're going to struggle to build something like a four-bedroom, three-bathroom house. That's where I was coming from with the idea for my own home.''
(*According to Statistics New Zealand figures for June 2012, the average annual household income from wages and salaries was $82,029.) O'Sullivan says there was a subversive aspect to his desire to create a 112sq m space for himself and his five family members.
''I didn't expect everyone would `listen' to the idea. A lot of the motivation was to do with the fact you don't need to give every kid their own space. In many respects, kids are better adjusted if they are introduced to the need to share from an early age.
''If I came from a rich family, would I have done anything different on that same piece of land? Probably not. It is all about balance and expectation.
''A super-size-me approach permeates our society. Just because the option to build big is there, it doesn't mean you have to. It is societal conditioning.
''Quite often, a well-designed, efficient home is more rewarding than one that is suffering from obesity. You could walk into any home in New Zealand and consider efficiencies.''
O'Sullivan is bringing both his design and building skills to the South in a couple of weeks, when he will begin work on a friend's new home in Arrowtown. Again, at 130sq m-140sq m, it's a relatively small house.
''I'm bringing down a trailer with an assortment of tools. I said he can have the gear for a year and I'll come down periodically to help him with the more difficult components.
''My friend has a young family. It is a very humble home and is based on similar principles to what we used on my home in Mangere Bridge. A lot of care and thought have gone into it.''
In Queenstown, where the median house price is $562,500, up from $499,000 a year ago, according to Real Estate Institute of New Zealand data released this week, there has been a swing towards renovating, says David Grieve, organiser of the Queenstown Home Show, which is being held at Frankton this weekend.
''In the past, people didn't really renovate in Queenstown. But now, particularly in suburbs that were tidy in the 1980s, a property can still be worth $500,000 to $600,000 even if it has a very sad bathroom and kitchen. So people aren't selling but renovating, which is a completely new thing for this area.''
Mr Grieve, of Excel Exhibitions, established the Queenstown Home Show three years ago despite some quizzical responses.
''People, for many years, suggested there shouldn't be a home show in Queenstown because no one actually lives there. They said it's not a real place; it's full of transient people, absentee landlords, very wealthy people who have houses there but might only come for a month a year.
''A lot has changed in the past couple of decades. There are new subdivisions where ma and pa are living and putting their kids through school. That's why we started the home show.
''That demographic normally opts for a company-made house - it could be A1, Landmark, David Reid Homes or whoever; there are 15 or so companies and people can have their drawings tailored.
''It is a matter of affordability, really,'' Mr Grieve says, alluding to the group builder concept, popular because it offers apparent value for money. (Though prices vary depending on company and the quality of each house fit-out, $1600 to $1800 per square metre is a rough indication of such a build.)
The price of land can also have an effect on the eventual footprint of a house. If a section is more expensive, people might be more tempted to build a larger house to maximise resale price.
''People definitely try to get it right from the get-go,'' Mr Grieve says.
However, high land prices can work the other way, too, forcing people to tighten their belts when it comes to building.
Bronwen Kerr, of Queentown-based Kerr Ritchie Architects, says it is a double-edged sword.
''If land is expensive then the budget for a house can be reduced. Maybe clients then try to save on costs, such as not employing an architect.
They may go to a group home builder, who produce plenty of square metres for your dollar, but often these square metres are not well-considered. ''Often, resale and future owners' needs are considered rather than clients having the confidence to build only what they need.''
Size has wider implications, too.
''It definitely has a huge impact on energy usage - both that involved in the initial embodied energy of the materials and the energy used to heat a larger house,'' Ms Kerr says.
''Smaller buildings require fewer resources to build and fewer resources over a lifetime. A smaller-scale home also allows for more garden space.''
Architect John Walsh, editor of the voluminous recent publication Big House, Small House: new homes by New Zealand architects, believes it is better to have a well-thought-out design on a more modest footprint ''than a sprawling mess''.
''A lot of space in many big houses is not much used - it doesn't really pay its way. It's costly to maintain, to heat and to cool, to repaint and resurface and to fit out. There are also wider questions of sustainability; planetary wellbeing is something we might all bear in mind.''
Perhaps the most obvious reason the girth of our houses is expanding, is the fact we have more possessions these days, Mr Walsh says, referring to a ''comparative affluence'' that makes it possible to demand more space and amenity in our homes.
''We have more stuff than we used to. Kids have bigger rooms; houses now have `entertainment centres' with huge TVs; there is garaging for families with two or three cars, not the single family car of years past.
''And given much of what we see on our TV is an idealised portrayal of middle-class life in America it's no surprise we think that more is more. Could it also be that as we get bigger - or more obese - we want our houses to follow suit?'' Mr Walsh asks.
''Ultimately, in our larger cities, this model of development, quite apart from its aesthetic shortcomings, will not be sustainable. I think this is becoming widely recognised, although the model still has cultural appeal in our society, and developers and land-bankers will keep pushing it for as long as they can,'' Mr Walsh says.
''They wouldn't do it if there wasn't a market for it ... But super-sizing isn't always good for us.''