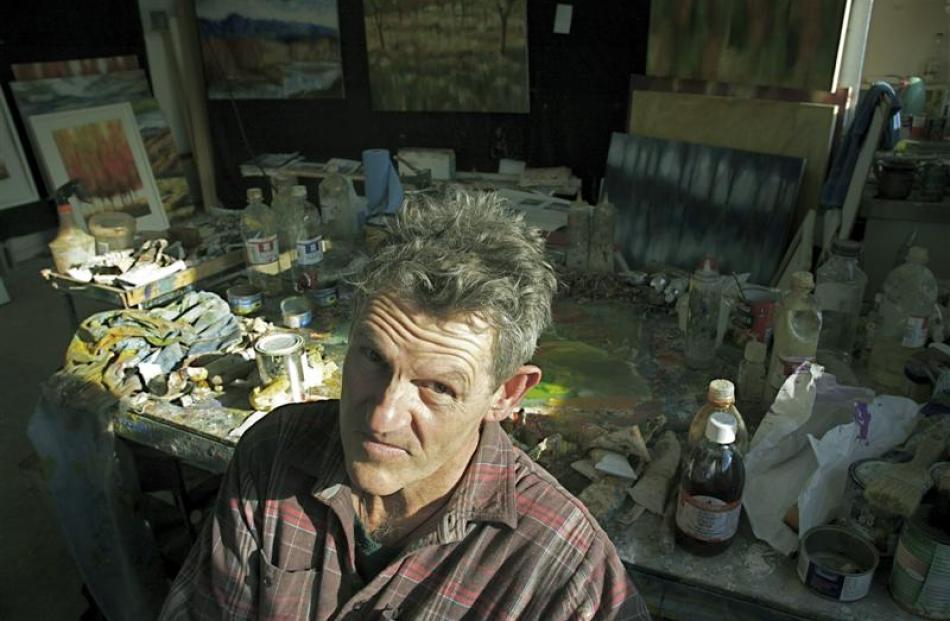 Central Otago artist Nigel Wilson might live in a place celebrated for its wide skies, but he doesn't actually like to paint them, writes Shane Gilchrist.
Nigel Wilson says colour is the first ingredient consumed by any viewer of his paintings.
Yet a visit to his studio on a hillside a few kilometres from Alexandra offers another palpable sensory experience.
It's the smell of paint thinner, underscored by a hint of linseed oil and the contents of various bottles that vie for space on the large glass-topped table Wilson uses as his palette.
Significantly, the canvases on which he applies his broad, energetic strokes of colour are positioned some four or five metres away from the table, requiring Wilson to pace back and forth.
No wonder he typically only paints for four hours a day.
Artistic rigour notwithstanding, it's exhausting.
Yet that to-and-fro process allows an extra few seconds during which Wilson deliberates on what's come before and what's about to happen.
''You are looking in far-sight. From here, you can see what to do. People often say you need to stand well back from my paintings to appreciate them. I've always thought, 'well, that's because I paint like that' - from a distance.
''Inspiration is something that people think artists need to have in order to paint. But it's actually more pragmatic than that,'' Wilson insists.
''I think you have to work out a few things in painting, things such as what palette you'll employ. You need ideas, but in saying that, you can't predetermine a painting. It's something you can't predict.''
As befitting the Central Otago landscape he often paints, Wilson uses big brushes and a bold approach that downplays specific details in favour of conveying an overall mood.
Thus his work is often described as both expressionist and contemporary.
Asked if he's at peace with such labels, Wilson pauses ever so slightly before responding: ''That's all right. I don't mind. They never get it right but I don't care. I guess `expressionistic' identifies my style.''
Born in 1957 and raised in Wellington, Wilson completed a fine arts degree at Ilam, University of Canterbury, in 1982.
Tutored under Don Peebles, a leading figure in the emergence and evolution of New Zealand abstract art, Wilson went on to teach others, including holding a position as associate art teacher at Cargill High School, Invercargill, for several years until he decided to focus on a full-time artistic career in 1997.
Having taken that leap, Wilson found a supporter in Dunedin art dealer Marshall Seifert, who organised an exhibition of his work.
Among those who attended was the late Ralph Hotere.
''After that, the Milford Galleries picked me up,'' Wilson reflects.
''That was around 1997. Now I have nine galleries that exhibit my work.''
He has exhibited regularly, is well-represented in public and private collections throughout New Zealand and has won a number of painting awards.
Earlier this month, Wilson won the Christchurch Art Show Award for a piece from his Orchard Series 2014, the prize totalling $2500 and including an exhibition at the 2016 event.
''It was a big round piece. David Woodings was the judge. He culled it down from 200 entries to 10 finalists. He made some nice comments.''
The solitary nature of Wilson's artistic endeavours begs the question: do awards mean anything to him?
''Absolutely,'' he says.
''Artists bounce their ideas off the wall rather than off other people. It's really nice to have feedback from people. Any feedback from anyone is good.
''Artists don't have editors or people telling us what to do. We don't have publishers; we have galleries and dealers. My art dealer from Devonport rang me up yesterday and said, `they don't like the colour yellow'. I went, `damn, there goes all the grass in Central Otago'.''
The son of an architect, Wilson likes composition in all its guises.
• His favourite television programmes are Kevin McLeod's Grand Designs and George Clark's Amazing Spaces.
He doesn't just think about spaces either. He gets stuck in and makes spaces.
There is a half-completed stone building on his property.
When it's finished (he has been working on it for years) it will probably be a second art studio.
''I am aesthetically-minded. I see things through that aesthetic blinker, if you like. I have realised not a lot of people are like that. I'm wired differently.''
Wilson and his wife, Janice (''The practical one ...'') have lived on their Central Otago property since 2000.
''One day we saw this spread in the paper and thought we'd take a trip through to Central,'' he reflects.
''A very nice real estate agent showed us the property. As we drove in he said, `this is where it starts'. About a kilometre up the drive, he said, `this is the house'.
''I fell in love with the pool, for a start. It also had this studio. So we said yes. It was the right decision.''
There were grapevines on the property, but the previous owner uprooted them and planted them elsewhere. No matter, the large block of land is more than enough for the couple.
Wilson, who doesn't work weekends (''I've always taken them off'') often has three paintings on the go, albeit in various stages of completion. That's largely because oil paints need a couple of days to dry.
''I use oil paint very thinly, with a lot of turpentine,'' he says (which explains the smell).
''A typical painting will require three stages.''
Painting ''is a constant struggle'', Wilson admits, adding he has a bunch of canvases that he's taken off easels and relegated out of sight.
''I think you have to be hard on yourself. You might look at a painting one day and like it, then look at it the next day and not like it. You come back to it with a fresh view; you're not attached to it anymore. You might look at it and realise it's not finished.
''And that can happen day after day after day.''
Yet doesn't that process of evaluation require a certain equilibrium? Surely, such scrutiny has no place for wild mood swings?''Well, that's another thing that comes into play,'' Wilson says.
''Your own feelings might not be as positive as other times.
''The whole thing is fraught with issues.
''There is absolutely nothing worse in life than a painting going wrong.
''If someone else has something go wrong in their life, I say, `that's nothing compared to a painting going wrong'.
''I'm the sort of artist who is never happy, never settled. I'm always experimenting. That's how you evolve.''
His use of colour evolves, too. He likes to change his palette. Sometimes he expands it; sometimes he limits it.
''When people look at a painting, colour is the first thing that will enter their nervous system. It's crucial,'' Wilson says.
''Up here, in Central, it is about specific seasons and, thus, specific colours.''
Attentive to the nuances of light, the mysteries inherent in both summer haze and winter gloom, Wilson might live in a place celebrated for its wide skies, but he doesn't actually like to paint them.
''Actually, they are hard to do. I never use the sky as the most important part of a painting.
''That said, I have done paintings with big skies and have enjoyed doing them. One time I stayed at Baring Head near Wellington and did a series about ships passing in the night, all of which featured big skies.''
Still, there's one scene he's unlikely to capture in a hurry.
''I've never seen a landscape in the early hours,'' Wilson laughs.
''I've never seen a sunrise.''
---
The art
• For more information, visit: www.nigelwilsonart.com
---