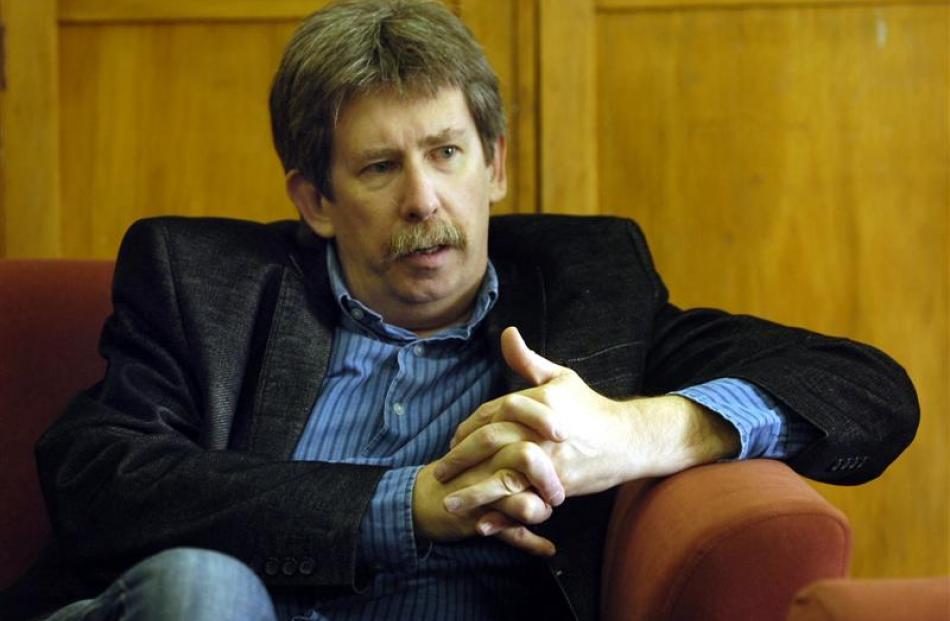 Christchurch's earthquakes changed life irrevocably for thousands. Elspeth McLean talks to Dunedin businessman Richard Thomson about the impact on his retail chain and the staff who helped put it back together.
In a strange way, Dunedin businessman Richard Thomson is thankful for the 2010 Boxing Day earthquake in Christchurch.
It resulted in his Acquisitions City Mall store in the city being "red-stickered", something he says turned out to be "extremely fortunate".
"It is highly likely we would have lost staff or customers in the February quake because the front came off the building."
After the February quake it was "macabre" to see the Christmas lights still twinkling in the window of the two-storey brick building.
The building, which Acquisitions leased, had a "lovely facade" and possibly dated back to the turn of last century, he said.
The Tuesday February 22, 6.3 magnitude earthquake, occurred at 12.51 pm, which would have been a busy time in the central city store.
Mr Thomson's business and personal partner Anita Cessford was in Christchurch and was about to get in her car when the quake hit.
He drove up that night and, after negotiating his way through the dark city, was surprised to find when he turned into Beveridge St, in the inner city where the couple have an apartment, the power was still on.
He was stocked up with provisions, thinking he would be staying for a while, but Ms Cessford was not willing to remain in the city and they returned to Dunedin, arriving at 4am.
Returning later to help with the clean-up in the four remaining Acquisitions gift shops at Riccarton, Palms, Northend and Eastgate, Mr Thomson said he realised there were a lot of "really fragile people" among his staff who were frightened, coping with ongoing aftershocks, and their own losses.
Quite a number of staff were on pills to help them sleep, which bothered him as a former clinical psychologist because of the potential long-term effects of taking such medication.
" I was enormously grateful, to be honest, that they were prepared to come back in and come and help.
"I imagine it would have been pretty easy for them to say: 'We're not going inside that building'." Only about two of the 40 to 50 staff were unable to come in. All staff were physically fine, but several lost homes and all were "well and truly over it".
The February earthquake, however, was too much for a long-serving employee who had spent his "life in fine china" with treasures collected over all his years in the trade.
He had coped with the damage after the September earthquake and the closure of the City Mall store where he worked, but the "third strike" of losing all his possessions in February meant he left the firm and moved to Ashburton.
Mr Thomson paid tribute to the work of the regional manager Kalee Dougall.
"I don't know how she got through. She was inspirational in terms of supporting and leading teams to put the stores back together, especially when she was doing it for the third time. It was really difficult."
All staff were able to keep their jobs, but not necessarily in their usual location and with some flexibility around working arrangements to allow people to sort out issues with their own property damage.
In the clean-up, staff were surprised to find some items, such as a free-standing fitting containing glass candle holders, intact.
Nothing was damaged either at the company's warehouse where pallet racking was Dynabolted - he had thought some of the old unsaleable stock on the top might have been lost.
Generally, stock carried has not altered, although the range of specialty foodstuffs were discontinued temporarily because the novelty of cleaning up after bottles of chocolate sauce were tossed across stores during aftershocks wore thin.
Living within the red zone, his patience with the bureaucracy wore thin at times too.
He recalled an incident where he had a heated argument with a policewoman because she insisted the plumber coming to repair damage at his apartment had to use the "tradesman's entrance" rather than a much shorter direct route.
He eventually decided silence might be the best option when the officer reached for her back pocket - he was not sure whether it was for "pepper spray or a hand gun".
On another occasion, however, when he did not have the required identification after a visit to Auckland, the policeman on duty asked him if he was a burglar and, receiving a negative response, let him continue.
Mr Thomson said he has had some "epic battles" with insurance companies in the aftermath of the earthquake, but all of his suppliers had been prepared to continue doing business with him while he waited for insurance payments.
With insurance, "the left hand constantly didn't know what the right hand was doing", Mr Thomson said.
The shortage of assessors in New Zealand meant that many were flown in from overseas and his "slightly cynical view" was that they stayed until the first "decent aftershock" before getting out and the information they gathered never got passed on.
"After the third time I thought this is never going to work" and he went to his insurance broker and asked for help.
The company did not receive "anything to speak of" of the $700,000 owed until July and last month there was still a sum of $60,000-$100,000 outstanding, he said.
However, the experience has taught him to " never under-estimate the value of insurance", particularly business interruption insurance.
When he had previously assessed the loss risks to the 13 stores around the country, he really only considered fire, something which would affect one shop and, if another site could be found, another shop could open up reasonably quickly somewhere else.
"The thought of earthquake never crossed my mind."
He changed his insurance broker three years ago and as part of the deal got business interruption insurance for no additional premium.
With five stores affected in the earthquake, without business interruption insurance, the firm would be "really and truly in trouble", he said.
The other "business learning" was to spread the risk.
If the earthquake had happened four or five years ago when the firm had six stores, five of them in Christchurch, the business would have been in real difficulty.
Rather than open a new store in Christchurch, he has replaced the City Mall shop with one in the Richmond Mall outside Nelson.
Ironically, business had been "superb" in Christchurch following the earthquake, he said, even though his shops "don't sell a single necessary thing - nobody is going to die of starvation or hypothermia from not visiting Acquisitions".
However, people were still wanting to buy gifts and replace items lost in the earthquake and the shops' success also reflected the reduction in the number of specialty shops operating in the city.
There had been a bit of a lull in the Riccarton Mall store business after a rumour went around that the mall was unsafe.
Television programme Campbell Live aired a story designed to debunk the rumour, but five minutes after it went to air one of his staff got a call from her father who had seen the programme saying "Don't go back in that mall".
It showed how "spooked everybody was".
On a personal level, the earthquake experience had shown him the strengths in his staff and those who were prepared to step up in an emergency and "hold themselves together".
"It might have involved numerous tears before bedtime, but they all got up the next day to go back into it," Mr Thomson said.
It showed the value of building up loyalty in a team over many years.
"The staff were just fantastic really".