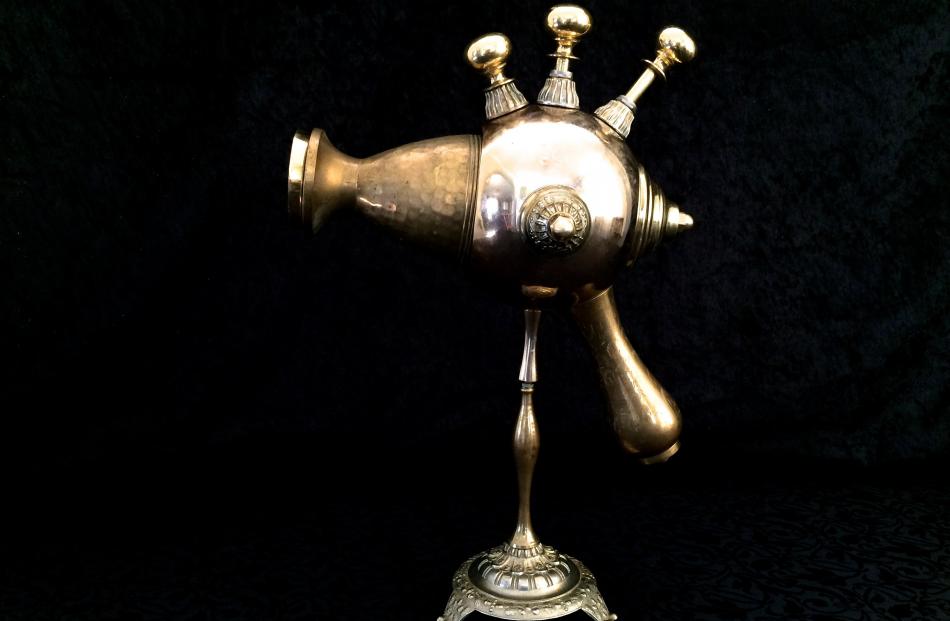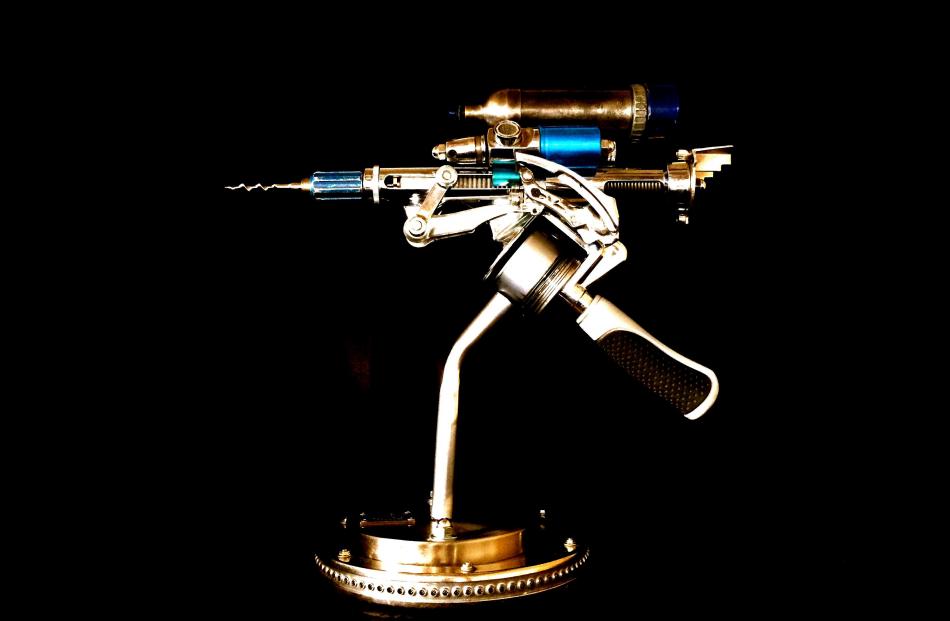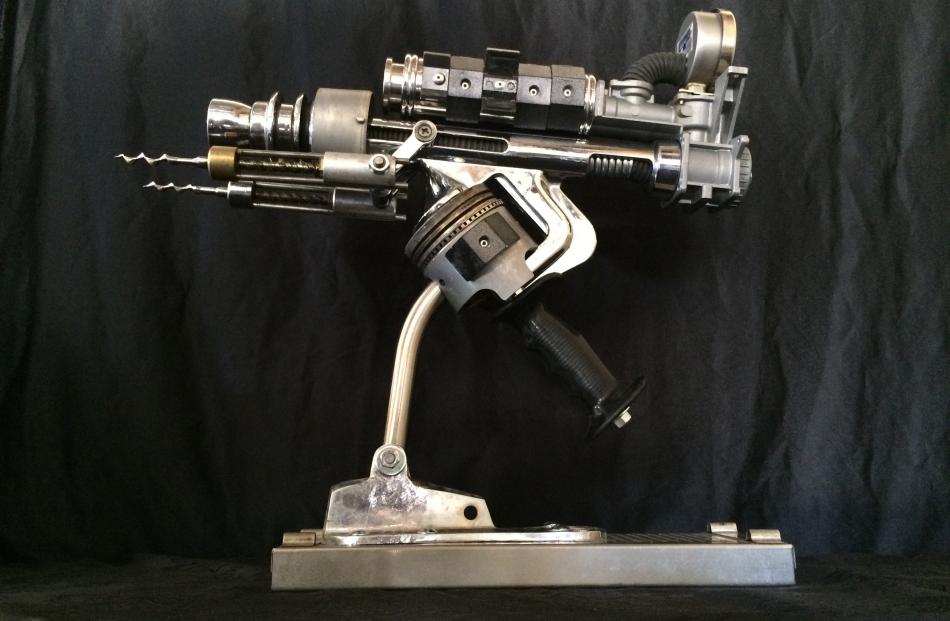 One person's junk is another person's science-fiction fantasy, Gina Dempster writes.
It's a rare thing to meet someone who can see beauty in broken-down appliances. And it's even rarer to meet someone who can make a living from them.
So it was a treat to meet Clyde "junk" artist Sean Boyd, whose "Soreal" show is now on at the Central Stories museum in Alexandra.
Sean makes fantastical objects from discarded appliances and pieces of metal, mostly sourced from Wastebusters in Wanaka and Alexandra.
Walking into a room full of his rayguns, lamps, life-size robots and even a Mars Explorer motorbike is like walking into a museum displaying artefacts from some intergalatic trader.
They seem so real it's hard to believe they've been made from discarded objects  such as pasta rollers, corkscrews and gauges from a Roxburgh dam refit.
You feel that the landscape inside Sean's head has been laid out in these meticulously made objects.
"Everyone that buys something from me says the same thing, that they're purchasing my imagination," said Sean.
"I've never let my imagination go. A lot of people grow out of their imagination and see it as childish. I am very childish."
Sean's training as a mechanic is evident in the skill it takes to fit the sculptures together.
Sean chooses to "manufacture" every piece, using screws instead of welding them together.
Each piece can be taken apart and used as an input into something new at the end of their life, true design for zero waste.
He says he sometimes feels a little bit guilty that he's putting together and displaying objects that other people have designed.
"But I believe we should find a use for everything. There's no reason why all these cool-shaped objects shouldn't be here, or even worse, should be in the landfill ... . Look at this, from the bottom of a hand-drier," he says, pointing to a ring of concentric circles on the Mars Explorer bike.
"It's such a beautiful object. It deserves to be seen.''He spends time fossicking at Wastebusters until he finds something with a cool shape.
"I pull it out and hold it at the wrong angle. If you hold it at the right angle, you only see what it was designed to be originally," he says.
I find it hard to fathom the patience needed to find objects that fit together in a seamless way.
It's like a three-dimensional jigsaw with infinite pieces and it's obviously a challenge that Sean enjoys.
"Look how perfectly these fit together," he says, pulling a metal heat shield for a ceiling light off the Mars Explorer bike and pushing it back with a satisfying click into a holder made from an Insinkerator.
"My talent is making do with what I've got."
His talent is also seeing potential and beauty in objects that other people write off as rubbish.
His dedication to salvaging objects includes bringing an iMax bulb just smaller than a rugby ball home in his hand luggage, after installing some of his sculptures in a collector's home in Germany.
The rods through the middle must have made an interesting picture for the security guards checking the X-ray machine.
"Their eyes widened and they flagged me to step aside. I managed to explain what it was, and that it was part of my artwork, and they waved me through."
Sean has noticed that the rise of plastic is pushing out metal components.
Many of the sculptures feature beautifully shaped metal bits from older cars, machinery and appliances.
"An old Electrolux had really cool features, but now they're just plastic. They look cool, but as soon as you touch them, you feel disappointed."
Sean's love of interesting metal objects and fantasy is contagious.
"When I'm at the craft market, I see people catch sight of my stall from far away, and they have a quizzical look on their face, they frown a bit as they try to work it out. As they get closer, their faces light up and they smile."
Ninety-five percent of Sean's work is sold to buyers from Europe and America, mostly through the Queenstown craft market.
He's noticed that many of the buyers come from an engineering background, and appreciate the clever way that he's put things together as well as his imagination.
His rayguns have also been bought for display in tattoo parlours and dentists, where they break the ice by looking like your worst drill nightmare come to life.
"In those environments where everyone is a little bit uncomfortable, they are great conversation starters. You can't help but recognise some of the bits and talk about them."
But it's not just the way that Sean's sculptures look that is realistic, they are also designed to feel good in your hand.
Sean pulls the Atat Ray off its stand and gives it to me to hold. 
It's solid and perfectly weighted and I feel like a kid, lining up my teenage son in the corkscrew barrels.
Not everyone enjoys the raygun as a fantasy though.
One lady questioned whether he was perpetuating violence by making them.
But Sean sees them as beautiful objects, not weapons.
"The only way to hurt someone is if you drop it on your foot or hit someone with it, and you could do the same with a frying pan."
He says the whole point of them is they're not made to be realistic.
"If you walk into the bank with one, no-one's going to give you money."
I overhear an older visitor saying  the objects have absolutely no use at all.
I think that's an interesting perspective given the things they are made from have all been discarded, and I ask Sean what he thinks. He laughs.
"Their use is to free the imagination, encourage creativity. We just have to sit back and enjoy it."
He says children really enjoy his work.
"They always go 'Woo-hoo', when they walk in. The next thing they ask is 'does it work?', and they want to shoot their brother with it. They get a bit disappointed when they find out they don't work, but then they get interested in spotting the everyday items that they're made from."
Sean has been making the sculptures since 2012, and is currently working on his 100th piece.
He says he started small, but his sculptures are getting bigger, as shown by the full-sized Mars Explorer motorbike and the bigger than life-size JET robot, made on commission.
His  latest fantasy is to make a giant piece of public sculpture, like a rocket or a crashed UFO, half-buried in the ground.
I can totally visualise it with movement sensors turning on flashing lights, and a giant dirt trench showing the crash site.
Sean's taken me into the world of his imagination and it's a fun place to be.
- Gina Dempster is communications officer at Wanaka Wastebusters. Each week in this column, one of a panel of writers addresses issues of sustainability.