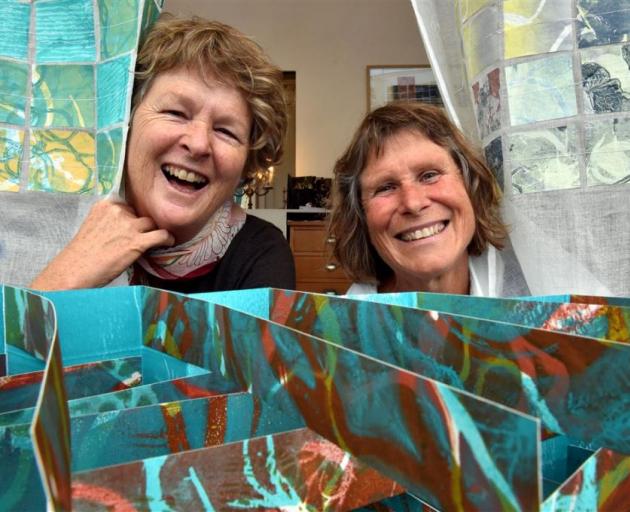 Shane Gilchrist discusses a new exhibition with a pair of emerging artists who take the concept of reflection to a deeper level.
A shared love of the sea has led to a collaborative exhibition by a pair of Australian artists, one of whom has chosen to make Dunedin home.
Karin Tierney and Pip Marshman's Coastal Voyage, which opened at the Inge Doesburg Gallery and Studio, Dunedin, on Friday and runs until May 28, celebrates the light and water of the coasts of Otago and southern New South Wales via a series of mixed media works on paper and canvas.
The exhibition also features eight "artist books'', the result of a 2014 invitation extended to the pair to join a group of artists from Scotland, Australia and New Zealand to work on eight hand-made books, which were shown in Scotland and Australia the following year.
"Each of the eight artists made a book, contributed a page based on the theme 'North, South, Sea, Coast', then sent it on to the others,'' Marshman explains.
"Some of them are thematic; some are quite experimental; and some are quite narrative. Everybody had their own quirks, so they are all different.
"The eight books actually comprise a small part of the exhibition,'' Marshman points out.
"My work is less about light, more about patterns, layers and colours. I have some large scrolls that are more than 2m long. I have also painted some canvases, visually exploring my local headland at Tathra, which are quite small works.
"I've done a few courses, especially in drawing, which is my main interest. When my children were young, I did do quite a long series of workshops with an artist called Jo Goldsworthy, who had moved to Tathra.
"That's where I learned the basics of how to put a painting together, making a good composition, as well as not being afraid of making mistakes.''
Marshman creates abstract compositions that reflect her interest in colour and design.
Monoprints, collage and mixed media are her preferred mediums. Her first solo exhibition, Headland La!, was held during January 2016, although her work has been included in group exhibitions in New South Wales since the 1980s.
"This exhibition involves different mediums. I think it is a very dynamic representation of our coastal lifestyles.''
Tierney, whose work includes monoprints and etchings, says a series of night classes with Dunedin printmaker Doesburg expanded her artistic toolkit significantly.
"I don't have any formal artistic training, but I have had the fortune to do night classes with Inge and she has taught me techniques I hadn't tried before.
"I started doing monoprints quite a few years ago and loved the whole process but I decided I should actually learn techniques such as etching, more technical processes, which Inge has guided me through,'' says Tierney, who joined five Dunedin artists in a 2016 fringe festival exhibition, When We Went Out of the Room, earlier this year.
The centre-piece artist book, titled Rock Pool, is a celebration of colour, reflection, light and movement in the inter-tidal zone.
"For me, it is about looking at the water in different lights. One thing that really came to my attention doing the artist book was the differences in light in different parts of the world,'' Tierney says.
"For instance, one of the islands in the Firth of Forth outside Edinburgh is in some of the books. The pictures depict this grey, gentle, soft light. Then when you look at the coasts drawn by the Australian artists, the light is sharper and more vibrant.
"That fascinated me. So when Pip and I decided it would be good to bring the books to New Zealand we continued with the coastal theme and pondered how far we had come since starting this artistic journey together.''
The notion of distance covered is literal, too.
A seasoned traveller (as is Marshman), Tierney moved to Dunedin two years ago.
"Even when I was living in Australia I'd visit New Zealand at least twice a year to climb in the mountains.
"My sister has a shop in Port Chalmers so the move was also based on being closer to her.''
Perhaps unsurprisingly, given the nature of the exhibition, Tierney lives at Deborah Bay where she's treated to a range of conditions throughout the day and though the seasons.
Marshman, too, enjoys the beauty of Otago Harbour. 
"I think this is one of the most special places in the world,'' Marshman says, adding she and Tierney met through a shared love of the sea.
Members of the same surf lifesaving patrol at Tathra Bay, they would spend several hours at a time at the beach in all weathers.
"I could actually swim before I could walk,'' Tierney quips.
---
The exhibition
Coastal Voyage, prints, paintings and handmade artist books by Pip Marshman and Karin Tierney, Inge Doesburg Gallery and Studio, 6 Castle St, until May 28.
---