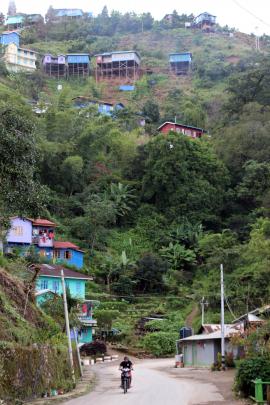 He lived in Dunedin but is now a Vice-President of Myanmar, charged with bringing peace to this factious, newborn democracy. Who is Henry Van Thio? Is he up to the job? Bruce Munro went to Myanmar to find out.
In Myanmar, shadow and shade are hard-earned, to be savoured.
Even in Thantlang, an elevated, mountain-spine town adrift in an ocean of jungle-clad peaks close to the India border, being invited to sit deep in an unlit room is not to experience deprivation but, rather, a luxurious escape from the sun's relentless stare.
On a lightly padded bench in their airy living room sit a dignified older couple, members of the Chin ethnic minority. They are Hrang Hlun, pronounced Shrawng Shlung, and his wife, Far Iaug. Behind them, the sun can only throw a watery ray through an open balcony door that also permits a soothing zephyr and the ubiquitous drone of motorbikes plying the dusty main street a storey below.
Mr Hlun (83) is talking. He is speaking in English that has been lying idle for decades but which has come streaming back during the past hour. He talks of Myanmar's difficult past and of a new dawn already on the horizon.
"All Chin are of the same opinion about the past government. Even the women are full of grievances," he says.
"By God's grace, all ordinary people think we are now nearing freedom ... They are now very hopeful."
Seven months earlier, and 600km away, the swearing-in of Htin Kyaw, Myanmar's first elected civilian president in more than 50 years, was taking place at the president's palace in Myanmar's capital, Naypyitaw. Stationed near president-elect Kyaw, stately and graceful, sat the real power, Aung Sun Suu Kyi. She had been barred from taking the top job by a military-sanctioned constitution despite her National League for Democracy (NLD) sweeping to victory in last November's historic general elections. Unable to be president, The Lady, as she is known, assumed the mantle of self-styled State Counsellor and made it known that her title trumped that of president.
At The Lady's left hand sat a middle-aged man in glasses and brightly-coloured, ethnic dress. He was soon to be sworn in as the country's second vice-president. His name was known. He is Henry Van Thio. The weight of expectation being hoisted on to his shoulders was also much talked about. In a country that has been ruled by the military for more than half a century, and has more than 20 private armies, Mr Van Thio is seen as key to helping bring peace and reconciliation to this fractured country.
But overshadowing those facts hung a large question mark. Who is this man who has been given this enormous task? It was a question media from around the globe asked when his hat was thrown into the presidential ring. In early March, the Myanmar Times reporter, in Naypyitaw, wrote, ''`Henry who?' was the confused cry from around the press gallery'.''
'He doesn't even have any kind of social media profile', noted one correspondent despairingly ... though he was later tracked down on Facebook when people had actually worked out how to spell his name.
"Not only was Henry Van Thio ... unknown to the media, none of the politicians I spoke to as they spilled out of the lower house chamber at the end of the session had heard of him either.''
He seems to have risen from nowhere, to the top of the pile.
During the next few weeks, a small number of the blanks were filled in, with some surprising answers.
In April, the Otago Daily Times, reported that for four years until 2015, Mr Van Thio, his wife and their three children, had lived in Dunedin. His wife Anna Sui had been studying for a PhD in theology, at the University of Otago, while he had been helping make ends meet by working briefly in Nelson picking fruit and then as a labourer at Silver Fern Farms' Finegand freezing works, in Balclutha.
His friends among the small Dunedin Myanmar community, his church minister at Leith Valley Presbyterian Church and his freezing works employer added a little to the picture. He was quiet, knowledgeable and hard-working, they said. That the Second Vice-President of Myanmar had, until recently, been living in Otago, made his sudden strides on to the world stage a matter of personal, regional interest. Who is Henry Van Thio? And, is he up to the job? Going to Myanmar seemed the only way to truly find out.
The taxi ride from Yangon International Airport to downtown is the perfect introduction to the ''Golden Land''. At first, the 25km, 50 minute trip bears all the hallmarks of every 21st-century Asian country -  humidity, hustle and log-jammed city traffic. Myanmar is, after all, the western fringe of Southeast Asia.
Then, the differences begin to assert themselves. This endless stream of humanity lacks the order of Shanghai, the aggression of Bangkok and the impatience of Manila. Vehicles travel on the right, even though almost all the cars are right-hand-drive Japanese imports. In New Zealand, that would be considered dangerous. As would the idea of travelling mere centimetres from the vehicles in front, behind and on either side. But here, young women sit side-saddle on the back of motorbikes, poised and barely holding on, as their young male drivers weave through lanes of bumper-to-bumper traffic. And if not young couples, motorbikes are as likely to be conveying four members and three generations of the same family, with helmets strictly rationed.
Cars and trucks pull up short, mid-lane to offload passengers and freight. Horns are honked, but not in anger; drivers simply edge steadily out into the next lane until room is given and they can carry on. (Horns are used primarily to alert drivers and pedestrians to each other's proximity.) Despite Myanmar traffic being the apparent manifestation of a risk assessor's worst nightmare, vehicles are virtually dent-free. It is as if no-one has told them that driving like this should make them angry and should result in hideous accidents; and so, it doesn't.
Whether it is derived from the self-assurance of a 2000-year history of glittering city states, the Buddhist-majority notion of patience as a key antidote to suffering, or the self-preserving forbearance acquired during decades of military dictatorship, the taxi ride is a meditation on the Myanmar principle of ''reaching your destination by going with the flow''. This is the country of Mr Van Thio's birth. Less than an hour's flight north of Myanmar's most populous city is the new capital, Naypyitaw, which tells quite a different tale. This is where Mr Van Thio now resides.
Described variously as Myanmar's ''ghost capital'' and ''a super-sized slice of post-apocalypse suburbia'', Naypyitaw looks like it rose fully formed from the jungle little more than a decade ago - and then simply sat there, waiting. The apparently true story is that 10 years ago, 25,000 Yangon-based government servants were told, ''This weekend you are moving to the new capital''. And they did. Obedience was not optional if you valued your freedom.
Built on paranoia and pomposity, Naypyitaw is a sprawling, 16-lane highway, soul-less seat of power. The empty highway in from the airport is lined with dozens of grand, under-utilised but fully staffed hotels. Thingaha Hotel, where New Zealand Prime Minister John Key stayed during a state visit in 2012, is typical. It has been built to a high standard, spread over several hectares. But the young, formally dressed hotel staff driving golf carts to ferry guests between the reception, their suites, the gym, the outdoor infinity pool and the dining area are falling over themselves to cater to the mid-October roll call of no more than a dozen guests, who have each shelled out as little as $75 a night to be treated like, well, a Prime Minister.
Beyond the hotel zone, the highway approaches the government quarter. Behind a patrolled barricade encompassing several square hectares are the parliament buildings and the presidents' palaces.''
Henry Van Thio's palace is in there, behind the Vice-President's palace,'' the driver says, pointing at a gated, tree-lined road that disappears around a bend without showing any signs of approaching a building. This is the life he now lives.
There will be no interview with Myanmar's Second Vice-President. That much is clear. The closest Naypyitaw comes to revealing anything of the presence and purpose of Mr Van Thio are billboards advertising the ''Union Peace Conference, 21st Century Panglong''. Held in September, it was the first attempt by the new Government to bring together the country's many armed separatist groups for dialogue.
The scale of the task confronting Mr Van Thio and those working with him is outlined by New Zealand's ambassador to Myanmar, Steve Marshall. Mr Marshall took up the post of ambassador in late June, after being the head of the International Labour Organisation in Myanmar from 2007.
Peace and reconciliation is the foremost of four ''massive'' transitions being sought for Myanmar, Mr Marshall explains. The others are, instilling democratic concepts and behaviour, decentralizing and opening the economy and softening the top-down decision-making structure.
''Peace and reconciliation ... frankly, is one of the more difficult ones. And probably, at the moment, it is one of the more troublesome ones,'' he admits.
The country has 22 non-government armed groups fighting ethnic, political, religious and economic grievances that go back many decades. The most recent, is a group of former students who took up arms after the failed 1988 uprising.
Adding complexity, is the power-sharing arrangement between the NLD civilian government and the military, the Tatmadaw. Under the constitution, the Tatmadaw is guaranteed 25% of seats in parliament and controls three of the government's most powerful portfolios, defence, home affairs and border affairs. The Government and Tatmadaw are not one body, but two powerful, competing players among a score of parties in the peace negotiation.
Laying down arms is only one piece of the puzzle, Mr Marshall says.
The very nature of the country - Will it be some sort of federation of states or some sort of Union? - and the future distribution of natural resources, are also up for grabs.
''The reality is that this is a very wealthy country, in natural resources; oil, gas, gold, rubies, jade, forestry ...'' Mr Marshall says.
But at present, while some elements of the economy operate in orthodox ways, others are run by the Tatmadaw and by ethnic organisations. Since the mid-20th century, Myanmar has been reduced from one of the wealthiest countries in the region to one of the poorest.
''The change has started. It is early days, and there is a huge amount of work to be done,'' he says.
It is ''excellent'' that Mr Van Thio ''has been able to come into this role'', Mr Marshall says.''
He is now very deeply involved at a very senior level.
''He comes from Chin State, which is is the poorest state in the country; a state that suffers seriously from lack of infrastructure; access is very difficult. It is also a state that is prone to natural disasters.''
So far, it is the Herculean nature of the task that has come into sharp focus, not the man responding to it. Chin State, and the possibility of finding people who know Mr Van Thio, beckons.
The minibus is ascending, steeply. Kalaymyo, the gateway town to Chin State, lies on the verdant plain behind us. Through the windscreen can be seen the one-lane, clay-covered road that snakes off around a bend and then is glimpsed repeatedly at about one kilometre intervals, climbing ever-higher into the mountains. Out the nearest side window is about a metre of road, no barrier fence and several hundred metres of almost vertically descending mountainside. It is best to stare straight ahead.
The minibus, a 12-seater, 4WD, Mazda Bongo, is laden with baggage strapped to its roof and a full complement of passengers wedged inside. About 20 minutes into the climb, the older women begin singing. It is not English, but the tune is instantly recognisable, How Great Thou Art. As the song dies, one of the women bursts into loud prayer and all heads are bowed. With no knowledge of Chin beyond ''How are you?'' and ''I'm well'', the only recognisable word is ''motorcar'', which is repeated severally. It is hard to know whether to be comforted or alarmed.
The mountains, the Christian worship; compared with most of Myanmar, which is flat, open and sprinkled liberally with Buddhist pagodas, Chin State feels like another country entirely.
The Chin have inhabited these mountains for centuries. Houses, in fact, whole towns, are built on stilts, hanging defiantly out over precipitous mountain slopes. Each town has at least one church. Bigger settlements have a dozen, representing the full array of doctrinal persuasions. The mostly American missionaries, who first arrived in the late-19th century, were expelled by the late-1960s, leaving a population that claims to be more than 90% Christian.
The wet season is drawing to a close. For the past three years, the monsoon rains have been particularly heavy, blamed by some on climate change. Landslips are frequent. Progress in the minibus is so slow that forced halts while diggers clear a path do nothing to reduce the already pitiful time-distance ratio. It takes 10 hours to traverse the 200km road to the Chin capital, Hakha.
Ethnically and linguistically, the Chin are close cousins of the Mizo, who live just across the border in India and Bangladesh. Chin frequently slip across to work in India, not needing papers or identity cards when they can pass themselves off as citizens of autonomous districts within Mizoram State.
Most televisions in Chin State are tuned to Indian stations. Perhaps it is because they have felt ignored and discriminated against by the majority Bamar population. This is a charge levelled against the past military junta by most of the country's 135 ethnic minorities. Over a dinner of rice, chicken curry, a salty, vinegar soup and Myanmar Beer, the head of an international development agency working in Chin State says he has recently spoken with the head of the separatist Chin National Army (CNA). Right now, he says, the CNA is reconsidering a ceasefire agreement because it believes that the Tatmadaw, even as the Government tries to broker a lasting peace, has been taking the fight to its allies the Kachin, in mountainous north Myanmar.
The NGO head, with many years experience in Myanmar, also extols the comparatively more democratic and egalitarian impulses of the Chin.This is the milieu in which Mr Van Thio was raised. It suggests much about the man.
But can anyone speak authoritatively about who he is? How he has arrived at this point? How he will fare?
The next morning, approaching Thantlang Township, an hour's bumpy drive from Hakha, an increased police presence is obvious. This is only 30km from the India border. According to a map on the wall of the guesthouse back in Hakha, representatives of the CNA and Tatmadaw are stationed here, as well as ceasefire observers.
The journalist visa seems to cause confusion or consternation. An hour later, the passport is demanded again, this time by a man not in uniform who makes his approach during a stroll down the main street. Assurances are given that nothing is wrong, but the visa details are written down again before it is returned.
Thantlang is Mr Van Thio's home town. But townships in Chin State are administrative territories that cover a broad area. His village, Tikir, it transpires, is at this time of year a difficult one- or two-day motorbike ride away.
The likelihood of finding answers appears to be diminishing by the moment.
A young Bamar doctor visiting the town, who the previous evening at the Hakha guesthouse had graciously agreed to help, has roped in a young Chin man from Thantlang. No immediate family of Mr Van Thio live in town, but there is an older couple who know him quite well, he says.
Ten minutes later, we are savoring not just the cool of Mr Hlun's living room, but a moment of pure serendipity.
''I am Henry's first cousin ... We grew up in Tikir together,'' Mr Hlun says.
During the next hour, jigsaw pieces fall like rain.
As a young man, Mr Van Thio approached his older cousin to ask for financial help to attend university.
Mr Hlun had to say no because he had his own growing children's education to fund.
''But I advised Henry to join the military, because they would pay for him to study,'' Mr Hlun recalled.
Mr Van Thio followed that advice. He graduated with a bachelor of science degree and rose to the rank of major.
''Ethnics'', however, were discriminated against and a disappointed Mr Van Thio could rise no higher up the ranks, Mr Hlun said.
He left the army and pursued other goals, including politics and supporting his wife during her studies in Dunedin. When the date of the landmark 2015 elections was set, Mr Van Thio once again sought advice  from his cousin.
''We talked here, in this very room,'' Mr Hlun says.
Mr Van Thio wanted to stand for election. He favoured the Union Solidarity and Development Party, which had several candidates with military backgrounds. His cousin had a different suggestion.
''I encouraged him to join [Aung Sun Suu Kyi's] NLD.''
''We are fed up with the military. I knew the only political party that could overcome the military was the NLD.''
Mr Van Thio gained the nomination as the NLD candidate for a Chin State constituency.
In the November 8, 2015, general elections that marked the country's first national vote in 50 years,  he won his seat. In March, he was sworn in as the first ethnic minority vice-president of Myanmar.
Whether Mr Van Thio, or any of the other largely inexperienced NLD-led government ministers, are up for the job, is still moot. It is, as Mr Marshall says, early days. And the obstacles ahead are enormous. The national value of patience will need to be drawn on for a long time, as much by the general populace eager for change, as by those trying to deliver it. Prioritising peace and reconciliation makes sense. The military leaders are unlikely to release their crucial 25% grip until it is patently obvious they are not needed to keep order. It makes Mr Van Thio's role, and the unanswerable question about the likelihood of his success, that much more significant.
Mr Hlun believes his cousin might be exactly the right man for ''such a time as this''.
The phrase is a Biblical one, with intriguing implications. It comes from a story in the Jewish scriptures with which Mr Hlun and Mr Van Thio would be very familiar. It is a story about a woman, Esther, who is taken from obscurity, made the wife of a foreign king, and is able to use her rapid rise to save her people. Esther also had a cousin, who counselled her, when faced with an almost impossible situation, that she may have been born for ''such a time as this''.
''Unless Henry had joined the army, he would not have had this experience,'' Mr Hlun says.
''It is part of the experience that supported him to be in this position.''
As a member of an ethnic and religious minority who also has military experience and contacts, he is perhaps uniquely positioned to be a mediator.
''Minorities in Myanmar now have influence. They had no voice before. So, he is very important.''
- Bruce Munro travelled to Myanmar with assistance from the Asia New Zealand Foundation.