The southern-most beech can still be found if you know where to look, writes Mark Clark.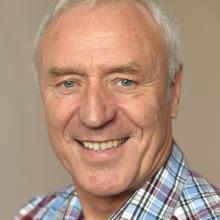 Most of the trees between the main entrance of Dunedin Hospital and the Centre City Mall are bare woody skeletons in winter. One that stays conspicuously leafy though is right on the corner of Hanover and Great King Sts. It's a silver beech/tahina/tawhai (Lophozonia menziesii). Winter is the best time to enjoy this handsome native tree, because the European imports nearby tend to overwhelm it in summer with their bigger leaves and fast growth.
Lots of us have driven or walked through silver beech trees in the Catlins and in national parks along the Southern Alps. But did you know that every time you drive between Millers Flat and Roxburgh, you're passing a 20 hectare patch of silver beech forest about midway up the mountainous slopes to the west of Dumbarton. We're talking Central Otago here, a place renowned for its vast treeless landscapes. This patch is a tiny remnant of the forests that once clothed the ranges brooding over the Clutha River all the way from Lake Wanaka to the ocean. Thank goodness it's now protected by a conservation covenant following tenure review. Look for the differently coloured green "bushy" patch next time you go that way.
On the east coast, I suspect that many Dunedinites don't realise that silver beech is a local native tree; the only native southern beech tree that is truly local in fact. Curiously, Dunedin City Council staff of yesteryear seem to have been reluctant to use it in local parks and reserves, even at Woodhaugh Gardens, where a few large but decidedly non-local red beech and black beech trees are flourishing. As if to compensate for this, two government ministers helped some locals to plant 20 young silver beech trees in Signal Hill Reserve this year to honour New Zealand servicemen and women.
Outside parks and reserves, quite a few suburban gardens sport beautiful, old, spreading silver beech specimens. One that's hard to miss can be seen on the corner of Elgin Rd and Mailer St in Mornington. Another fine example graces the front garden of 33 Preston Cres Belleknowes.
There's a stand of about a dozen old silver beech trees in the Mt Cargill Scenic Reserve, a much larger stand called the "Painted Forest" in the Silver Peaks Scenic Reserve inland from the Kilmog, and a few other survivors on the hills around the Dunedin urban area. Across the Taieri Plain at Maungatua and in the Waipori Gorge, you can drive and walk through swathes of these trees. Further south near the Tahakopa River in the Catlins is New Zealand's southernmost stand of native beech trees of any kind; silver beech trees.
Decades ago, someone came up with the delightful name "elfin forest" to describe wet silver beech forests festooned with mosses, lichens and filmy ferns. No doubt the more humdrum "silver beech" was inspired by the silvery-grey sheen of the bark on younger trees and their family relationship with the European beech Fagus sylvatica. Most books give "tawhai" as the Maori name for silver beech, but Kai Tahu prefers "tahina".
Lophozonia means something like "crested girdle". I like to think that has something to do with the raised bits on the seed cases or the ridges on the bark, even if it doesn't. The menziesii part honours the Scottish botanist and surgeon Archibald Menzies, who collected plants at Dusky Sound in 1791 during the Vancouver Expedition.
To me, silver beeches are classic "architectural" trees, like cedars of Lebanon, with their flattened tiers of tightly bunched leaves making a broad dome in the open. Unless they're very old, they often have raised "cherry-tree" rings around their trunks and branches. It's a good way to tell them apart from other native beech trees.
I hope there are plenty of silver beech in the billion trees we're going to plant over the next wee while. Maybe then the Dunedin Hospital tree won't seem so lonely.