From rower to recreational fisherman, scientist to ship-spotter ... the range of perspectives on Otago Harbour is wide. Yet, in the second of a three-part series, Shane Gilchrist discovers there is agreement: it's a special place.
RACHEL MCGREGOR
NEW ERA DREDGE WORKER
As an adult, Taiaroa Head and Otago Harbour have now become the focus of my life, passion and professional ambitions.
It's been my place of work for the past 12 years and, now, one of my favourite places in the world.
The first I knew of Otago Harbour was as a 7-year-old, having just moved to New Zealand with my family from Canada.
There is video footage of my brothers and me climbing rocks around Taiaroa Head: we are yelling out to nearby fur seals and waving at albatrosses flying above our heads.
There are shots of our family taking a boat cruise in the choppy waters around Taiaroa Head and a short distance beyond.
In 1989, it was a place that we visited briefly before settling into our new life as townies in Dunedin.
I started working on Otago Peninsula as a wildlife guide in 2004.
For many years, I helped tourists get up close with some of the most interesting wildlife that Otago Harbour has to offer - albatross, fur seals, sea lions, penguins and royal spoonbills - to name a few.
I then started on a tourist launch, doing similar work.
Over time, I learned more about the harbour.
I was fascinated that one long narrow finger of land and an area of sheltered water that half vanished at low tide could have so much history behind it: from volcanic origins, to Maori and then European settlement, fortified villages, whaling grounds and quarantine stations.
And, obviously, it has a long and interesting maritime history.
The often wild, windy weather that kept many a townie away was a drawcard for me.
I don't know anyone that's ever leaped up to yell excited obscenities while looking across flat, calm water the way I have when the spray is so cold and the wind so strong you can hardly hear your own voice. You literally have the breath sucked out of you.
The longer I worked on the water, the more my interest expanded. I started to notice the ships, pilot launches, tugboats and barges.
It was such an interesting place with so much going on. I knew I would never get bored.
Knowing I was in it for the long run, I began to study for maritime qualifications.
I gained a skipper's ticket and got a full-time job skippering the 17m-long tourist launch MV Monarch, which runs daily cruises up and down the harbour.
The majority of the workload was over the summer months and involved skippering the vessel and commentating for up to 75 passengers while cruising around the Heads, looking for wildlife.
After I left the Monarch, I joined the Dunedin Coastguard, which operates from Portobello.
Practical training sessions take place once or twice a week, departing from Portobello.
Training involves the crew taking part in a number of safety drills and practice in search and rescue techniques using our 8.5m boat Dunedin Rescue.
Callouts often involve small craft that have run out of fuel or have a flat battery.
Occasionally, there are actual searches for missing people or boats around the coast.
To prepare for a number of different scenarios, the crew study theory sessions and work their way through modules.
More recently, I gained a position as a crew member aboard the Port Otago-owned split hopper, suction trailer dredge New Era.
My role is primarily to operate the hydraulic winches used to lower and raise the large pipe and pump we use to dredge the shipping channel.
I alternate throughout the day with another crew member.
We encounter a number of blockages in the drag head which slows down dredging. Most blockages are large rocks and old railway irons, which we clear by using a crowbar or hammer to hit or pry them out.
So there is a physical aspect to the job.
And, of course, there is the ongoing maintenance of machinery and greasing to do, as well as other aspects relating to our responsibilities in drills and checks and also some environmental monitoring.
I consider myself very lucky to have had such a variety of work on a range of different vessels, all on Otago Harbour.
Having worked with a variety of people with different focuses and viewpoints, but who all share a strong passion for the same area, I have seen how important Otago Peninsula and Otago Harbour are to many.
Over the years, I have observed a number of changes on the harbour.
Cruise ship numbers are well up on what they were.
About 12 years ago, it seemed just a couple of cruise ships would visit each week.
Now it's more like one or two ships every second day during the season.
In terms of animals, New Zealand sea lion numbers have gone up and down a bit during different years.
There seem to be more females having pups on the mainland (which was almost unheard of for many years), but fewer males around the harbour.
Northern royal albatross numbers have greatly increased on Taiaroa Head and whale sightings have risen, too, particularly southern right and humpback species.
I feel privileged to work here and be some part of Otago Harbour history, even if only on a small scale, and I look forward to being able to pass on some of the opportunities I was given here to my son.
Since I first discovered how much history, beauty and excitement Otago Harbour has to offer, I couldn't imagine a better office.
It's my office with a view - and a bit of a draught.
HUGH MARSHALL PORT
OTAGO CHIEF PILOT
I have been a pilot for a few years now. I did a cadetship with a navigating company in the United Kingdom and just worked my way up.
I arrived in Dunedin in 1990, started at Port Otago in 1993, and have been chief pilot since January 2014.
My job involves training other pilots, doing peer reviews of pilots, overseeing them, as well as training people on tugs, mooring boats and barges.
I look at the history of Dunedin and think about the settlers who arrived in 1848 on boats that were only 50m long.
Now, we have ships of more than 300m coming into the harbour.
So much has changed, from the depth of the channel to communication and navigation systems.
Piloting involves a range of processes, including interacting with shipping agents, working out schedules in order to get vessels into and out of port in a timely manner.
Obviously, we have to check there is sufficient depth of water for a ship to get to and from a berth.
I also go out on ships, including piloting cruise ships between Dunedin and Stewart Island and Fiordland from time to time.
To do so, I have to climb up a ladder on the outside of a ship and there are lots of rules and regulations around this: you're not meant to climb more than 9m on a rope ladder; if it's more than this you have what's called an accommodation ladder, which is at an angle.
There are lots of checks and equipment to make sure you're safe.
Every job is different.
The vessels you go out to meet range from fishing boats to cruise ships, to container ships.
And every time you go out, the conditions and situation are different.
The tides and weather conditions are always changing.
It's about local knowledge.
You know what to look out for.
There might be some local conditions that move the bow or stern of a ship so you anticipate these.
It's just like when you're driving a car and need to make a left-hand turn: you indicate, then make the turn.
I get a lot of comments from people coming in on ships about what a lovely harbour it is; how nice it is to progress through.
But it is also quite a challenging harbour.
The conditions can change so quickly.
Take that storm the other day [March 10]: in the morning it was nice and calm, but at 5pm there was spray and waves everywhere.
It can catch people out, particularly some recreational users.
MANU BERRY
ARTIST
Otago Harbour is a central part of my environment.
I live out past Port Chalmers, just across the road from the harbour, which projects a pattern of ripples on my bedroom wall in the early morning sun.
It is a companion for most meals, either from the deck or beyond the dining room window, where the flight of shags is a constant connection to the rhythms of harbour wildlife.
As I am a part of my family gallery at Macandrew Bay (Bellamys Gallery) I take the journey around the harbourside on a frequent basis.
It's a beautiful drive in all conditions and Macandrew Bay offers a different perspective: looking south, the harbour is more dramatic, showing the changing conditions as a southerly approaches or reflecting the setting sun over Saddle Hill and the city.
The gallery has large windows looking out on this scene, which makes it a beautiful place of work and also lends an array of lights to our gallery spaces.
As I have a 3-year-old at home, the intertidal zone is a favourite playground and a fabulous way to explore the world.
It seems every other time we go down there we find something I have never seen before.
We occasionally catch a fish but quite frequently eat the wakame seaweed, pickled, as part of our meals.
Another difference between the Port Chalmers and peninsula sides is the industrial aspect to Port Chalmers.
I have a studio on the main street of Port Chalmers so I see the constant procession of logs and containers coming and going to their various ports around the world.
There is a sense of connection to the commerce and rhythms of a wider world, especially in cruise ship season.
Port Chalmers also has a sense of the maritime history of the harbour and its occupants, with the ribs of old ships still protruding from the mud and the beautiful buildings of another era.
My studio is in the same building that housed the photographer De Maus 100 years ago.
His early photographs of the bustling gold port inspired me to produce a body of work; a series of drypoint etchings on which I imposed an assortment of harbour birds.
Otago Harbour has been a more direct inspiration for work, too.
Last year, in a project responding to the poetry of Richard Reeve, I found the subtle, diffused light over the harbour to be an appropriate subject.
I have also made a body of woodcut prints illustrating the story of Mungo Lewis, a fisherman who was born and lived his whole life in a tiny cottage on a slice of land between the road and harbour past Deborah Bay.
Most recently, I have been making large monoprints of the upper harbour, trying to catch its grand expanse and embrace of hills.
SARA RICHARDSON
ROWER
Having recently returned to masters rowing after a long break from the sport, I juggle rowing with a young family and work commitments, as does my double sculls partner.
When it was lighter in the mornings, I would typically either be woken at 5am by my busy 16-month-old or 5.15am by a conventional alarm, commando-crawl out of the bedroom so as not to wake the toddler, have honey on toast and an espresso and head to the North End Rowing Club to be on the water for 6am.
However, now that it is darker in the morning we are trying to establish a new routine so that we can still get out a couple of times a week.
It's a work in progress.
Getting up early and heading out rowing makes me feel like I have given myself a headstart to my day and gives me more energy to keep up with my three kids, Peta, Finn and Luka.
In a strange way, I guess rowing is part of my rest and relaxation.
The biggest challenge we face is the weather, a.k.a. rough water.
Generally, the flatter water is in the morning.
The harbour is a surprisingly busy place at times.
There can be lots of crews out training, kayakers, ships coming up and down the shipping channel ... the Monarch.
My husband sometimes brings the kids down to meet me off the water and then we take them biking or scootering along the cycleway.
They love it down at the harbour as there is so much to see and do.
In terms of wildlife, we certainly see plenty of birds.
If the timing is right with the tides, then we see plenty of crabs and starfish on the boat ramp, which is a world of fascination for the kids.
When I rowed competitively, many years ago, we had dolphins swimming alongside our boat.
That was a very special and memorable row.
I definitely find the harbour inspirational.
Over the years I have spent many hours rowing on the harbour and riding in the hills surrounding Dunedin, looking down on the harbour.
There is something very relaxing and calming about heading out for a row in the fresh morning air or heading out on a bike along the peninsula roads.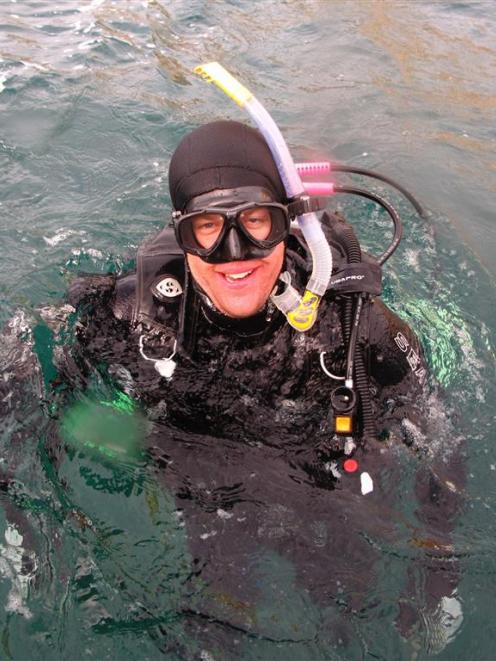 CHRIS HEPBURN
MARINE SCIENTIST
When I was a student my little brother Al learned to dive and he took me to Harington Point one winter's morning.
It was freezing. I had an ill-fitting wetsuit and wore a balaclava, but I never looked back.
I guess Harington Point was the key place for me; I did my first snorkel in New Zealand there and then conducted my PhD on the kelp bed there.
The harbour has been a great place for science and I'm just one of many students who have been trained and published research based on Otago Harbour.
I work on kelp and things that are derogatorily called seaweed.
The remnant giant kelp forests and seagrass meadows are pretty amazing habitats that our harbour holds.
I have spent many hours doing strange science-type things underwater, like sewing cotton threads through tiny pieces of seaweed in about 4m of water at Pulling Point, Spit Wharf and Portobello Bay to determine the growth of a seaweed in different flow environments.
I don't understand people's fascination with machines and mud and other non-living things.
Ships and things aren't particularly in my sight, although it is interesting when you aren't paying attention at Harington Point and a ship goes by and all off a sudden you start being swept out to sea at an alarming speed.
It's all the living stuff that's interesting: the animals and algae and seagrass; small things like seahorses, pipefish, schools of warehou, small and large jellyfish.
I go fishing with my kids and we see schools of mullet and barracouta, we catch spotties, watch things change with the tide.
So much is going on. Even up the harbour in small reefs near Glenfalloch, there are a multitude of photo opportunities.
Sea lions have returned, and having your head nibbled or being grabbed from behind by a powerful pair of flippers keeps the interest levels high.
Seeing a blue shark chasing mackerel then beach itself at Weller's Rock is pretty cool, as is the sight of huge stingrays, very rare in these cold waters, and the seven-gill sharks that inhabit the harbour.
It's great that we have large wild animals like that at our doorstep.
These days I am rarely in the harbour.
I'd like to be out there diving, or somewhere on the local coast.
Now the students I support tend to get to do most of that.
The last time I was in Otago Harbour was just recently when we were putting dissolution blocks (made of plaster of Paris), which provide an indicator of water motion at Harington Point and Pudding Island, as well as counting and measuring the invasive kelp undaria to support the work of some of my students.
It was windy and raining and getting changed on the road at Harington Point reminded me of when I started diving.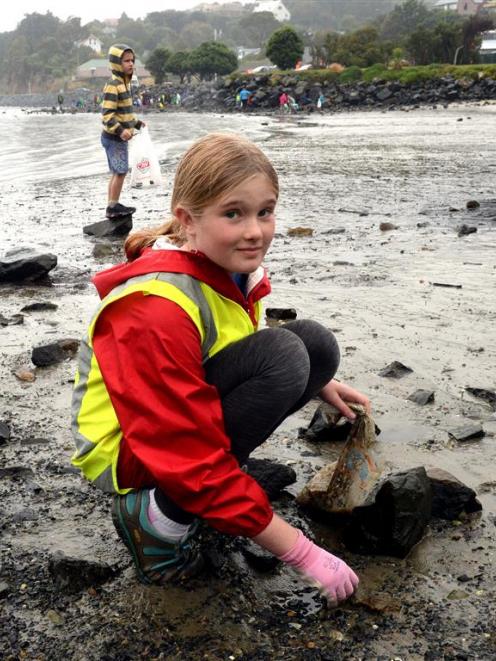 BETHAN BUCKBY
PRIMARY SCHOOL PUPIL
I am 10 years old and live in Macandrew Bay.
I can watch the waves in the harbour on stormy days from my lounge.
I can tell when it is high tide and low tide because we can see the mudflats in the middle of the harbour.
My favourite thing to do in the summer is to go swimming in the harbour.
It feels great to cool off on hot days. At the bottom of our hill there are some steps; we love to swim from there.
When we dive in, the water is cold. When Dad swims off, his arms and legs are a blur.
I also enjoy kayaking, going to the beach and messing about in the water with my friends.
In the winter I like to go for bike rides or scooter along the walkway.
Sometimes we try to spot fish and brittle stars.
Sometimes there are dead octopus littering the shore, a few lucky seagulls feasting on a delicious treat.
Unfortunately, we sometimes see rubbish in the harbour and at the beach.
We stop to pick up what we can.
Our school has a beach clean-up planned.
I am sure we will pick up lots more rubbish that has washed up on our beach.
I walk along the edge of the harbour to get to school most days, in all kinds of weather.
Sometimes we get splashed by the waves and sometimes the sun shines down on us.
At school we have been learning about our community and the history of Macandrew Bay.
Some of the street names have changed over time.
New developments have improved Macandrew Bay, such as the walkway and the sand being brought in to make the beach.
These things have helped us to meet each other.
We bump into our friends at the beach and on the walkway.
We all know each other.
Our parents chat as we are playing.
I think living in Macandrew Bay is brilliant and I am very grateful that I live near the harbour.
ANDY WINNEKE
BOATIE
Dunedin has a range of easily accessible outdoor spaces, and the harbour is among the city's best.
It has heaps to offer: the general quality of water, white sands, the backdrop of forest-clad mountain, hedgerowed hills, the compact settlements, minimal industry, and a relatively small number of users mean that there's pleasure in abundance for those willing to rug up and get out.
A water-craft of any type or size will have its day on our harbour.
I used to put plenty of time in with an old river kayak, perfect for calmer evenings and towing a lure about, though you do tend to spend time wrestling with large, toothy barracouta in fairly close confinement.
More recently I've added a modest-sized trailer yacht to the fleet, allowing the whole family to get in a day's action on the water.
Within a couple of minutes of leaving the ramp we're in our own maritime wilderness, with luck running with a gentle southerly behind and an ebb flow whisking us rapidly down towards the "halfway islands''.
If the day is warm enough and the tide rising then we might lift the keel and run her aground on the spit for a run/swim/picnic, according to the season, before visiting the series of small, often tranquil bays on the north side.
For an extra adventure in fine weather, we'll take sleeping bags, Weetbix, coffee and pancake mix and spend the night at anchor in one of a dozen sheltered spots we've discovered.
ROSS WALKER
SHIP SPOTTER
I was brought up in Aramoana and Port Chalmers.
I kicked around the wharves as a boy and when my parents bought me a Box Brownie camera when I was 12 all I did with it was photograph ships.
I'm now 69 and live at Maia, between the main road and the cycleway.
I can throw a stone into the sea from where I live.
I enjoy the view.
I photograph ships as a hobby, but it depends when I get out.
Another guy and I normally take photos of a ship's first visit to Otago Harbour.
We go to Pulling Point where a farmer has given us permission to access his land.
We've got a seat on the top of the hill, and from there we can take photos of ships directly below.
That means we can capture all the details.
We have noticed how much bigger the ships have got.
When I was a young fellow, we used to think a big ship was 12,000 gross tonnes.
Now they are 50,000. Even the ships that go right up the harbour, say to the fertiliser works at Ravensbourne, are 30,000 tonnes.
We document all ships, as long as they are working ships.
The other day we were sitting at Pulling Point when we heard this "brrrmm''.
Here was this 50-footer coming up the harbour.
It turned out to be an old Wellington Harbour pilot boat of 1911 vintage.
It's now a pleasure boat. I have a dinghy and go fishing on the harbour.
I catch moki, blue cod, greenbone.
I have a son who works as a leading hand on the [Niwa research ship] RV Tangaroa and when he comes home he asks me if we are going to go fishing.
He'll get down here first thing, stirring up his old father.
My eldest granddaughter, who is now in her early 20s, used to come fishing with me when she was about 12.
She used to love it.
She'd come and stay the night and we'd get up early in the morning before the wind strengthened.
From where I live, I see Otago Harbour in many moods.
When it has whitecaps, I call it grumpy; and when it's flat, it's in a good mood.
The other day, a storm came through.
That was something to witness; there were sheets of spray going down the harbour.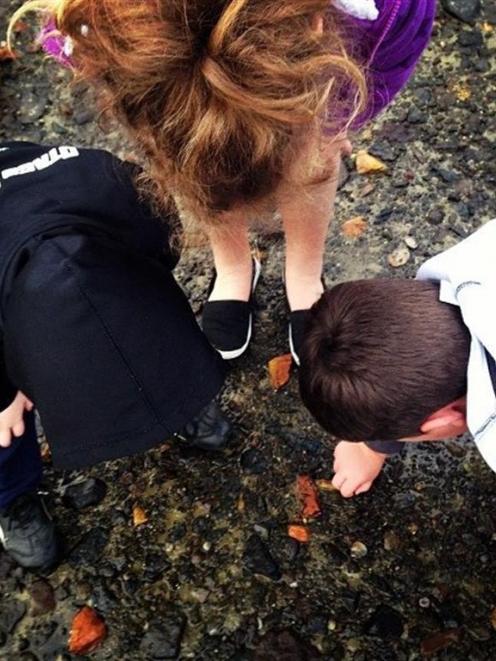 MEGAN POTIKI

NGAI TAHU, ACADEMIC
I live out at Otakou and was raised there.
I have photos of me when I was probably 18 months old in a spotted bikini swimming in the harbour.
Now I wouldn't go in the harbour because it's so cold.
I have three children and we tend to go to Te Rauone Beach a lot because my husband's family has a crib there.
It's so easy for the kids to get out on the sand. It's a great spot.
Also, there are a lot of rock pools in front of where we live, so we go down and just look.
There are the most amazing creatures hanging out under rocks.
And yesterday my youngest and I spent half an hour trying to skim rocks across the water.
When I was young, my dad (Edward Ellison) would take us floundering with spears, which was a lot of fun.
We would do it late at night with torches.
I come from fishing stock and my family still makes a living from fishing.
Otakou Fisheries was probably the most successful Maori business of its time.
We gather cockles (tuaki), which have a bit of story attached to them.
My great-great-grandmother was chief Taiaroa's granddaughter.
Her mother died in childbirth and a wet nurse couldn't be found for her so, apparently, she was fed on cockle juice as a baby and lived to have many children.
You could say there is something in the water.
I'm doing my PhD on the death of the Maori language at Otakou, and as part of this I've been interested in the harbour as this highway.
It used to be called a river by our people.
Apparently, the bush came dripping right down to the water's edge and the bird-song was deafening.
We are quite lucky. We have a view looking back across the harbour towards the city.
But I'd be the first to admit I probably take the view and the harbour for granted.
NEIL HARRAWAY
BUSINESSMAN, TOUR GUIDE
The shifting waters of Otago Harbour were foreign and fascinating when I moved from the hills of North Otago to Dunedin in the early 1970s.
I got to know them as I lived above the harbour at Maia, my dog and I ran beside and swam in the harbour; my friend and I fished in and outside the harbour, and I windsurfed from Vauxhall.
Then I somehow became removed from the harbour for about 20 years.
That was until 2013, when my wife and I bought Monarch Wildlife Cruises.
It was a revelation to be on the harbour again, seeing afresh its rhythms and moods.
In summer I might drive a bus along Otago Peninsula once or twice a week and crew on one of our boats once or twice a week.
It has been interesting working in the harbour community and seeing how closely its long-time members know the harbour's geography, its layers of history and its patterns of tide, weather and seasons.
This is most obvious around Port Chalmers and Careys Bay, where people have been living by the sea for generations.
It is great just now seeing the shift from summer to autumn with shorter days and the fresh morning air, and seeing the animals shift seasons: the godwits have flown off to the Arctic; the sooty shearwaters will soon start their migration to the North Pacific; the royal spoonbills are vacating their nests on Taiaroa Head; fur seal pups are starting to explore the waves or even waddle up the path to the lighthouse; yellow-eyed penguins are finishing their moult; and albatross chicks are big enough to sit on their own and start shuffling off their nests.
Soon we'll be watching out for the odd, treasured sighting of a whale migrating north.
It has been fascinating seeing the harbour through the eyes of visitors from all over the world, and realising how they regard it as beautiful and unspoiled.
I feel lucky to have a job that takes me out into the nature of Dunedin and Otago Harbour and lets me share it with our visitors.
That has made me appreciate how lucky we are to have the harbour reaching into the heart of our city.
GRANT HUTTON
RECREATIONAL FISHERMAN
This year I think I've done 32 salmon-fishing trips; last year was about the same.
I go blue cod fishing as well as snorkel for mussels and paua just outside the harbour.
I work weekends so my usual days off are Wednesdays and Thursdays, so I do a lot of fishing then.
I've got a 4.5m Stabicraft; it's called Ginga, painted in bright orange letters.
It's a wee boat so I only take it out to sea if the weather is really nice.
It's the perfect size for getting around the harbour.
From November to the end of March I mainly go salmon fishing.
There are really good spots in the harbour but it depends on the time of the season.
In November, salmon will be searching for the scent of Leith Stream at the upper end, but later on in the season, I'll fish near the Heads and what I call the cross-channel between Harwood and Aramoana, as well as the Carey's Bay area.
At the end of the season, I focus on the upper harbour, again just off the Leith.
However, I can't tell you what time of the day I go as that's a secret.
The biggest salmon I've caught is 23lb (10.4kg).
The biggest I've caught this year was over 17lb (7.7kg).
They are fun to catch, a good fighting fish, a sport fish.
I've had fish in the net and they've jumped out.
They are lovely to eat. I have quite a few in my freezer.
It tastes so much better than farmed salmon.
The Dunedin Community Salmon Trust is putting lots of fish into the harbour and they are coming back.
I haven't actually won the Dunedin salmon competition [held in January and organised by the Otago Branch of the New Zealand Salmon Anglers' Association], but I have come second a couple of times and placed in the top 10 several times.
I got 83rd once ... my daughter Jorja (13) has won it.
Both she and another daughter, Sarah (22), have won various trophies at the Tautuku Fishing Club.
But it's not just about the fishing. I don't think many people who live in Dunedin have been on a boat and seen how the city looks from the harbour.