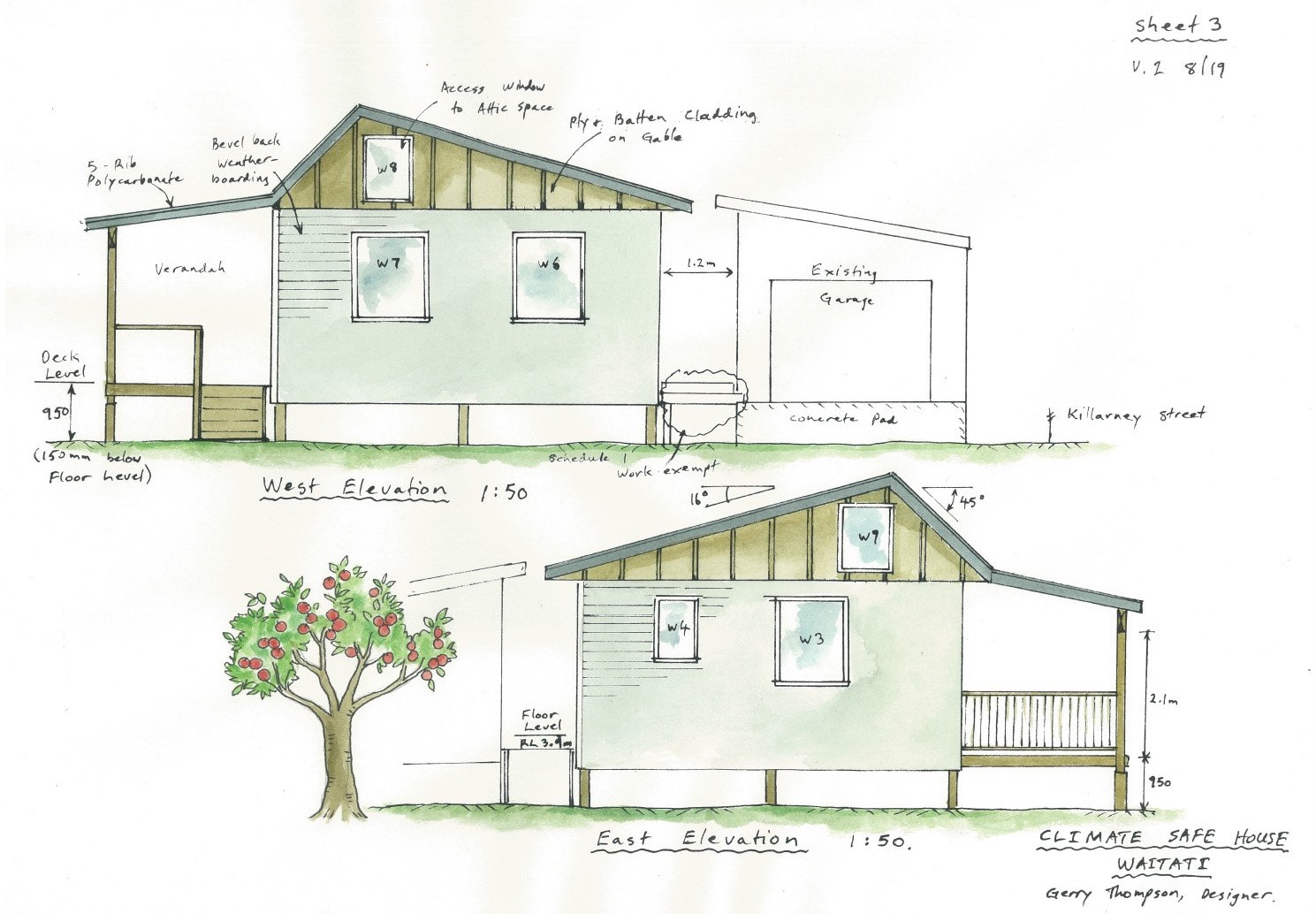 A prototype house fit for the future will make its stadium debut later this year, writes Scott Willis.
I would hate to be house hunting right now. Housing crisis? Yep, we're in it, but we've also entered the Long Emergency of our changing and now increasingly unstable climate. Our coastlines are changing, sea-level rise is accelerating and flood hazard is foreseeable. What can we do?
Investment in climate-safe housing is necessary to both address the climate crisis and the housing crisis. We don't want to be investing now in new housing assets that may be drowned assets in coming decades.
The Dunedin Towards 2050: A Spatial Plan for Dunedin was adopted in 2012. Its overall urban form goal is "a Compact City with Resilient Townships''. The new District Plan (2GP), which derives from the spatial plan has identified flood hazard areas and places some new constraints on people who want to build or renovate in at-risk areas. Meanwhile, people are still buying and selling in areas of the city we know are at risk of flooding.
We need city leadership on the emerging impacts of sea-level rise, increased flood risk and preparation for any surprises such as sudden inundation. "[T]here's going to come a time when the younger generation will say "you knew about this and you didn't do anything. And you could have, but you didn't. Through inertia, inaction or lacking in moral courage, whatever, you didn't do anything and look at what you've left us'', explained an anonymous interviewee during research on attitudes to climate change carried out by the Blueskin Resilient Communities Trust (BRCT) in 2016. We're now in 2019 and the School Strike 4 Climate movement shows us that youth are already engaged and want climate action now.
Planning for climate change and housing is happening. Very recently, the Government launched a new proposed National Policy Statement (NPS) on urban development. Theoretically at least, the proposed NPS could provide some central government guidance on urban development informed by a National Climate Change Risk Assessment. Where local government is sometimes constrained by local politics, direction from on high could be very helpful. But that won't be enough. We need to link the top-down approaches with the flax-roots efforts, to ensure that the local know-how is incorporated into plans.
Earlier this year BRCT signed a formal partnership agreement with Otago Polytechnic, which requires both to work together to construct New Zealand's first climate-safe house in time for the Home & Living Show in Dunedin. The partnership requires both BRCT and the polytech to do all they can to complete the climate-safe house as far as possible by November 2-3 at Forsyth Barr Stadium. Once the Home & Living Show is over the building will be re-located to Waitati and installed on a property to provide a warm, efficient, elevated and transportable home for a community member whose home has been rendered uninsurable and uninhabitable through flooding.
The climate-safe house project will provide a practical example of adaptive housing, highlighting not only simplicity of design, but also a new ownership model and partnerships for sustainability. BRCT is leasing a property in order to build the house and will sub-let the house to the current resident and property owner at a peppercorn rental, removing it when flooding becomes too extreme.
Both BRCT and Otago Polytechnic are investing significant effort and resources into this project (Otago Polytechnic is organising an all-women construction team highlighting its wide range of trades and construction programmes, for example) and secured important sponsorship. And it is the breadth and depth of sponsorship that makes this project so special.
First on board was Formance, providing Structural Insulated Panels (SIPs) which will form the thermal envelope of the house. Other sponsors include the DCC (consenting), uPVC Windows and Doors (double glazed windows and doors), All Septic & Drainage (septic system), Biolytix (septic tank), Resene (paint), Signify/Phillips (lighting), Fulton Hogan (transport), DS Building Ltd (pre-assembly of SIPs), Control Focus (solar panels and energy system), Aotea Electrical Ltd (design and electricity), Foleys Plumbing, FPS (frame protections systems), Radcliffe Electrical, The Heating Company, Decorating Services, Cook Brothers (construction), Osborne Brothers Ltd (building), the Building Research Association of NZ (Life Cycle Assessment), Naylor Love Construction (Quantity Surveying and Construction Management) and Eclectic Home Design (house design and building consent).
Contributions from companies and organisations who feel as passionate about climate solutions and trades for a changing climate are critical to the project. That's why we'll be showcasing their materials and inputs at Forsyth Barr Stadium in November.
The tight timeline puts the pressure on to finalise sponsorships and keep everything on track. It also reveals the challenges we face as a society to move with the urgency required to reduce emissions and adapt to our changing climate. We've been challenged to resource a new build that falls outside the usual social or community housing model.
There are risks in doing things differently but also opportunities to learn. We know that Dunedin's housing crisis is an opportunity to think differently about property, shelter, job-creation, health and wellbeing. We know we need a more co-ordinated approach to housing and action on climate change.
The climate-safe house project is our opportunity to implement adaptive planning in practice. I'm really excited about the opportunity to get creative with new materials to construct a high-performance, affordable and adaptable model house we can replicate and use as a resource, while providing shelter for someone in need.
But I'm also looking ahead, at how this house will be the first of many. I think we can energise the local construction sector, with new trade skills, new jobs, and clean-tech. Building better means building for a low-carbon impact to ensure the just transition and we need positive examples to show the way.
Scott Willis is the project manager of Blueskin Energy Ltd. Each week in this column, one of a panel of writers addresses issues of sustainability.
For more
1. The  Home & Living Show at Forsyth Barr Stadium, November 2-3: www.kiwihomeandliving.co.nz
2. Consultation on the proposed National Policy Statement for Urban Development Capacity is open until October 10: http://tiny.cc/ipkjbz
3. The Housing Fit for our Future conference: the convergence of housing, climate and energy, is on in Auckland on October 24-25: http:/ /tiny.cc/5skjbz
4. School Strike 4 Climate Dunedin is organising a Climate Strike on September 27: www.facebook.com/ SchoolStrike4ClimateDunedin/
5. Otago Polytechnic provides training: www.op.ac.nz
6. Find out more about BRCT's projects: www.brct.org.nz