Waitati School is benefiting itself and others in a power-sharing scheme, writes Scott Willis.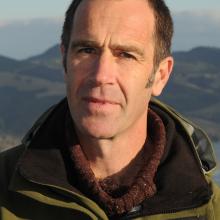 Children think outside the box. That's the reason Nasa pays attention to children's designs for space ships: children's creativity can open doorways. When Gareth Hughes MP opened the Waitati School solar array last October he was celebrating not only the first Otago solar school but also our local Enviroschool and it's students as innovative trail-blazers and future leaders.
Every day I enjoy hearing children's plans and discussions from the Blueskin Resilient Communities Trust (BRCT) office, located on the school grounds. There's so much energy and enthusiasm! Five months since the school had solar power installed and joined the Blueskin Energy Network (BEN) we're also now beginning to appreciate the impact that the school has as a mini power station sharing power with the community.
First there's the financial gain. It is clear that already the school is making substantial savings; savings that translate into more books, computers, and trips for children. Over a four-week period last summer Waitati School, under a different provider, paid a power bill of $635. Over a similar four-week period in early 2019, the BEN power bill was $50. School principal Stacey Honeywill cautions that "we really need a full year to know just how significant the benefit will be, and without the generous donation by the local philanthropists we couldn't have done it".
It's a boon for members of the community, with power from the school going into the school solar pool accessed by other BEN customers at a much better price than "grid power".
Second there's the growing energy awareness. Already the children were switched on early to energy issues because there's a lot of discussion about renewables in our community, but also because they'd been researching solar power in detail ever since the school received the all important donation to enable it to install solar panels. One important discovery Stacey made was the impact of charging laptops and tablets overnight. By charging during the day, when solar power is at its peak, overnight electricity demand at the school has now halved. The key to monitoring and understanding this has been the Blueskin Energy Network.
And this is where the sharing component becomes so valuable. The school has 10kW of solar panels on its roof, and the BRCT office has an additional 1.5kW of solar panels. All excess (all electricity produced during the day but not consumed at the school or BRCT office) goes into the school solar pool. The school community, or those who are BEN customers, draw from this pool of cheaper local green electricity before it is opened to the wider group of BEN customers.
BEN customers receive cleaner, cheaper power as a result, and the key innovation enabling customers to do better is the use of clever technology. This is what makes the BEN electricity "smarter" and shareable and helps reduce emissions while lowering cost.
Clever technology is also the third critically important aspect of BEN. The BEN service is a service that can communicate with customers via an app providing tips on the best times to use power, and provides rewards when customers "do good" in line with preferences customers set themselves. Knowledge really is power in this case. Already the school has been able to reduce electricity demand and use its locally generated renewable electricity by changing some simple habits. There's a possibility each teacher in each classroom at Waitati School could access information at any time via the app and make even more changes. BEN customers in the wider community set their preferences for local, cleaner or cheaper power on the app, then can monitor the best times to use electricity. Some of our good friends in the neighbourhood who strictly follow the BEN app have reduced their power bills to about $8 per fortnight, without skimping on comforts. In addition, by adapting to the best times dictated by their preference, they earn points. These points can then be redeemed as reductions in power bills or to create social or environmental impact.
Electricity, in the Blueskin Energy Network and particularly with Waitati School as an important customer, becomes a relationship builder. Through the Blueskin Energy Network, small-scale renewable electricity generators such as the Waitati School or households with micro-wind or solar can share their excess with other BEN customers who do not. The benefits of sharing electricity locally are accrued by both BEN generator and BEN consumer (a higher price for the generator and a lower price for the consumer). Connections are made between producers and consumers and connections are made with important causes when BEN customers choose to use points to support climate safe housing, planting trees or Waitati School's Manaaki Papatuanuku programme.
I can see in BEN a new way of doing things. While it began in Blueskin Bay, the BEN service already extends around much of Otago, including the townships and outlying areas of Balclutha, Lawrence, Middlemarch, Oturehua, Omakau, Ranfurly and Naseby as well as the North Coast of Dunedin from Leith Saddle to Shag Point.
When I see the children together at school, I see the values of sharing and the excitement of new knowledge ready to set forth on adventures. In many ways our children are models for what I hope BEN will become. We'll keep on learning, creating, adapting, growing bigger and more capable. From small beginnings, good things come.
For more 
• The Blueskin Energy Network: www.brct.org.nz
• The sharing energy economy: https://tinyurl.com/yy3zqn4m
• Waitati School: https://waitati.wordpress.com