Is it time to start preparing for the "Long Emergency", asks Scott Willis.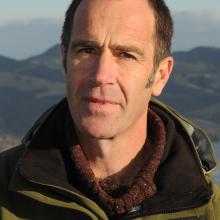 Climate change or the "Long Emergency", what do you prefer to call it? We are experiencing the early impacts of climate change now and the frequency and intensity of adverse natural events will continue now for a very long time. It is a long-run emergency situation that human civilisation has not faced before. Human civilisations have risen and fallen since the end of the last ice age some 12,000 years ago and all have existed during the Holocene; a period of relatively stable climate and coastlines, which allowed agriculture and towns and cities to develop (often on the coast or on ancient alluvial flood plains).
We can trundle along as before - and many people do - or we can prepare to ride our way and help our children through it. Preparation for the Long Emergency involves more than just buying an emergency kit and ensuring you have a few tins of spaghetti, containers of water and some matches. The Long Emergency requires a new state of mind, new ways of thinking and a greater acceptance of risk. And it involves ping pong balls. Let me explain ...
Last month, during Techweek, a workshop on "Democratising our energy network" was held in Waitati Hall. Martin White from P2Power (part of the Blueskin Energy Network partnership) ran an interactive session during which randomly selected participants were given three scenarios and were invited to distribute coloured ping pong balls, representing on the one hand clean green electricity (white) and on the other, dirty fossil fuel electricity (sickly yellow). At the end of the session it was clear that with the right signals and a small effort from households we could reduce power bills, consume and support more local renewable power generation and therefore begin to build a more flexible and resilient electricity supply.
We need to stop burning fossil fuels to generate electricity and we need to use clean forms of energy (such as electricity from renewables) to power society. The Blueskin Energy Network is set up to assist this transition. Disclaimer: the Blueskin Energy Network is the electricity retail arm of Blueskin Energy Ltd, a charitable company owned by the Blueskin Resilient Communities Trust. And the only "risk" is that it is a new way of doing things.
As was on show during Techweek, electricity use (what we do with it) is being enabled by digitalisation, as systems and appliances use smart technology. Clean tech, such as solar panels and wind turbines, can be installed anywhere there is adequate sun or reliable wind. Batteries and electric cars powered by batteries offer more distributed and flexible ways of storing electricity and the Internet of Things is allowing us to read the weather, schedule our energy use and set our preferences to create great efficiencies and build resilience.
Over time, as enough people connect and join, we will be able to create micro-grids, where a small, free-standing grid is nestled within the larger grid and can flick a switch to "island" itself from the larger grid if necessary.
Why is this useful?
Firstly, it could mean the lights temporarily stay on in a significant emergency if the main electricity network is knocked out. Secondly, if we create micro-grids incorporating local renewable electricity generation, we can reboot the main grid if ever there is a full blackout, by restarting incrementally.
What I'm really talking about here is a core component of a community-scale emergency kit for the Long Emergency: development of a smart grid that will become a micro-grid and will increase the flexibility and resilience of communities all around New Zealand.
Right now the Productivity Commission is considering public feedback on how to achieve a low-carbon economy while increasing wellbeing. Alongside this the Government has set up an interim climate change committee tasked with beginning "work on how New Zealand transitions to a net zero emissions economy by 2050". One thing that has to be considered is how to meet the Government target of 100% renewable electricity generation by 2035. But the other thing we all have to consider is how flexible and adaptable our systems are for the Long Emergency.
I feel confident making some predictions about what we will see happen in the next two decades.
First, we will see many, many more wind turbines in our landscape, because wind power is cost-effective, low impact and ideally suited to provide greater resilience through being able to be widely distributed. For that to happen, regulatory change will take place to encourage the deployment of wind turbines and reduce avenues for aggressive opposition.
Second, we will see some community-owned wind farms powering local networks with supplementary generation from small-scale solar and mobile storage in the form of vehicle-to-grid electric vehicles (cars that can both charge up from the grid and discharge electricity into the grid). These will be complementary to corporate wind farms directly connected to the national grid and to hydro dams and geothermal power stations.
Third, we will see services such as the maintenance of power quality and increased grid resilience being valued by the government authority charged with governing power supply in a way that provides financial advantages to micro-grids.
And finally, we will stop using coloured ping pong balls and simply play the game with clean energy and white balls, saving costs as we go.
I am willing to bet this will all be in place by 2035. We really need our emergency kit sorted by then because there's a wild ride ahead and it is best to be prepared.
More information
• To find out more about the Blueskin Energy Network go to: www.ben.p2power.co.nz 
• To read more about the Productivity Commission's work go to: http://bit.ly/2HX9kD3
• Have your say on the Zero Carbon Bill for New Zealand: https://mfe.govt.nz/have-your-say-zero-carbon
 - Scott Willis is the project manager of Blueskin Energy Ltd. Each week in this column, one of a panel of writers addresses issues of sustainability.