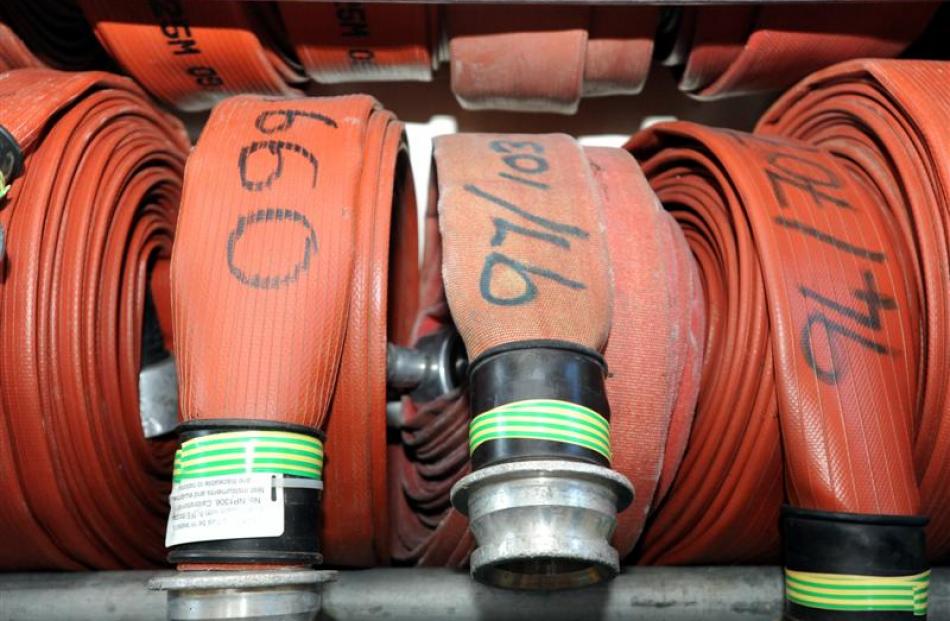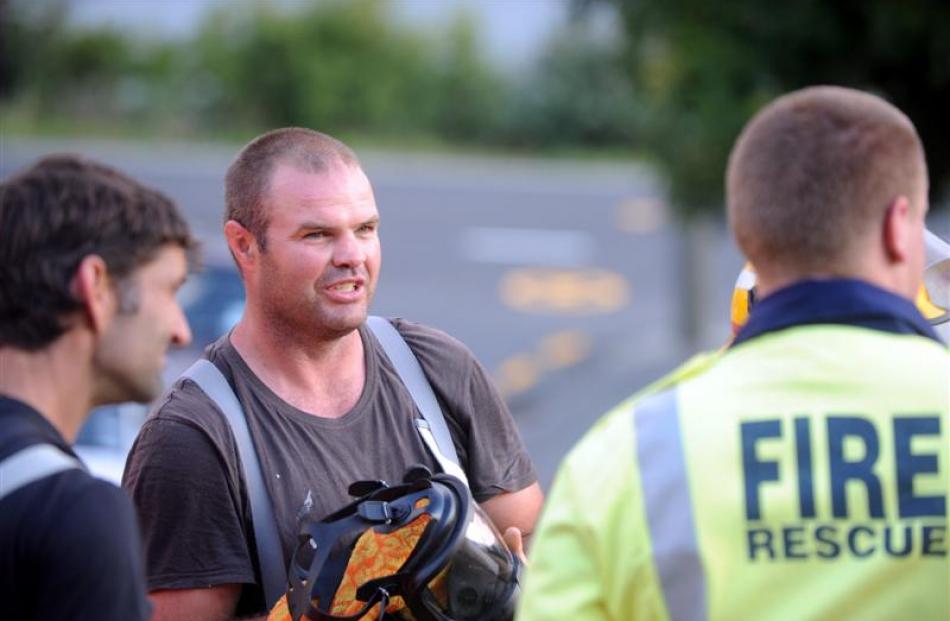 Volunteer firefighting is under pressure, a report which could precipitate the biggest shake-up of the New Zealand Fire Service in 50 years says. Bruce Munro tags along with Regan Soper, of the Ravensbourne Volunteer Fire Brigade, to record a week in the life of one of New Zealand's 12,000 volunteer firefighters.
Regan Soper (36) was making the next day's lunch when the siren began to wail at 7.59pm on Sunday evening.
A few seconds later his wife Jacki poked her head into the lounge. The television was still on, a butter knife lay on the table next to two pieces of bread, but her husband was nowhere to be seen. Outside, a car engine burst into life and tyres flicked driveway gravel at the wooden fence.
In less than two minutes he would be braking outside the fire station of the Ravensbourne Volunteer Fire Brigade.
Next month Minister of Internal Affairs Chris Tremain will announce decisions on a wide-ranging independent review of the New Zealand Fire Service (NZFS). Although Mr Tremain has said the Fire Review Panel report is ''evolutionary, not revolutionary'', the United Fire Brigades' Association has described the report's call for ''immediate legislative reform'' and ''a bold vision'' as potentially ''the biggest shake-up in 50 years''.
Not that your average volunteer firefighter like Mr Soper is particularly aware of the winds of change swirling around him as he dashes into the squat, concrete-block fire station on the western edge of Otago Harbour.
If adopted, the report's recommendations would reduce the threat firefighters face of being sued for their actions during non-fire callouts. The recommendations would also introduce accreditation of agencies such as rural fire units and roading contractors to take on non-fire emergency services including vehicle crash extractions in places and situations where the NZFS is unable to provide the service.
They would establish an inter-agency emergency services forum which would improve collaboration and oversee some sharing of facilities and call centres by fire, rescue, emergency and ambulance services.
They would broaden the NZFS's insurance levy-funded financial base by, among other measures, trying to close the loophole that allows people who do not insure their properties and vehicles, and so do not help fund NZFS, to still get the benefit of fire services.
Lastly, they would provide additional support to New Zealand's vital but under-pressure network of volunteer fire brigades. Nor is Mr Soper - as he quickly pulls on leggings and steel-capped gumboots, fire-resistant bunker coat, balaclava-like flash hood, helmet and gloves - mindful of the review panel's high opinion of this country's volunteer firefighters.
The NZFS has 1750 professional firefighters staffing city fire stations nationally. In addition, there are about 8000 members of 400 volunteer fire brigades and more than 3000 volunteers with the National Rural Fire Authority.
The panel, chaired by former Labour MP Paul Swain (QSO), says New Zealand would not have such a high standard of emergency cover if it were not for volunteers.
''They spend countless hours of their own time improving their skills in training and practising so they can discharge their responsibilities to the NZFS to the highest possible standard,'' the report states.
''There is no other feasible model that provides for such comprehensive cover at a price communities can afford.
''In that light, sustaining and fostering volunteerism in New Zealand's fire services is a critical issue ... ''
The Iveco fire appliance pulling out on to SH88 at 8.02pm, Sunday, with a full crew of Ravensbourne volunteers is evidence of that dedication in action - a dedication that begins afresh each week at Monday evening training.
Shortly after 7.15pm the previous Monday, Mr Soper and 12 other members of the Ravensbourne Volunteer Fire Brigade fell in for inspection by the brigade's chief fire officer (and the suburb's postie) Ross Bryant (54).
This is a diverse crew - 16 in all when everyone is present - that reflects its neighbourhood. The postie, a railways shunter, a builder, three women including a 38-year-old first time mum-to-be, a doctoral student, a salesman, an electrician, a human resources manager, a retired professional firefighter ... and Mr Soper, a top-dressing pilot.
Tonight, in the overgrown former pre-school property behind the fire station, they practise forced entries, working in confined spaces and patient recoveries - all done wearing heavy breathing apparatus.
At home during the week they will also work through training manuals, with everyone's results logged on an NZFS training database. To continue riding the appliance, each crew member has to stay up to date with their training, Mr Bryant says.
The review report talks about inadequacies in NZFS leadership's support of volunteers, describing it as ''an organisation that fails to fully appreciate and recognise the value of its volunteers''. But Mr Bryant says he is unaware of such problems in the South.
''We have a good relationship with them,'' he says.
Back in the fire station after training, brigade members talk about juggling full-time work with volunteer firefighting.
The conversation is spurred by the comment that the review panel knew the NZFS had an employer recognition programme but thought more might be done to encourage employers to release employees to respond to emergencies. The report says volunteer brigades being unable to ensure daytime response cover is a widespread problem.
Two Ravensbourne brigade members say they still get paid when on callouts. Another says he is able to leave work and still get paid as long as there are no urgent jobs to be done.
Others say they cannot respond during work hours because they work too far away.
Quite often, if a callout occurs during the day, the brigade can only respond with three or four volunteers, Mr Bryant says. If they are short-crewed, back-up is provided by another fire station, when required.
Mr Soper says he is sometimes available during the day and sometimes not. He picks up the conversation a few days later and explains why.
His work for a fertiliser top-dressing company takes him throughout Otago, he says.
When the weather is not right, he is at home and available if brigade callouts come. But when he is working, he is always too far away to respond.
It is now Friday and he has been working for the past three days. But fortunately the pager and siren have remained silent.
He does not like to miss callouts.
''I like the unpredictability of it,'' he says.
''You don't know when the siren's going to go ... And then even when you turn out you don't know whether it's going to be someone's gutter's fallen off and they don't know who to call so they called us, or to a house fire, a car accident or flooding.
''Every call's different. I quite like that.''
Mr Soper was 14 years old when he first started volunteering with the Mataura Volunteer Fire Brigade as part of his Duke of Edinburgh service requirements.
He later became a recruit and then served as a full brigade member for three years before leaving town and eventually going overseas. His work in the aviation industry, including as a pilot, took him and his wife as far as Africa before the couple returned to New Zealand and settled in Ravensbourne five years ago.
At that time the brigade was rebuilding from a low point of 11 members. A letterbox drop seeking volunteers caught Mr Soper's eye.
''I didn't know anyone in the area. It was a good way to meet people and get involved in the community a little bit.''
He keeps a pair of overalls beside his bed and always puts his car keys in the same place. Responding to the siren becomes instinctive after a while, he says.
''Once, when we were away for a few days staying in different towns, the siren went off three nights in a row.
''The first night I leapt out of bed and banged into the wall of the room we were in.
''The second night I leapt up again. By the third night I knew we weren't at home, but I still sat up.''
Fear is not something he feels in the midst of a fire or rescue response.
''But when you think about it later, you realise there's potentially dangerous situations. You just have to rely on the fact you have had the right training and that you're going to make good judgement calls ... and you rely on your other crew.''
Two days later, on Sunday evening, called out for the first time in the week, Mr Soper and five others are riding in the 250hp, six-cylinder appliance, heading for a car fire on private property at Hamilton Bay, halfway between Port Chalmers and Aramoana.
It takes 12 minutes to travel the winding 14km route to where they will assist the Port Chalmers Volunteer Fire Brigade, which has requested more water.
Up a steep gravel drive, beyond the Port Chalmers appliance, they can see a smouldering late-model sedan.
After dampening down is completed, Mr Soper brings up a chain which will be used to tow the car away.
The boot of the vehicle is intact. But the side windows are blackened with smoke, and the twisted and burned bonnet is pulled back against the windscreen to reveal an engine, the metal components of which have been partially melted by what must have been an intense fire. Early indications are that the fire was caused by the car battery slipping out of place and falling against the engine.
It appears the vehicle is uninsured. If so, the driver, a tourist, is unlikely to have made any contribution to the cost of calling out two appliances manned by a dozen trained volunteers.
But that is for the review panel and the Government to worry about. These firefighters say they will respond whenever they can, whatever the call.
For Ravensbourne that is the next morning.
It is 11.17, Monday morning, when the siren sounds. Mr Soper is not at work and meets Mr Bryant at the station a couple of minutes later. No-one else is there, although Mr Bryant's son Jason (27) is on his way. The callout is to a downed power line in Athol Pl, just two blocks from the station. When they arrive it becomes apparent it is a phone line, not a power line, that has come loose.
The firefighters temporarily fasten it to a pole and contact the telecommunications network operator.
The job takes less than 20 minutes but highlights a key concern of the review report.
Firefighters operate under two pieces of legislation, the Fire Service Act 1975 and the Forest and Rural Fires Act 1977. These laws were crafted when the almost exclusive mainstay of the fire services was fighting fires. Since then, however, the number of fire callouts has dropped significantly and the number of other emergency and rescue callouts has grown correspondingly strongly. Mr Soper, for example, has attended only three house fires in his five years with the Ravensbourne brigade.
It is good news from a fire safety point of view. And the other callouts are in response to community needs. But the legislation provides no specific mandate for firefighters to tackle these non-fire jobs such as motor-vehicle crashes, medical emergencies, hazardous-substance spills, civil-defence emergencies, and weather-related incidents such as phone lines coming loose in strong winds.
And the review panel believes that also means firefighters' liability is not limited if mishaps occur during these callouts.
The review report recommends ''immediate legislative reform to validate the delivery of the current range of services''. The mandate would include ''legal protection for fire services workers if things go wrong during a rescue or emergency''. But Mr Soper's focus is simply and firmly on what he does and why.
''The best thing about this job is having the skills, equipment and training to be able to help when we're needed.
''The worst part is that someone is having a bad enough day that they do need you.''
That is why Mr Soper will be back at training again tonight - he and thousands of other volunteer firefighters like him - preparing for the next time the siren wails.