The creativity expressed in art might be more important than the hard data of science when it comes to our processing environmental problems, artist and scientist Jenny Rock tells Maureen Howard. 
"My art making often feels like an act of renewing vows to the environment, or honouring," says Jenny Rock.
"Time, reflection, hands-on making; these vital things of art's practice renew my bond and expression of respect over and over."
Rock is a senior lecturer in the Centre for Science Communication at the University of Otago, and in a specialised world, she is a rare example of someone who is both an accomplished artist and scientist. As well as more than 20 years of interdisciplinary research in environmental physiology, molecular ecology, and evolutionary genomics, Rock also holds exhibitions for her art, mainly printwork, and writes poetry.
Her connection to the living earth is deep and personal.
"It is like family heritage or kinship in that I am part of it and it is bigger than me and I respect it as well as love it."
It's a philosophy that approaches the Maori concept of whakapapa, but Rock's links with the earth differ in that they are not bound to a specific place.
Rock has felt this earth connection for as long as she can remember, dating back to the farm she grew up on in Central Maine, in the US, and it is something she attributes in part to her parents. Her father's family heritage was largely Cree Native American; her mother was a Scottish emigrant.
In 1994, Rock moved to Dunedin to study for her PhD in zoology. Upon its completion, she spent time in Australia and Wales, completing postdoctoral research on marine invertebrates and fish, before returning again to Dunedin to take up work at the University of Otago.
Weaving art and science into her life has not always been easy. Like many people, she was forced to choose between sciences and the arts in high school.
The assumption at her school was that the higher your overall grades, the less appropriate it was to study art past the age of 12. Rock gained high marks and wanted to study biology, so art was not offered. Instead she chose to attend the younger students' art classes, sitting in the back of their classroom.
"I think there were just two of us doing this," she says.
Things got a little easier at the liberal arts university she attended. But even there, students were getting channelled into particular streams by the end of the second year of the four-year degree, she says.
Rock began to take her art more seriously again while in the second half of her PhD studies at Otago.
"The PhD is so, so narrow and specialised and so devoted to a certain type of literature and type of analysis and so I started going to formal art classes at night just to get my head out of that one little box."
Later, when doing postdoctoral research, Rock found that art became "vital again".
"The art gave me time to reflect, I would say, and let me think outside of paradigms.
"An artistic approach keeps you so much more limber and flexible. You're more ready to make those shifts I think."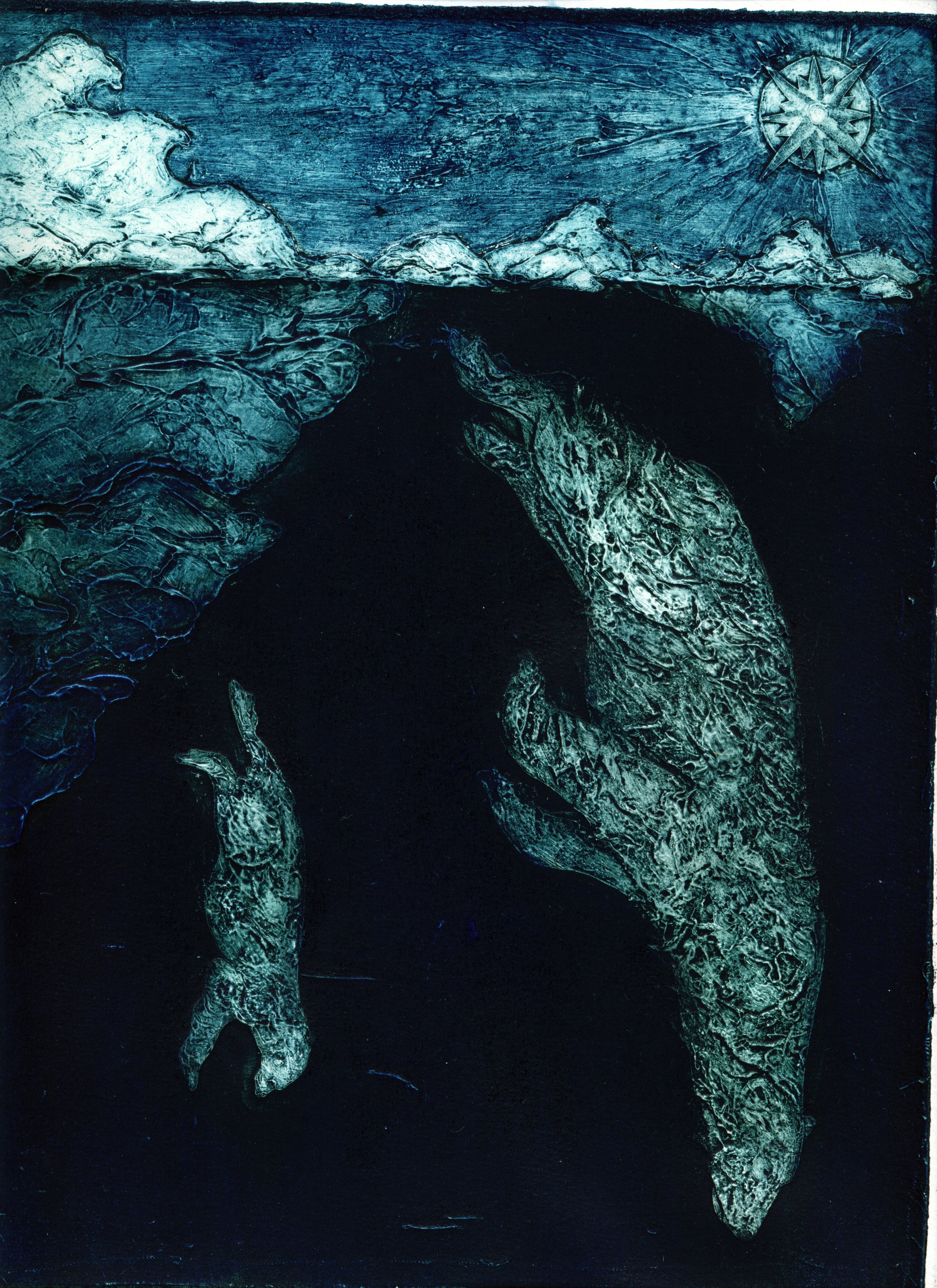 Rock also believes that art helped her fall in love with her science.
"People are really starting to write about this again ... recognising just how much we understand by drawing."
From meticulous work to abstract art, Rock is convinced drawing "is a deeply human way to know something".
Likewise, science has helped Rock's artwork. There is a degree of strict methodology that goes into the art of printmaking and "if you want a predictable outcome you've got to step back and control your variables," says Rock.
"Quite often my art practice makes me invoke my science methodology; more than I would like it to!" she says, laughing.
Rock is keen to see art used more to communicate serious issues such as climate change. This year marks the seventh year of running 2 Degrees Different: ARTiculation of Ocean Warming. It is a project initiated by Rock, in which students produce work aiming to evoke empathetic understanding about the impact of a 2degC rise in temperature for local marine organisms.
Student pieces of work include poetry, visual art, board games, photography and dance performance.
When science communicates issues such as climate change "we are not getting the emotional angle, the empathetic connection through graphs, to infographs or whatever. They catch your attention briefly but it doesn't persist."
Right now, Rock estimates about 25% of what is communicated about climate change carries an emotional perspective.
"That needs to flip basically. An arts perspective needs to receive at least 75% of the funding!" she says, laughing again.
Having sat through one of her student's dance performances about climate change, Rock says she found herself "bawling".
"If anything is going to change me, it's that, it's not a statistic."
With Rock and others like her, the arts have found a natural home in the university's Centre for Science Communication. Unfortunately, Otago and universities in general have been slow to recognise artistic creation on the same basis as publications.
Although Rock's students are able to submit works of art that will be recognised towards their qualifications, Rock cannot. The PBRF [performance-based research fund] that measures academic staff performance does not recognise artwork in the same way.
"I can talk about it, I can write about it, but I can't do it," says Rock. "That's a mixed blessing."
The uncertain future we face seems the sort of place where people like Rock will be essential,
people with feet firmly in both the arts and science.
"It's well recognised that creativity is so important," Rock says. "We are in such challenged times and it's only going to get worse."
Beyond those big world-encompassing considerations, it is also a matter of human flourishing.
"We need whole people again," Rock says. "It means the world isn't as interesting and rewarding as it could be for each individual."