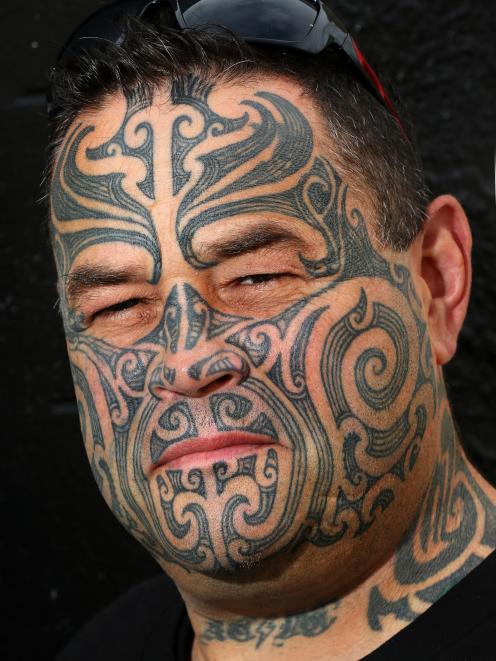 For Jamie Addison, his full-face moko is not only a representation of his Maori culture, but the journey he has taken to turn his life around.
He got the tattoo about 15 years ago to replace gang insignia which he had laser treatment to remove.
"Through my recovery, I came into contact with my identity as a Maori male within Aotearoa."
Mr Addison, who is the cultural liaison officer for Tribal Nation Motorcycle Club Otago, said he came from a very dark and lonely background of domestic violence, where males were perpetrating violence towards women.
"I too was one of those that fell into that unfortunate arena," he said.
He was tattooed by his cousin, Riki Manuel, who designed the moko to capture a smile, rather than a frown, at a time when he had decided to change his life.
"I had been spending most of my life frowning, frustrated, upset, hurt and lonely — we tried to capture something different," Mr Addison said.
The design around his mouth and chin represented the positive conversations he was now having with people.
But one conversation he was still learning to have was with family, as while he was trying to prove to the world that he had transformed his life, his family was wondering when it would be their time to be a part of his change.
For others on a similar journey, it was important to ensure family was not left behind, he said.
The moko around his eyes represented how he now saw the world through Te Ao Maori lenses, and a design called epu rangi on his forehead was his antenna to Atua (God).
"At times when things get difficult, that sort of settles me," he said.
Spirals on the right side of his face depicted a journey that was not perfect, but the spirals on the left side of his face reflected the progress he had made, he said.
At age 27 he learned to read and write and after moving to Dunedin in 2007, he took part in the Moana House programme.
He achieved a diploma in applied addictions counselling, a social work degree, and is now doing a master's in cultural assessment and cultural identity within the prison system.
A pu taringa at the bottom of his ear represented the female role models in his life.
"My nanny, my aunty, my mum, my wife — those that gave their time to download principles into my life that at times I forgot."
His moko, in its entirety, captured what he does now — being a member of Tribal Nations and a White Ribbon ambassador.
"I really admire the way that the Tribal Nations Motorcycle Club in Dunedin, and in this country, adopts key principles like Manaakitanga and Kaitiakitanga."
The club strived to bring light into dark spaces, he said.