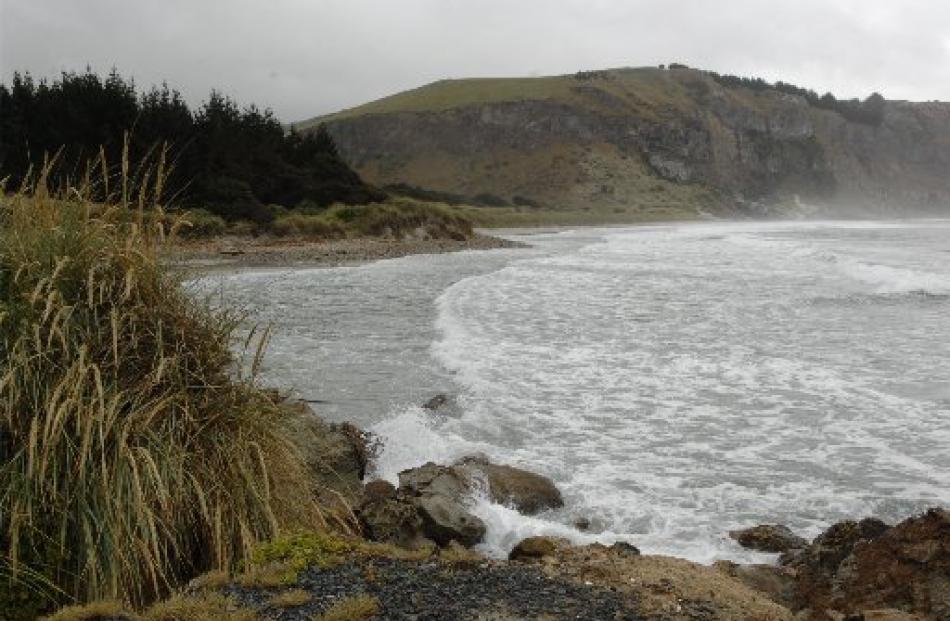 Tucked away at the mouth of the Otago Harbour sits the private and subdued settlement of Aramoana.
A 30kmh sign greets visitors at the entrance, encouraging drivers to slow down to an appropriate pace of life.
With no street lights, no shops and no pubs, the ''pathway to the sea'' is a quiet spot, perfect for backing in a caravan, setting up a deck chair and lighting a barbecue.
Home to about 260 permanent residents, Aramoana is popular with holiday-makers and day visitors alike.
Louis Munro, of Dunedin, has been going there his whole life.
The 23-year-old spends holidays in the family crib which his grandparents Peter and Muriel built with their brothers and sisters about 40 years ago.
Much of it was made from recycled materials from a school in Dunedin's Northeast Valley, he said.
They named it 'Bienvenue' and it became home to odds and ends of furniture family members no longer wanted.
Four sets of bunk beds fill two of the three bedrooms and chairs from the 1960s line the lounge. An original Sparton fridge sits alongside a more modern version in the kitchen, and the neighbour's dog Jack is in no hurry to move off the front porch.
About 15 family members stay there on a regular basis and ''just muck around''.
''Everyone can just chill out,'' Mr Munro said.
Fishing, eating, trips to the beach and games of pool helped wile away the hours and there were plenty of good walks to go on for the more energetic.
He described it as a ''really nice, beautiful place'' while his cousin Paige Munro liked it because it was so quiet.
Rod Ruddell, of Mosgiel, agrees.
''It's so quiet. There are no street lights and no footpaths. You get lost at night, it's just pitch black and you can walk right past your street,'' he said.
He bought his crib in Aramoana at Labour Weekend and was looking forward to spending more time in the ''lovely place''.
Having always wanted a holiday home, he and his wife Robyn quizzed people about where to buy.
Everyone they spoke to talked about childhood memories of walking on the mole and playing on the beach.
They were sold.
''We are too old for fun. We are just right for relaxing.''
David Wild and Tammy Rizzi have been visiting the area with their four-year-old twins Ben and Clair for the past four years.
They bought a section and hoped to build a home on it, but were confined to a shipping container for the meantime while they sorted out consents.
The container does not have a shower or toilet, but with home only ''20 minutes away'', nipping home for a wash was not hard.
Mr Wild loved having somewhere to go which was close to home, but felt miles away, and went there at least once a month to surf.
The children liked to go biking, play in the forest and go to the beach, while Ms Rizzi enjoyed being around such friendly people.
''You can't walk down the road and not have someone say hello to you.''
---
Aramoana
• Located 27km north of Dunedin at the mouth of the Otago Harbour.
• Known as `The Spit' to locals.
• The name Aramoana is Maori for ''pathway to the sea''.
• Originally founded by the Otago Harbour Board as a pilot station for navigation around the mouth of the Otago Harbour, the area grew into a small farming village.
• In the 1950s it became popular as a beach resort and rural life village due to the construction of a mole, to inhibit the spread of tidal sands into the mouth of the Otago Harbour, and was surveyed and amalgamated as a suburb of the Port Chalmers borough.
• The mole is 1200m long. It was meant to extend another 600m into the ocean, but was considered too unstable.
• In 1974 the Save Aramoana Campaign was formed to oppose the proposed building of an aluminium smelter which would destroy Aramoana and Te Ngaru, as well as a wildlife reserve. As part of the campaign, residents announced their secession from New Zealand on December 23, 1980.
A ''border post'' and ''travelling embassy'' was established, passports were printed, along with citizenship certificates and stamps. The project was eventually abandoned in the early 1980s due to declining aluminium prices and financial woes, and the Independent State of Aramoana was reintegrated into New Zealand.
• Aramoana made headlines in 1990 when resident David Gray shot dead 13 people before he was shot dead by police. A monument to his victims is on the dunes near the mole.
---