Pam Jones is struck by the uncomfortable reality of race relations in the United States when viewing artworks and street activity in the cityscape of California. 
I had the correct train ticket, which was good. The guards that were checking had revolvers in their holsters, along with batons and no doubt training and authorisation to use either if needed.
It's always weird to be in an innocent setting that could turn lethal at any time, but the man opposite me may have had a more cynical view.
African American, I guessed, he stood out for his glossy black skin but did the same as I - showing his ticket, looking down as guards moved through our train in San Diego.
But what was he thinking inside? In a country where black people are horrifyingly more likely to experience police brutality and incarceration than those with pale skin - how worried was he about an everyday encounter escalating into him being taken into police custody - or worse?
What is it like to live every moment of your life with a target not only on your head, but covering every square centimetre of your skin?
Black Lives Matter, and a landmark art exhibition reminds how hard many have fought to make the message heard, when facing the discrimination and adversity placed upon those with dark skin.
"Soul of a Nation - Art in the Age of Black Power, 1963-1983" is showing at The Broad contemporary art museum in downtown Los Angeles' until September 1, having been originally presented by London's Tate Modern in 2017 and taken to galleries in Arkansas and New York since then.
Showing the contribution of black artists made over two decades, it begins in 1963 at the height of the civil rights movement, taking its starting point as the monumental March on Washington for Jobs and Freedom, when Martin Luther King jun gave his historic "I have a dream" speech.
This was when banks were still refusing to give loans to black people and discrimination was rampant; only years before black people still had to give up their seats for white people on the bus.
Black artists were excluded from almost all mainstream museums, and the imagination and determination they had to find outlets for their art saw various movements arise.
Fifteen African American artists formed the important "Spiral" collective in New York, and mounted a landmark exhibition in 1965 that showed only works in black and white without an overarching subject.
In 1967, a group of Chicago artists and writers formed the "Organisation of Black American Culture", which created the "Wall of Respect', an outdoor mural in the city's south side that featured images of black heroes such as civic leaders, writers and sports stars. It became a gathering place for poetry readings, music and performances and sparked a wave of murals in African American neighbourhoods throughout the United States.
While black artists continued to debate how artists should respond to political and cultural change, activist Stokely Carmichael issued a rallying cry of "Black Power" for nationwide solidarity in a speech at the Mississippi March Against Fear in 1966.
Soon the cry was expressed in the defiant act of the raised fist: the Black Power salute. The Black Power movement then inspired the "Black Arts Movement" (Bam), which formed in the northeast and spread to the southern and western United States.
The exhibits in "Soul of a Nation" were paintings, photographs, sculpture and prints. Their stories invoked inspiration and shame, viewers sombre as they wound through the gallery.
Images included Wadsworth Jarrell's illuminating "Black Prince", a portrait of Malcolm X made in 1971; and David Hammons' Injustice Case, a body print referring to the trial of Black Panther co-founder Bobby Seale, tried for conspiracy following violent protests in 1968. Prevented from selecting a lawyer of his choice and barred from representing himself, Seale was then bound and gagged in the courtroom for vocal outbursts.
Outside The Broad 50 years later, downtown Los Angeles charged on, noisy, stimulating, living on the edge. I found it invigorating, surrounded by street art and street smarts as I explored neighbourhoods such as the historic core, the jewellery district and gallery row.
Skid Row, of course, was out of bounds.
Infamous as the neighbourhood of the homeless, it is ringed by people living on the street in tents, battling poverty, mental illness, demons. I was warned away and stayed away, but saw tents and sadness from the window of my cab, and in other places, such as near the LA downtown train station, Union Station.
"If you're going to be homeless you want to live in LA," one shopkeeper told me. "It's warm here. You're not going to die of the cold."
It was impossible to know if he was sympathetic or unsympathetic; his tone gave nothing away.
But as I rounded a corner within the arts district's Hauser and Wirth gallery precinct, a simulation of the hopelessness of the homeless put me further off guard.
An installation by Hammons of more than 50 tents included tiny stamps that said "This could be you and I". A nearby "Black Lives Matter" shrine, by artist unknown, added further poignancy.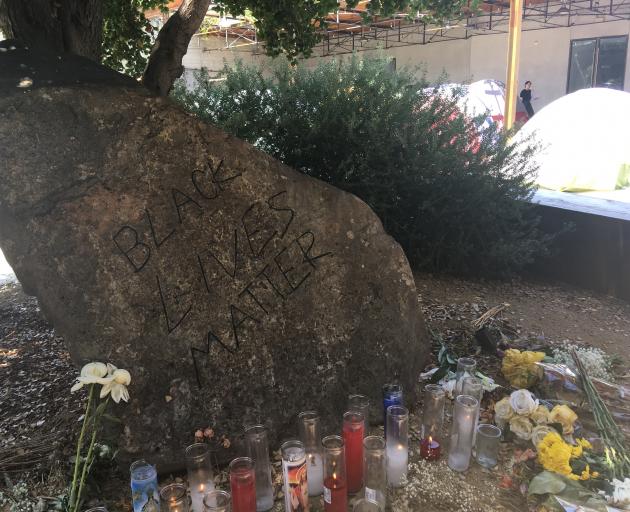 Social service and housing and homeless agencies point out none should be complacent. LA Family Housing, which is one of the largest providers of housing and homeless services in Los Angeles, says a recent annual survey by the US Conference of Mayors shows the main reasons adult individuals become homeless are lack of affordable housing; unemployment; poverty; mental illness and the lack of needed services; and substance abuse and the lack of needed services.
"Being poor can mean a person is one illness, one accident or one paycheque away from living on the streets," their website reminds.
The day I left LA, the Los Angeles Times reported again on the worsening homeless crisis. A new survey had shown the number of homeless in Los Angeles county had climbed 12% over the past year to roughly 59,000 people. Much of the increase was within city boundaries, where the number jumped to more than 36,000, a 16% increase.
The Los Angeles Homeless Service Authority's 2018 "Homeless Count" showed homelessness disproportionately affected black people in Los Angeles. Though about 9% of Los Angeles County's total population identified as black, black people made up about 36% of the county's homeless population.
Other news reminded of more inequity.
I watched the Say Her Name documentary about Sandra Bland on the flight home, learning of the black activist's unexplained death in police custody in 2015 and her family's desperation for the world not to forget her or the problem she represented. In 2017, a law was enacted in Texas called the Sandra Bland Act, which requires all police officers to undergo training in de-escalation techniques; establishes protections for people in custody who have mental health or substance abuse issues; and requires that all jail deaths be investigated by independent law enforcement agencies.
Another television news item told of a family demanding answers after their son became another "black person dies in police custody" statistic. When they ordered an independent autopsy, they found their son's body had been returned with his heart, brain and throat missing.
What does all of this mean?
The Los Angeles citizens I saw and met were leading typical lives, earning paycheque to pay bills and raise families, sharing the shame of their city's homelessness. Most put the blame at the feet of city officials. But "Nimbyism" looked to be playing a part too. LA Mayor Eric Garcetti's plan for temporary shelters in every neighbourhood was met with neighbourhood push-back.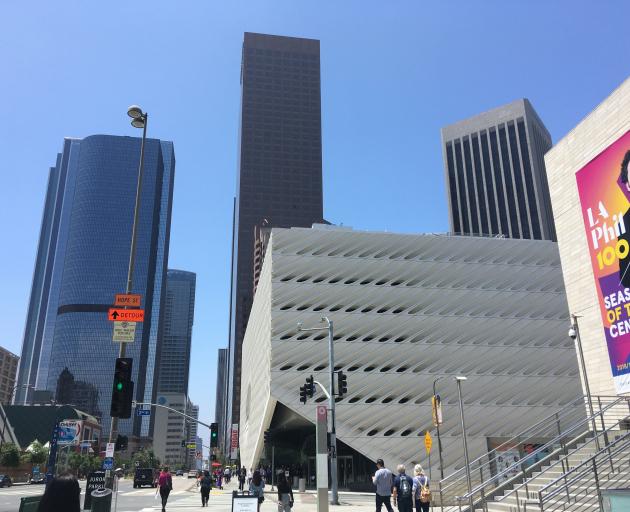 Downtown LA's arts, food and grittiness make it irresistible for those who like a bit of tang to their travel. I thoroughly recommend it.
Just be aware of the undercurrent of survival for some. Employ care and compassion, and keep saying Sandra Bland's name. Continue her stream of consciousness commentary as you navigate the city streets and race relations of the United States.