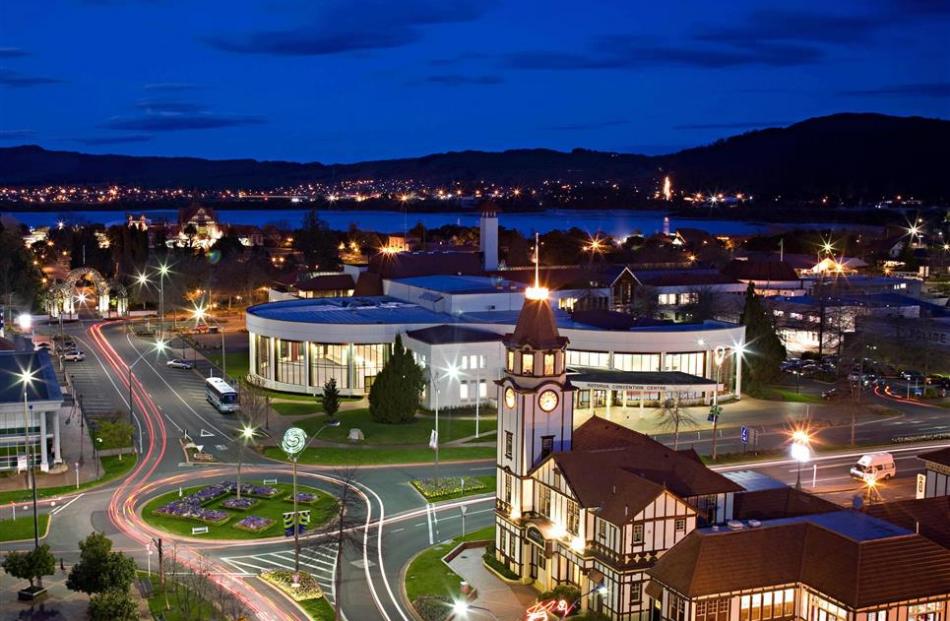 Reporter Jono Edwards flees to the winter getaway of Rotorua to find a bubbling mix of mud pools, geysers and culture.
Rotorua's relationship with tourism spans more than a century.
Its muscle-soothing geothermal pools lured travellers here in the late 1800s.
The sprawling town edges the shimmering Lake Rotorua surrounded by green-velvet hills, native bush and pockets of bursting steam.
Some find the eggy hydrogen sulphide stench of the town off-putting. Personally, on a frosty winter morning, I think of it more as a beacon signalling "don't worry, there is something warm nearby''.
From a Millennium Hotel balcony in the heart of the town, I can see one of the smell's sources steaming across the road. I follow it to the natural geothermal pools of the Polynesian Spa.
Established in 1972, the Polynesian Spa was built on the site of Rotorua's first bathhouses, built in the late 1800s. It offers 27 hot pools, some of which overlook the lake and surrounding hills.
The spa boasts the slightly acidic Priest Spring mixed with the alkaline properties of another.
The water has a thick, almost slimy texture. Whatever chemical process is happening, it is certainly relaxing.
The next morning, I get a taste of nature via 4WD buggy. The Adventure Playground lies just outside the town and offers horse treks, quad biking, 4WD tours and clay shooting on 350ha of farmland and bush.
I am driven up farm tracks until we are cracking through frozen mud surrounded by silver ferns and native trees.
We stop. We get out of the vehicle to take in the scenery and hear the sound of tui.
The natural progression from this quiet beauty is, of course, to obliterate small pieces of clay with shotguns. The park has a purpose-built shooting range facing a hill.
Having never used a shotgun before, I miss the first five times. Something then clicks and I become a hitman, destroying every red flying thing in sight. I use three types of increasingly rapidly-firing guns which I name regular, Rambo and The Terminator.
I quietly thank our government for strict gun laws.
IN past decades, Rotorua has attempted to challenge Queenstown for the title of New Zealand's adventure capital.
While it has a way to go, additions like Agroventures are on the front line. Within a small radius, on a piece of grassland near the Adventure Park, it offers five thrill-seeker activities.
It offers a bungy, a giant swing, a jet-boat ride and a tiny biking capsule called a Shweeb.
My favourite was something I swear I invented with crayon blueprints as a child: a giant fan that makes you fly. The sensation of floating, if only for a few minutes, is elating.
My mum used to say if you made a face and the wind changed, it would stay like that. Without knowing it, she had described how if you have 220kmh gusts blowing into your face, you will have the smile of a lunatic plastered on for at least 10 minutes.
Far more central to Rotorua's identity are its mud pools and cultural history. Both can be witnessed at Hell's Gate, a thermal reserve 15 minutes' drive from the town.
I was told how Irish playwright George Bernard Shaw visited the site in the early 1990s and the locals were so taken with him, they allowed him to name it.
As I tour the expanse of hot pools and bubbling mud, legend blends with history.
A young, sprightly guide tells the tour group how Maori have been bathing in the natural geothermal pools here for more than 700 years to wash off the tapu of war.
She says a young Maori princess called Hurutini threw herself into one of the hot boiling pools to remove the shame of her people as her husband, the chief, was abusive and showed her no respect.
The tour includes a cultural performance of poi and haka, which includes uncomfortable audience participation.
While others enjoy being instructed on how to do the hokey tokey in Maori, it seems like a way of subtly mocking tourists. The word they use for backsides is actually the name of our tour guide.
This is a joke which we are not let in on. Therefore a group of tourists are unwittingly putting in, putting out and shaking all about the name of a young girl in the audience whose face is in her palms.
Another way in which Rotorua has tried to emulate Queenstown is its Skyline.
I travel up its gondola to a hilltop with a luge track and land-spanning views.
The StratosFare restaurant at the hill's peak is also familiar as it operates at both locations.
It is here I meet an unfamiliar concept: a buffet with quality food.
I try to de-programme what I learnt to do at all-you-can-eat restaurants as a child, which was to inhale fried food and jelly cubes until I feel nauseous.
I walk past several tables of attractively presented salads.
"Nice try,'' I think.
I fill a plate with about six different kinds of seafood and perfectly seared meats, including the most primal of them all: ribs.
Remembering where I am, I top it with some spinach leaves and a piece of cauliflower so I don't look like a complete monster.
After eating regrettably quickly, I take a short walk outside to powerful telescopes used for a stargazing tour. A large group of people gather around the equipment to get their chance to stare at flaming phenomena.
The highlight is the enthusiasm of the guides. They are not scientists, but hobbyists whose faces gleam when mentioning the millions of light-years between our planet and stars.
Most amazing is staring at Saturn and its ring, and it looks exactly as it does in textbooks.
Early the next day, the sun is out, and birds are chirping. Perfect conditions for being hurtled down a grassy slope.
Since 1997, people have flung themselves down a Rotorua hillside in a piece of Kiwi ingenuity known as the Zorb.
Participants encase themselves in large plastic spheres which run down three different tracks. If you've wondered what being inside a washing machine in an earthquake is like, then the wet zorb is for you. Filled with warm water, the ride is the perfect amount of thrilling without being nauseating.
While you wait at the bottom for a truck to take you back up to the top, you can bathe in a spa.
I wonder what the per capita ratio of spas to people is in Rotorua.
Maori culture and steaming ponds came together again at the 70ha geothermal site of Te Puia in the Whakarewarewa Valley.
Te Puia is home to the National Carving and Weaving Schools of New Zealand, where much of the country's most important Maori art is created. Carvers here are creating a huge monument to be sent to Gallipoli.
At important sites like this, tourists are told to be respectful. However, Alec, a 7-year-old English boy, plays by his own rules. Our small tour group is shown the Te Wananga a Hatupatu meeting house and an exquisitely carved figure inside. So naturally Alec tries to pull its nose off.
We are told how geothermal activity changes the landscape constantly, with new pools emerging all the time. Culturally, however, it aims to hold on to important pieces of Maori history.
Just down the road in the Whakarewarewa Forest is a nature experience which opened last December.
The 553m-long wooden walkway of the Redwoods Treewalk lets visitors walk up on platforms to 12m high.
The towering Californian redwoods were planted 110 years ago to be used as building materials. Something about the environment allowed them to grow well. Too well. While the trees grow extremely quickly, they are less dense and more brittle than similar trees growing in California.
The walkway was created by ex-mechanical engineer Alex Schmid, who visited the forest in 2009 from his homeland of Germany.
The platforms have been tied on to the trees in a way which doesn't pierce them.
The colossal trees are generally about 40m to 50m tall, but the tallest in the forest is 72m high and 1.69m in diameter.
While we traverse the walkway, he says, "Some people ask me why not just walk on the forest floor?''
He reaches over the platform and touches the raw, green top of a newer redwood, which shows how much it is has grown in the last year. "That is why.''
With its Maori culture, adventure sports and geothermal activity, Rotorua is like nowhere else in the world.
• Jono Edwards travelled courtesy of Destination Rotorua.