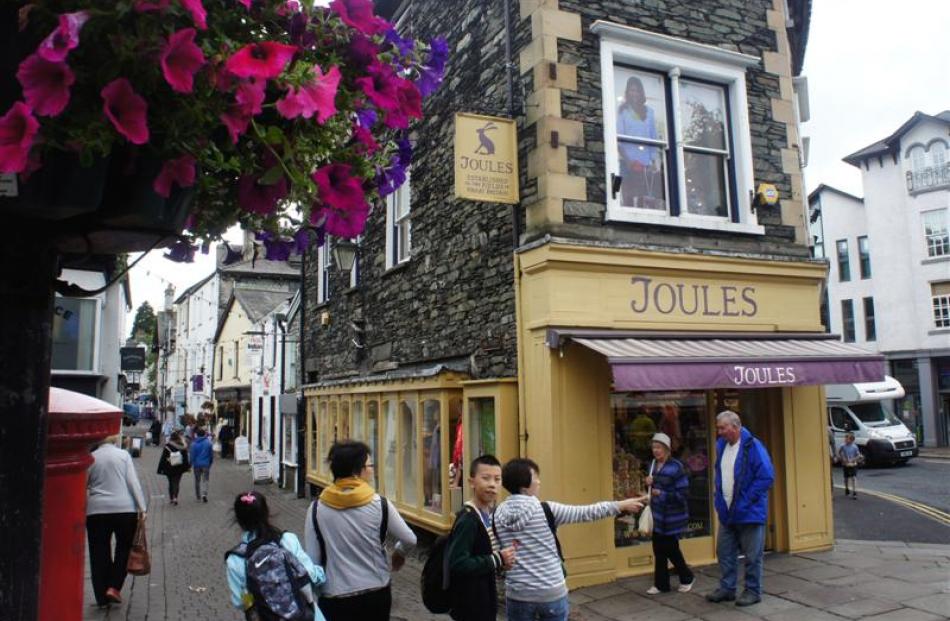 England's Lake District National Park arguably has all the attractions a New Zealander away from home might wish to find; lakes, ''mountains'', sheep, and formidable pub grub within an easy walk, Former Otago Daily Times reporter Joe Dodgshun finds.
The Scottish driver, who had earlier booted a troublesome passenger out of the intercity coach, with a commanding ''step aweee frum th' boos!'', threaded his charges through the foothills of Cumbria with alarming speed.
Hours after departing the tube-strike chaos of London, the unremarkable countryside, highways and sprawl of central England had given way to a palette of Hokitika greens, promising foothills and smatterings of village cottages.
I was in the Lake District, heading for the former market town of Keswick, a placid holiday spot that counts the Cumberland Pencil Museum among its top attractions.
But no sooner had I arrived in this charming little spot, than I was leaving again, picked up by family and driven through stone-walled lanes and around the wooded shores of Derwentwater, one of the many small lakes hidden in the national park's verdant valleys.
These are the real attraction.
Although not massive, they are undoubtedly pretty, framed by steep fells that are criss-crossed with slate boundaries and dotted with hardy sheep.
Under heather-covered hill faces, not far from the tiny village of Grange and its whitewashed lakeland stone houses, we pulled up to our lodgings: a converted 19th-century barn.
The Victorian charm of the place was infectious, but did not encourage the enjoyment of too many whiskies as the time-warped bedroom floors were already drunk enough.
The next morning we donned hiking boots with optimism in the face of the infamous, lake-sustaining drizzle, setting out into Borrowdale Valley under close inspection of the neighbourhood Herdwick sheep.
These comical creatures are born black, turn brown with white heads, then eventually become grey, and tell the region's history better than many.
Cumbrian folklore puts their introduction down to Viking settlers, and sheep farming has always been - and remains - an economic mainstay of the Lake District.
The preservation of this curious breed and with it, the area's traditional fell farms, is in large part thanks to the efforts of one of the district's more famous residents and Herdwick farmers, Beatrix Potter.
Another local, 19th-century Romantic poet William Wordsworth, trumpeted the area's beauty far and wide, claiming it to belong to anyone with ''an eye to perceive and a heart to enjoy''.
This belief truly came to pass when the national park was founded in 1951.
The sense of scale in the Lake District takes a little while for a New Zealand hiker to get used to. Here, one finds the tallest ''mountains'' in England yet everything appears rather quaint and ordered.
As time and tramping went on, I began to get the impression that it's just how the British like it.
It seemed at no point were we more than a few hours' walk away from a teahouse serving enormous scones with clotted cream, and if you happen to clamber up the slopes of a fell, there will almost certainly be a pub waiting down the other side.
This is just as well, because a trip to the Lake District would not be complete without a pub meal, and hiking appetite is a very important prerequisite as the meals are enormous.
Starting with a creamy, full-bodied ale always seemed like a good idea, but after the mains of ploughman's cheese platters, bangers and mash, or steak and ale pie with stacks of chips, the sticky date pudding for dessert was almost an unthinkable task.
The ability of those who somehow follow this the next day with a full English breakfast, including spicy Cumbrian sausage, black pudding, or a tasty but odorous kipper (smoked herring), is somewhat remarkable.
On the wall of one such Keswick pub we visited, we found the portrait of a wizened farmer who had surely spent many an evening there.
A plaque underneath shared the musings of this bush philosopher, and a longing for the good old days: ''You could talk to hosses, but you can't talk to tractors can yer?''
Things are changing even more rapidly than in his time.
The most common occupation in the Lake District is surely that of B&B owner, with the pub inhabitants and street traffic now tourists, rather than rugged high-country shepherds.
After days of walking and eating - the literal high point having been a climb up Catbells fell in fine weather to fantastic vistas and echoes of military jets on a training run - it was time to leave.
On the way out, I had hours between transfers in the bustling town of Windermere, the visitor hub and most developed part of the Lake District.
I chose to leave immediately.
As I walked downhill to the lakeside village of Bowness, which was already much prettier than its neighbour, I noted a gaudy sign promoting the World of Beatrix Potter Attraction.
Despite fond memories of the books from childhood, the building's equally gaudy exterior and loud tour groups outside extinguished any desire to investigate further, and I wondered what the pastoral-minded Potter would have made of it all.
At last, and with a traditional sweetshop haul of Kendal Mint Cake and fudge in hand, I made it to the shore of Lake Windermere, the largest natural lake in Britain.
The lakefront scene of visitors mingling with impertinent ducks and swans, set against a backdrop of steamer ferries, seemed very familiar: very Queenstown.
It seems the sheer number of people there, ostensibly to enjoy the scenery and relaxation of a trip to the lakes, marks Windermere and Bowness as the clear favourites for doing so.
However, as much as a New Zealander must be careful about saying such things, I would argue the true retreat can be found by following the lead of the sheep.
Head for the hills.
---
If you go
GETTING THERE
Bus services to Keswick from London, Glasgow, Manchester, or rail transfers to Windermere via Oxenholme. From Windermere, regional buses run throughout the Lake District: www.golakes.co.uk
LAKE DISTRICT AT A GLANCE
• Home to England's tallest mountain, the 978m Scafell Pike.
• 40,800 residents, and 16.4 million visitors a year.
• Sheep population of Cumbria (including the Lake District): three million.
• The Lake District National Park includes 42km of estuaries and coastline.
• Although Windermere is England's largest and longest lake - almost 17 kilometres long - Bassenthwaite Lake is the only official lake, the others being `meres' (waters).
• Local specialties: Cumbrian sausage, Grasmere Gingerbread, Kendal Mint Cake.
---