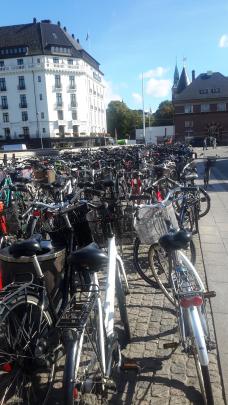 There's more to Denmark  than Copenhagen, writes Tony Nielsen.
July 14, 1873, is an important date in relation to my travel experience in Denmark.
That's the day my grandfather, Henriks Rasmus Nielsen, sailed into Wellington Harbour, with his parents and family, after an 87-day journey from Denmark.
Over the years, I have always imagined what the family's Danish home was like and have hankered for the opportunity to find out for myself. Heading there as part of a train-based adventure around Europe was a dream come true.
My Danish experience started on a train from Berlin to Hamburg and continued as the train boarded a roll-on ferry. Yes, the train drove us on to the ferry, we hopped off, and then headed for the upper deck for the 45-minute journey across the Baltic Sea. It's a very interesting trip, too, as the views include some massive wind farms fuelling the clean, green Danish economy.
Meeting my son in Copenhagen, the capital city on the island of Zealand, our mission was to see the city's sights and explore the countryside, in particular a small town to the south that was once home to our ancestors. That said, Copenhagen is a really appealing destination which we felt right at home in. It certainly helped that the locals were friendly and most spoke fluent English.
Granddad Harry (yes Henriks became Harry) died when I was only 9, and in any case he was only 5 when he left Denmark for his new life in New Zealand, so discovering Denmark and my ancestry was down to me.
In one day at Copenhagen's National Museum of Denmark, I learnt about the rich history that this small country enjoys. I was aware of the marauding Viking explorers who set out from Scandinavia and travelled far and wide a few hundred years ago. What I didn't know, but learnt that day, was that Denmark was first populated over 12,000 years ago, not long after the last ice age had covered the whole northern Europe area.
Fortunately, the country has remained a treasure trove of artefacts dating back to those early days and these reminders of the long-gone past were there to see in the museum. Denmark's monarchy is also the oldest in Europe, beginning around 960 and is still in place under the reign of Margarethe II, who became Queen in 1972. While these days Denmark only includes Greenland and the Faroe Islands, at different times in history it has also ruled over Iceland, which gained independence in 1918, and various lands in central Europe.
After an inspiring and fact-filled visit to the museum, we left Copenhagen and ventured into the countryside to see what makes the country tick.
Our first train journey saw us head north to the Louisiana Museum of Modern Art, on the Oresund coast. While it was a fairly short train trip, followed by a 15-minute walk, it was like steeping into a colourful new and exciting world that's a must for every visitor to Denmark.
I recommend you allow a whole day to savour the Louisiana experience; you'll be surprised how quickly the time will go.
The museum, which opened in 1958 and covers a large area, has cafes with outdoor dining and views across the ocean to Sweden.
Inside there are works from Andy Warhol, Roy Lichtenstein and Picasso among others. The galleries seemingly blend into one another, and, alongside Paris' Louvre and Florence's Uffizi, the museum is one of the best I've seen.
And then there's Louisiana, which further adds to its appeal. The park surrounding the buildings is dotted with impressive sculptures, with works by Henry Moore and Jean Arps permanently on show.
After a day which will long be remembered, we returned to Copenhagen buzzing at what we had seen.
Our next excursion into the Danish countryside was a personal one: south to the small village of Vordingborg, the town our family had once called home. Vordingborg is not far from Denmark's southern boundary and on the southwestern edge of the island.
This was also an opportunity to appreciate the countryside as my arrival from Hamburg through Denmark to Copenhagen had mostly been in the dark. My impressions were of a very green, farming-based landscape, with allotments around small towns. The countryside was peppered with numerous wind turbines. It suggested to me what New Zealand could morph into if we adopted wind power to complement our vast investments in the water-generated power.
Vordingborg, an old ferry town with a population less than 12,000 and a rich history that dates back centuries, made a positive impact from the get-go.
The perfect example of a small coastal town that's weathered the many changes that the mother country has enjoyed or endured over the centuries, Vordingborg has its feet planted firmly in the past and the present, although you get the feeling that it's the past that's the dominant factor.
The dominant feature from an historical perspective are the ruins of the Vordingborg royal castle, which was built in the mid-14th century. It's a two-minute walk from the township and its main appeal is Goose Tower, the remaining structure of what was an extensive castle many centuries ago.
The castle, which originally had nine towers, was ruled over by King Valdemar Atterdag. Goose Tower was the first ancient structure to gain protection from Denmark's National Trust in 1808. The whole area on which the castle once stood is now covered by grassy fields with a view down to the port where the ferries once plied their trade. There are other reminders of the past scattered around the area, but Goose Tower is the only remaining complete building to remind us of how the castle may have looked. Given my family's roots in the area, perhaps I can claim kinship with Danish royalty through King Valdemar. Or maybe not.
An overnight stay in Vordingborg's only hotel, and hours spent walking the streets, the castle grounds, and seeking more information from the visitor centre, all contributed to a sense of belonging.
Being the first New Zealand Nielsens to have travelled back to where our ancestors departed 150 years previously and to discover a beautiful and quaint town firmly entrenched in its history was a unique and emotional experience for us. The night in Vordingborg, perhaps appropriately, was my last in Denmark before resuming my train adventure.
Even without the family connections that made my time in Denmark a personal journey, this is a country that offers so much. The city of Copenhagen bristles with attractions both historical and modern. Make sure you discover the rich music experiences on offer. There are wonderful jazz and blues clubs to pass an evening. It is a city that's built for walking with just about every sightseeing attraction within close distance. Or you can do what most locals do and cycle the city, as evidenced by the massive cycle racks outside Copenhagen's main railway station.
Above all, don't confine your Danish experience to Copenhagen. Get into the countryside, especially to the Louisiana Modern Art Museum, or roam a small town for the day. Remember, too, that Denmark has not adopted the euro, so you will need to get acquainted with Denmark's krone.
I can also recommend my method of visiting Europe, using a Eurail pass. For a lone traveller, it's a safe and organised way to travel the length of the continent, although I'd like to do it again to take in the places I missed and revisit some of the destinations I did visit - Frankfurt, Copenhagen, Berlin, Prague, Vienna, Florence, Rome, Milan, Paris and London.
It was a brilliant experience and I didn't miss one train connection!