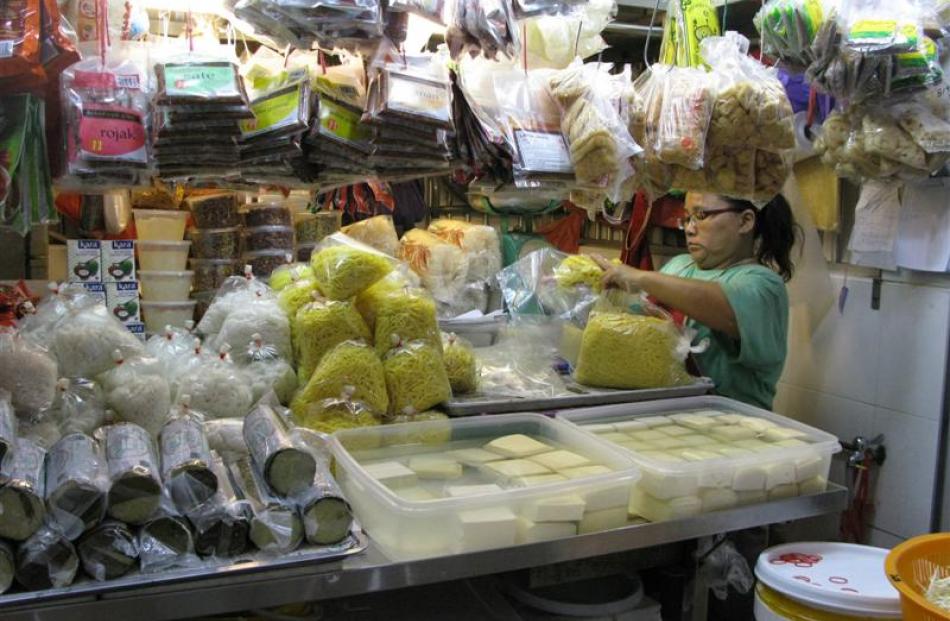 I'd been in Singapore little more than 24 hours and consumed three main meals, all of which had featured noodles and prawns and set me back just over $11 Singapore in total.
Granted, the seafood spaghetti I'd eaten the previous evening wasn't strictly a noodle dish, nor had I paid for it (it had been prepared by some friends I was staying with), but nonetheless $NZ11 (the current exchange rate is virtually one to one) for two great lunches in a city where a beer can cost $NZ30 seemed pretty good.
Often described as a melting pot, due to its harmonious and enticing mix of Chinese, Malay, Indian, and European ethnic groups and cultures, Singapore, I was quickly to discover, is also one great cooking pot and not just because of the tropical heat that more or less constantly steams everything.
My first noodles and prawns experience was a delicious bowl of laksa, a spicy Singaporean soup with bean curd and boiled eggs from a place called Cosy Corner. Hidden down a corridor in the Coronation Plaza, a suburban mall five minutes by bus from downtown Singapore, the restaurant is run by two matronly women, both of whom have an affinity for Christian iconography - the place is decked out in portraits of Jesus - and the ability to produce divine food.
Little eateries like this are dotted all over the city-nation of five million people, in small malls and in hawkers' markets, where the dining experience may be limited to plastic bowls, chopsticks, tables and chairs, but can cost you as little as $3 for a great meal. Naturally, this local-food-done-well-and-affordably concept isn't restricted to smaller establishments and outdoor markets, and plenty of office and shopping buildings house large food halls specialising in regional cuisine.
One of the best is Food Republic, a food court chain and the site of my second lunch: fried noodles with prawns from the Thye Hong stall in the enormous, blue glass and steel Wisma Atria shopping plaza.
Squeezed in between dim-sum, sushi, and honey-glazed duck places, the stall is incredibly popular and friends advised to visit either before 12.30pm or after 2pm, to avoid the lunchtime rush. Having spent the morning working up an appetite wandering from shopping centre to shopping centre along Orchard Rd in the centre of the city, I was forced to succumb to the demands of my stomach and arrived at a quarter to one, prepared to risk the wait.
Happily, I timed my visit well and joined a queue of three office workers just as a puffy-faced, sweaty cook was putting the final touches to a gigantic wok of bubbling noodles. Ten minutes later I looked up from my $5 lunch to see the queue had stretched to more than 20 people.
One of the advantages of saving yourself money on meals in the food courts is the opportunity to then blow it in one of Orchard Rd's shopping complexes. Massive palaces to consumerism lining a wide one-way street growling with buses, cars, and motorbikes, each plaza seems to be bigger and more impressive than the last. Inside, their multiple levels are filled with a bewildering choice of brand stores, almost all of which seem to have some type of sale on, attracting both locals and tourists in droves.
Should shopping not be your idea of a good time, however, there are plenty of other ways to lighten your wallet here.
In a city full of ostentatious displays of wealth, where designer handbags and Swiss watches dangle from every second wrist and businesses seeking to increase their prestige offer luxury car owners free day-long parking, the 2561 room Marina Bay Sands hotel is perhaps the most obvious. The most expensive hotel in the world when it was completed in 2010, the $8 billion, three-towered skyscraper is endowed with a 150m-long infinity pool on its 55th floor and isn't just a place to stay, but also one of the biggest tourist attractions in town.
You may have to be a hotel guest to take a dip in the rooftop pool, but for $20 or a drink in the bar (which'll cost at least that), you can ride the elevator up to the pool deck and marvel at its truly superb views of the city.
Similarly, you don't have to pay $700 a night to visit the casino in the basement, which is free to overseas visitors, or need a room key to purchase the $24 million diamond necklace for sale in the hotel's jewellery boutique; though, presumably, for that sort of money, you'd get a night or two chucked in for free.
Having splashed out a bit of my own hard-earned cash on a few beers in the hotel's roof bar one afternoon, I decided to take in a slightly cheaper tourist site the next day - the Tekka wet market in Little India. Selling every type of fresh produce imaginable, and doused in water to keep everything clean, wet markets in Singapore open at four in the morning and are frequented by traders and household consumers alike.
Not up quite that early, I got to the market mid-morning and after a leisurely hour or so checking out the stalls of spices and seafood and taking a few photos, it was time for lunch.
A bit overwhelmed by the smells of all the freshly slaughtered flesh to eat at the market's food hall, I popped across the road to an Indian restaurant for some dosai - a thin bread made from lentil flour - and some dipping sauces. Simple, light, and tasty, it cost all of $1.50.
With a few unexpected extra dollars rolling around in my pocket, I decided to treat myself to a bit of pampering. Massage places are almost as ubiquitous as restaurants in Singapore, and wandering around the People's Park complex in Chinatown I discovered that they are almost as good value. A 45-minute foot massage costs about $20, but I decided that, as I'd devoured a lot of seafood since I'd been in the city, it was probably time for me to repay the compliment.
Used for centuries in the treatment of skin diseases, garra rufa, or doctor fish, are slightly bigger than whitebait and happily munch on your dead skin cells when you take a dip in their waters. Ten dollars got me 15 minutes at the Yu Ya reflexology, nails, and fish spa, where I dunked my bare feet in a tank and a swarm of the little silver fish began vacuuming off the old skin.
It was an odd, ticklish sensation, like hundreds of small pulses, that left my feet feeling unbelievably smooth afterwards. As unique as the experience was, however, it wasn't nearly as satisfying as the foot massage I was to get at the Coronation Plaza a couple of days later.
Three-quarters of an hour of blissful rubbing, squeezing and pounding, it, along with another bowl of laksa from across the corridor at Cosy Corner, was an ideal conclusion to a day spent wandering Singapore's streets and indulging in its many affordable, yet plentiful charms.
• Jeff Kavanagh is a travel writer from Dunedin.