Brett Atkinson continues his journey around East Cape -  this week a coastal and rural trip through a region of the North Island often bypassed by travellers - Gisborne to Napier.
GISBORNE TO MORERE
New Zealand's most remote city is also its most relaxed, an easygoing spot where locals are the first people on the planet to welcome in the new day, and the conversation over morning coffee often turns to the surf conditions at nearby beaches. Known colloquially as Gizzy - or by the Maori name for the region, Tairawhiti - Gisborne is also a fine place to launch a road trip linking two of New Zealand's best destinations for good wine, beer and local produce.
My first stop in town is often Saturday morning's farmers market, held near the banks of the Taruheru River, and packed with stalls selling East Coast macadamia nuts, wild honey products, cheese, charcuterie and wine. It's a great place to stock up on treats before you head south (cnr Stout and Fitzherbert sts; Gisborne; gisbornefarmersmarket.co.nz).
Another essential destination is Sunshine Brewery's tasting room near Waikanae Beach. Their Belgian-style saison beers are some of New Zealand's best, and Sunshine's also a popular spot for pizza (49 Awapuni Rd, Gisborne; sunshinebrewery. co.nz).
My favourite Gisborne wines are the organic and biodynamic chardonnays from Milton Vineyards & Winery, fine examples of the region's sun-kissed terroir (119 Papatu Rd, Manutuke; milton.co.nz). To continue exploring, wine fans should download a map of local cellar doors from gisbornewine.co.nz.
Leaving Gisborne, SH2 travels through the open plains of the region's vineyard area before diverting south to enter the Wharerata State Forest. Just as the towering trees begin to diminish, Morere is revealed 56km south of Gisborne. Due to a geographical quirk, the warm water bubbling up at Morere Hot Springs is actually sea water that's been trapped underground for millennia. Explore forest walks from 30 minutes to three hours amid the 364ha of the Morere Springs Scenic Reserve before relaxing in a private bush-clad hot pool. The complex is usually open from Wednesday to Monday. (3968 SH2, Morere).
Sidetrack
Located 35km north-west of Gisborne, Eastwoodhill is New Zealand's national arboretum - more than 25,000 different species of trees, shrubs, ferns and climbing plants feature in the 135ha property. Reputedly, the property has the biggest and most diverse collection of northern hemisphere trees in the southern hemisphere, and walking around 25km of shaded tracks is sometimes a transition from Californian coastal redwoods to a stand of Japanese maple trees.
Six different well-marked trails allow visitors to explore a wide range of terrain and different plant species and environments. On-site accommodation options include double and twin rooms and dorms - all with a shared lounge, kitchen and bathroom - and parking for campervans. Travelling families will enjoy the children's playground (2392 Wharekopae Rd, Ngatapa; eastwoodhill.org.nz).
NUHAKA TO WAIROA
Continue 9km south to Nuhaka at the southern extent of the Mahia Peninsula. Across recent years, this isolated area of golden beaches and a rocky coastline has been the location for sky-high launches by Kiwi start-up company, Rocket Lab. Now another innovative local company is also making waves. Gisborne Railbike Adventures offer experiences on the Mahia Coastal Track, riding the rails on their world-first invention of two bikes fused together with a robust steel chassis.
Starting near Nuhaka, the Coastal Track's three-hour 22km return journey crosses farmland and the Waikokopu lagoon, and includes a picnic lunch at Black's Beach. It is worth stumping up a few extra dollars for an e-bike. Railbike Adventures offer two other coastal experiences further north nearer to Gisborne (railbikes.nz). It is also worth exploring the nearby Mahia Peninsula independently, especially during summer when the region's beaches offer excellent surfing and swimming. See voyagemahia.com for local information.
From Nuhaka, SH2 travels west along the northern edge of Hawke's Bay, fringing the Whakaki Lagoon, an important wildlife reserve for more than 40 aquatic bird species. Nearby, Wairoa is a historic river town with a fine selection of heritage 19th century buildings. Sitting on the southern bank of the Wairoa River, the town's squat lighthouse was relocated from Portland Island at the tip of the Mahia Peninsula in 1961. Refuel at good cafes along the riverfront, and check out the excellent Wairoa Museum, housed in the former Union Bank of Australia building. Look for the bright red awning and you are in the right place. The museum's limited hours are from 10am to 2pm Tuesday to Friday (142 Marine Pde, Wairoa).
Wairoa is also the departure point for embarking on the popular Lake Waikaremoana Track in the rugged Te Urewera region. One of New Zealand's Great Walks, the 44km track is usually accomplished in four days.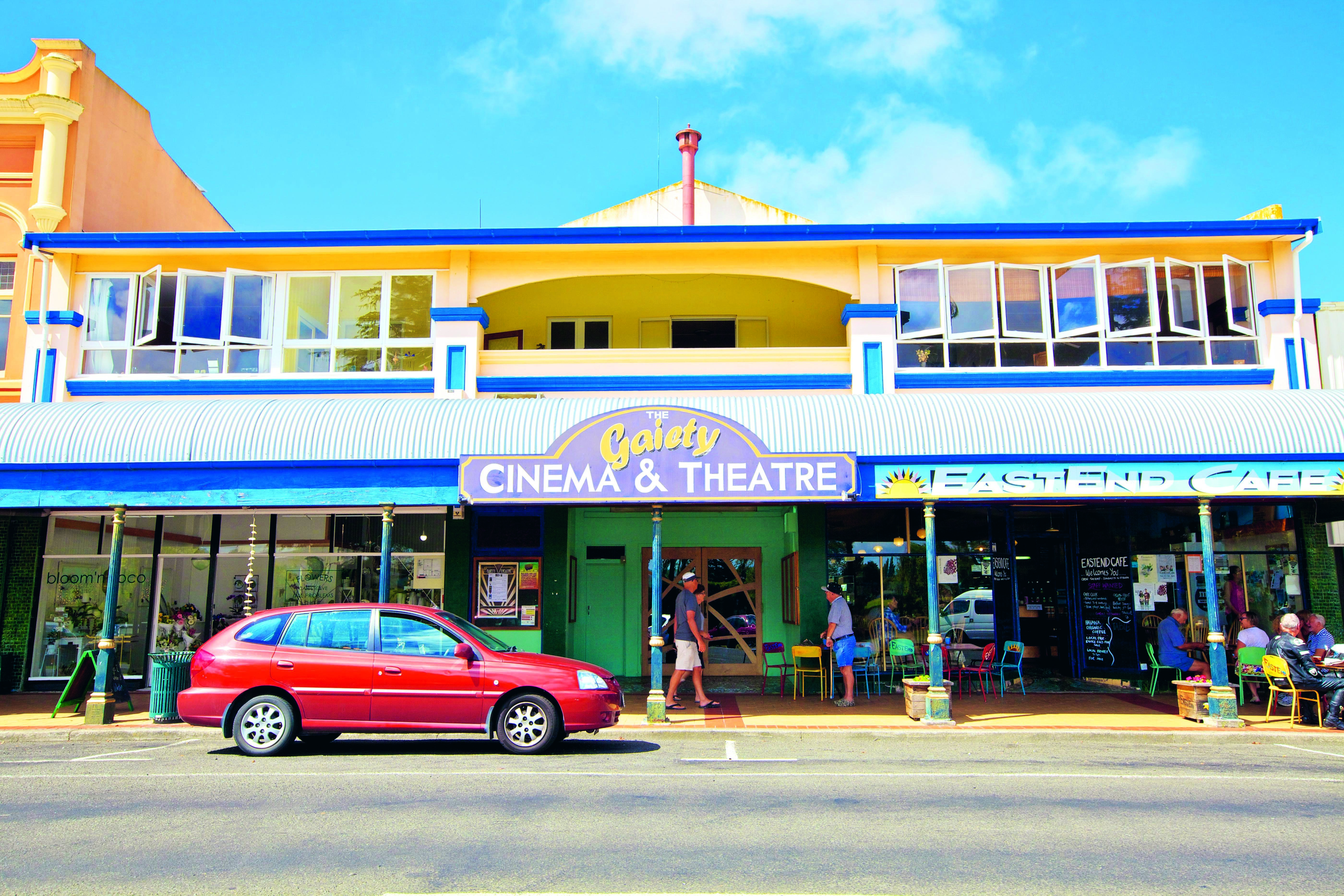 WAIROA TO NAPIER
Leaving Wairoa, it is a further 116km through farmland and forests to Napier, with a major scenic highlight passing underneath the spectacular Mohaka Viaduct, built in 1937 and, at 97m, the highest rail viaduct in both Australia and New Zealand. Unfortunately this route is currently only used for freight trains, as crossing the viaduct on a passenger train would be a special experience.
Around 30 minutes south-west of the Mohaka Viaduct, Lake Tutira is recommended as a picnic stop. The lake's population of waterbirds includes ducks, swans and herons, and it was an important place of settlement and food gathering for local Maori in earlier centuries. Popular walks include the Waikopiro Loop Track, an easy 1km circumnavigation of adjacent Lake Waikopiro. Further along SH2 towards Napier, the Tangoio Falls Scenic Reserve features two short walks to the dual cascades of Te Ana Falls and Tangoio Falls.
Leaving Tangoio, the highway finally returns to the coast, providing excellent views south to Napier's location on a scenic spur of Hawke's Bay. To stock up again with on-the-road supplies, stop just north of the city at Bellatino's Food Lovers Market in Bay View. Local gourmet produce including olives, chutneys, cheese and sourdough bread is all available. During summer, I always schedule a stop for an ice cream made with seasonal strawberries and blueberries (37 Main North Rd; bellatinos.co). Nearby, the tasting room at Crab Farm Winery is a good place to toast completing an East Coast road trip. Crab Farms restaurant is open for lunch from Thursday to Sunday, and there is live music in the garden most Friday nights (511 Main Rd, Bay View; crabfarmwinery.co.nz).
The book
This is an edited extract from Ultimate Road Trips: Aotearoa New Zealand by Brett Atkinson, published by Hardie Grant Books (Flexibound, RRP $50),
Snapshot
Linking two of the North Island's hot spots for food, wine and beer, this journey is always a personal favourite. Roadside distractions including forested hot pools, historic riverside  towns and detours to quiet beaches mean I've never been in much of a hurry.
How long?
Allow a couple of days to complete this relatively short road trip. Both Gisborne and  Hawke's Bay require an additional few days to experience the  excellent food and wine.
When to go
January to March is the best time to enjoy the region's beaches and vineyard restaurants. School holidays and Easter do see an increase in visitor numbers, but Gisborne's relative  isolation means it is never too busy.
Need to know
October's First Light Wine and Food festival showcases the talents of the Gisborne region's winemakers, craft brewers and artisan food producers. The event is held around Labour  weekend near the end of October. Booking ahead for festival tickets and accommodation is recommended (firstlightwineandfood.co.nz).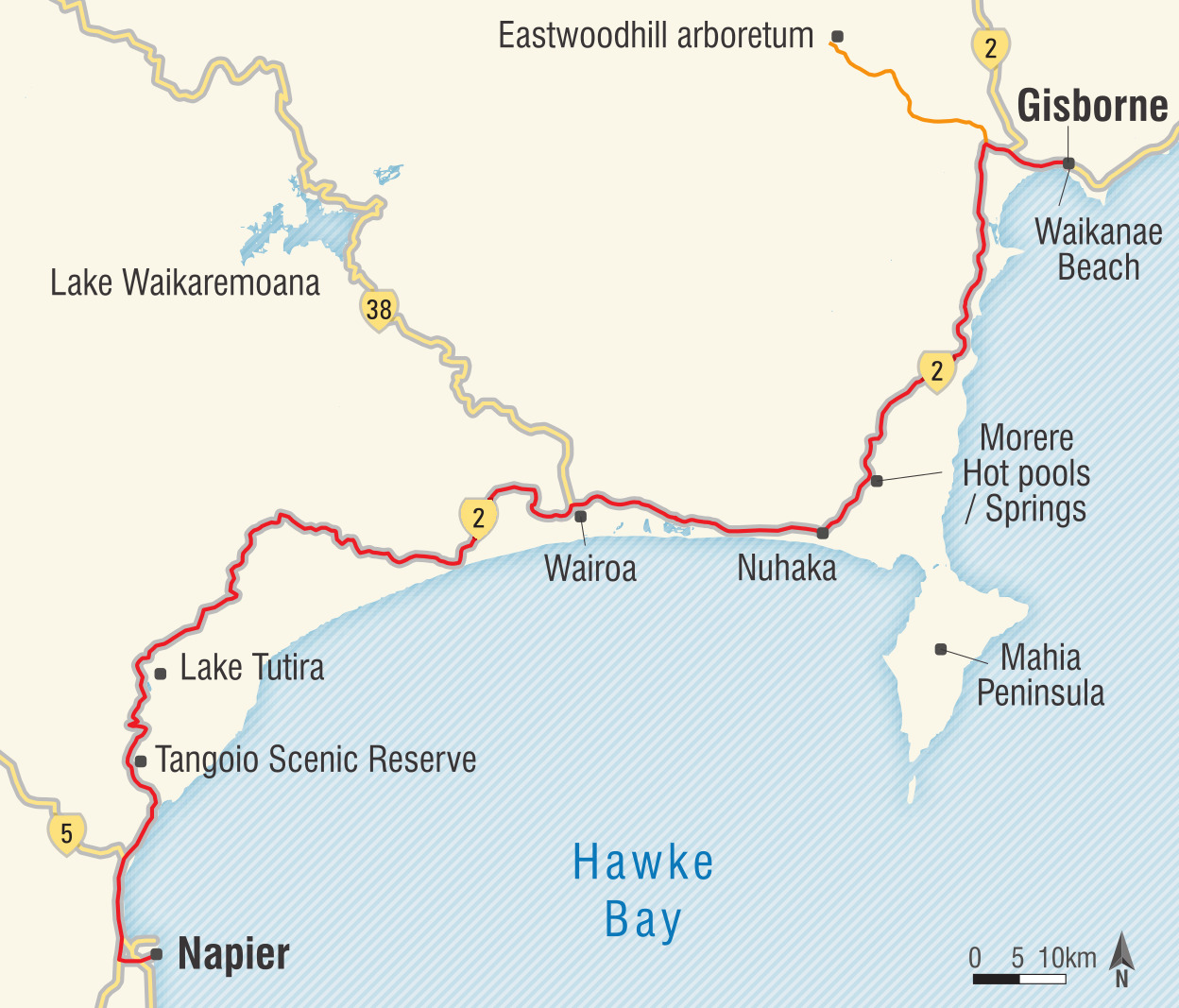 Drive rating
Easy. SH2 is sealed along its entire length.
Distances
Total distance: (without detours) 312km
Gisborne to Wairoa: 98km
Wairoa to Napier: 214km
Temperatures
January: 15-23degC
July: 6-12degC
More information
Gisborne i-SITE, 209 Grey St, Gisborne; (06) 868 6139; tairawhitigisborne.co.nz
Wairoa i-SITE, cnr SH2 and Queen St, Wairoa, (06) 838 7440; visitwairoa.co.nz
Napier i-SITE, 100 Marine Parade, Napier; (06) 834 1911; napiernz.com
KIDS SPOT

Gisborne's Waikanae Beach is one of the region's safest and most popular spots for swimming. The adjacent Waikanae Beach Top 10 Holiday Park has plenty of family-friendly facilities, and there is a good playground at the beach's eastern end near the entrance to Gisborne Harbour. On summer weekends and school holidays, Waikanae is patrolled by surf  lifesavers for additional security. The beach's (usually) gentle waves are a good place to learn to surf. Contact Surfing with Sarah (surfingwithsarah.co.nz) to find out more about the  Surfing with Families and Kids Club programmes.
BEST EATS
Neighbourhood Pizzeria
Head north of the river for excellent pizza served up from a simple shipping container. Despite the humble set-up, it's a firm Gisborne favourite with locals crowding in for traditional  prosciutto and mushroom pizza, or blue cheese and chorizo with ginger and carrot relish. There are a few places to sit, but takeaway is often easier. All these great flavours are served  from Wednesday to Sunday. 57 Ballance St, Gisborne; neighborhoodpizzeria.mobi2go.com.
Crawford Road Kitchen
Located amidst the fishing charter boats of Gisborne's Inner Harbour, the versatile Crawford Road Kitchen morphs from a relaxed lunch spot - try the lamb meatballs with couscous -   to a more energetic dinner venue combining local wines with shared plates. The adjacent Gisborne Wine Centre samples and sells many varietals from local vineyards. Open for lunch and dinner but closed Sunday and Monday. 3/50 Esplanade, Gisborne; crawfordroadkitchen.co.nz.
Oslers Bakery & Cafe
Serving hungry truckies and peckish travellers for almost a century, Oslers is an essential stop along SH2. Most people are lining up for the pies - the steak and mushroom one is a  Kiwi classic - but the chocolate eclairs and ginger slice are also the real deal. 116 Marine Pde, Wairoa.
Eastend Cafe
The best eating in Wairoa is at this welcoming cafe along the town's river-front esplanade. Hearty dishes include the venison burger and the big breakfast with eggs, sausages and  hash browns. It's also good for smoothies, toasted sandwiches, or coffee and cake. Closed Sunday and Monday. Next door, the Gaiety Cinema and Theatre is Wairoa's popular venue for movies and occasional concerts. 250 Marine Pde, Wairoa.
Hunger Monger
Super-fresh seafood shines at this Napier eatery enlivened with retro kiwiana decor. Global flavours include sashimi, fish tacos and a spicy Asian-style seafood broth, and of course the  fish and chips are great. Definitely order the grilled Cook Strait octopus with the Korean chilli sauce if it is available. Hunger Monger's craft beer and wine list showcases of the best of  Hawke's Bay brewers and winemakers. Open for dinner from Tuesday to Saturday. 129 Marine Parade, Napier; hungermonger.co.nz.
BEST SLEEPS
Ahi Kaa Motel
Close to Waikanae beach and Sunshine Brewery's cool taproom, one of Gisborne's most comfortable motels combines classy bathrooms with nods to sustainability including solar  electricity and savvy use of recycled timber. 61 Salisbury Rd, Gisborne; (06) 867-7107; ahikaa.co.nz.

Morere Hot Springs Lodge
Conveniently near forest walking tracks and the hot pools, accommodation options at Morere Hot Springs Lodge include rustic self-contained cabins, and a heritage cottage that is  ideal for families and groups of friends. Many different native bird species frequent the lodge's leafy grounds. 3968  SH2, Morere; (06) 837 8824; morerelodge.co.nz.

Kiwiesque
Located among the vineyards and orchards of relaxed, rural Eskdale on Napier's northern outskirts, Kiwiesque's best accommodation options for road trippers are the four self-contained apartments in the property's brick-red, barn-style lodge. Definitely a splurge-worthy treat, especially when you are enjoying a breakfast of local and seasonal produce. A  swimming pool and Kiwiesque's own estate-bottled wine are other distractions. 18 Linden Close, Eskdale; (06) 836-7216; kiwiesque.com.