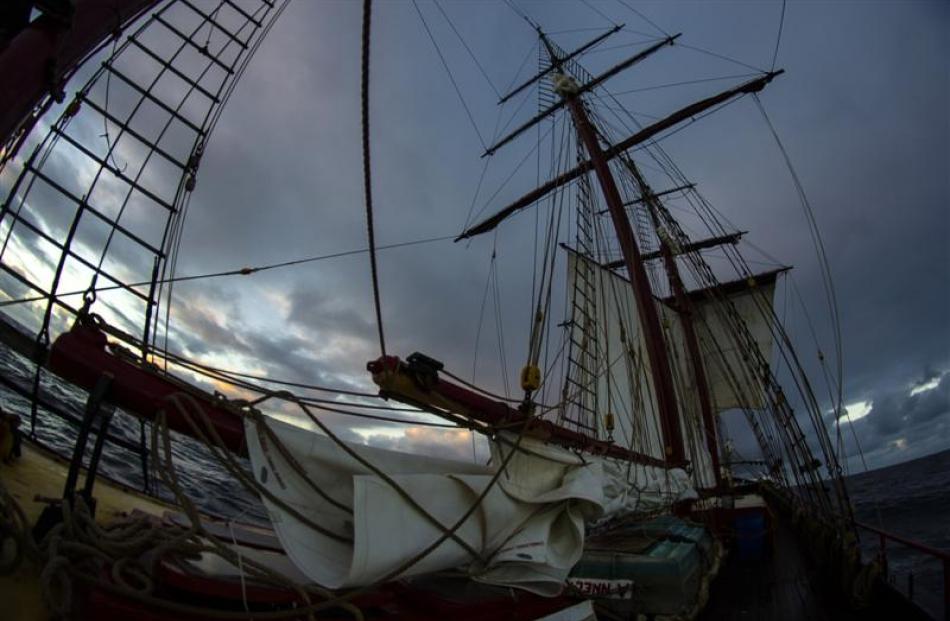 Life on the ocean wave has its ups and downs, Leigh Harding discovered.
I'm not really a sci-fi kind of girl so it was strange to find myself reading Kim Stanley Robinson's novel Red Mars, let alone relating to the characters travelling to Mars on a spaceship. Let me explain.
I recently took the opportunity to join the crew on a boat sailing from Nelson to Fiji.
For 42 days I ate, sailed and lived with the other 12 crew members day-in and day-out as did Robinsons ''first one hundred'' settlers heading to Mars.
Like the first 100 we became a group bonded by shared laughter, hardships and challenges but without a doubt there were also moments of amazement, achievement and joy.
The beginning however was what you might call a rough start.
Days one to three
Oh my God!
At sea for three days now and it's just becoming calm after massive waves.
Nearly everyone is seasick.
Our watch is half gone.
Marie and Sabine are sick so it's just Phil and me.
I had the crazy experience of being alone at the helm in the middle of a stormy night on day one, with no land in sight.
All food is making me feel sick.
Sea sick patches are making me feel sick (how is it that they make anti-nausea medication that has a side effect of nausea!)
We are off the coast of Taranaki but we are waiting for wind and moving at less than one knot.
The forecast is for 25 knot winds tonight from the south west: good for sailing, bad for tummies.
The start was full on.
As none of us apart from the captain had ever been at sea for more than a day or two.
We were all a bit shocked, wondering what we had got ourselves into.
The fastest the boat travelled (around 4.7 knots) happened on the second day in big seas.
I can only imagine what it must be like to sail with Dean Barker and the boys on the Team New Zealand catamaran at 40 knots when, to me, five felt like we were flying.
Day four
Feeling homesick and not too chirpy.
I guess it's because we are now sailing to Fiji slower than I could swim.
The feeling of having no control at all over this situation is uncomfortable.
I haven't learned heaps about sailing so far and 30-plus more days seems like ages at the moment.
Like the rest of the crew I knew next to nothing about sailing before starting the trip.
Everything was learned on the job.
There were 15 sails in total, all set and furled by hand using a system of ropes and pulleys.
It was a real challenge to learn which rope was connected to which sail and which ropes were halyards (pulled sails up) and which were downhauls.
The boat did have an engine but the purpose of the trip was to sail as much as possible, so we had to make the most of whatever weather came our way.
Day 10
It was a beautiful calm night last night, with just a slight breeze.
It is pretty amazing to be on deck with the stars and nothing else around.
Right now we are west of New Zealand, about Raglan-ish.
Hopefully we will clear the North Cape within the next two days.
At the moment I'm sitting up front in the lookout chair, with a good wind and the sun in my face and Marie coming up with a cider later.
I'm on galley duty with TJ today, (that's why I'm sitting here about to have a cider - no watch duty!)
Food was a massive deal on the boat.
We were all responsible for cooking, which we did in pairs about once every five or six days.
It meant that you didn't have to do watch that day, which was a welcome change from being up in the middle of the night, especially if the weather was horrible.
However, if the swell was big it meant cooking and eating became nearly impossible.
Day 12
Last night I could have cried.
I was wet and cold coming in from watch.
The guys had managed to make some dinner, which was a feat in itself in the ''sideways kitchen'', as they called it yesterday.
I got my tea into a bowl and then made the rookie mistake of reaching for a fork leaving only my feet bracing for balance.
A particularly big wave chose that moment to hit the side of the boat sending me and my dinner flying to the other side of the galley.
I went to bed without eating anything.
Pretty gutted.
Before we left we took on board about $4500 worth of food.
Most of the crew put a lot of effort into cooking and it became the main way in which we all tried to keep up morale.
In hindsight it would be fair to say that every single one of us wished we had bought more chocolate on the boat, both to share and to guzzle in secret on a bad day.
Day 14
This is ridiculous.
There is a huge swell this morning.
The outer jib ripped in the wind last night and is now sitting in the galley.
I am just sitting on the fore deck.
What are you supposed to think about when you are alone with your thoughts 24 hours a day in the middle of the ocean?
Of course, we were not alone on the boat and at times it was hard to get space.
For the first few weeks it was hard to adjust to a feeling of no space or privacy and simultaneously a feeling of loneliness.
There was lots of time to think and be alone.
When it was rough most of us could only eat, sleep and stand watch, saving all our energy to get through the days.
Day 23
I don't feel like writing but feel compelled to record what has been happening.
We had to turn around and head south so we wouldn't be blown on to Ninety Mile Beach.
At that point, if I was a stronger swimmer, I might have just made a dash for shore.
Then a massive storm hit us.
There were 50-knot winds and huge seas.
I hardly ate or slept for two and-a-half days.
Being in the galley feels like being thrown around inside a cocktail shaker.
No-one not on watch is allowed on deck.
The toilet is flooded and has now become a bucket in the tool room.
Even the most secured fruit and vegetables have become missiles!
We could easily be at sea for another four weeks having only just passed the top of the North Island.
It's getting kinda hard to smile and I think everyone is really feeling it.
I don't think I have showered in 10 days.
Oh yeah, and the inner jib ripped as well, so those are the two most efficient sails gone.
We will never get to Fiji.
That was about as bad as it got.
After the storm and the trouble we had getting past the North Cape, the rest of the sail to Fiji went really well.
In the last week we had some gorgeous days with warm water enabling showers on deck, some calm seas with stiff breezes and some amazing sailing.
They were perfect days that made me feel like I could sail forever.
After the initial craziness of starting the journey and then the storms, life at sea started to have a simplicity and quietness to it that was enchanting.
A quote from Red Mars sticks in my mind.
''The king asked his wise men for some single thing that would make him happy when he was sad and sad when he was happy. They consulted and came back with a ring engraved with the message: ''This too shall pass''.
This sums up the most important thing I learned on my journey, that life always has its ups and downs.
The trick is to savour the going while it's good and remember that the bad times will eventually come to an end.
Reaching Fiji on day 42 was amazing.
The sense of achievement was massive and the crew who had been strangers when I started felt like family.
Being so far out of my comfort zone ended up being a great thing for my confidence and self esteem and coming home to New Zealand and loved ones has never felt so good.
Although I wouldn't do it again, I'm glad I did and would be the first to encourage others to try the things they always wanted to try, but which seemed too hard or scary.
You never know what is going to happen but it might be better than you ever thought possible.
---
Sound like you?
The boat is named Alvei and is owned by Captain Evan Logan, who has more than 40 years experience as a sailor.
Evan converted Alvei from a fishing boat to a tall-rig sailing ship around 30 years ago and has lived aboard sailing between New Zealand and the Pacific Islands since.
He takes aboard crew who pay a weekly fee (from $US170-$US250) in order to maintain the boat.
In return the crew are taught what it was like to live and sail on board a traditional sailing ship.
Visit www.alvei.com/ for more information.
---