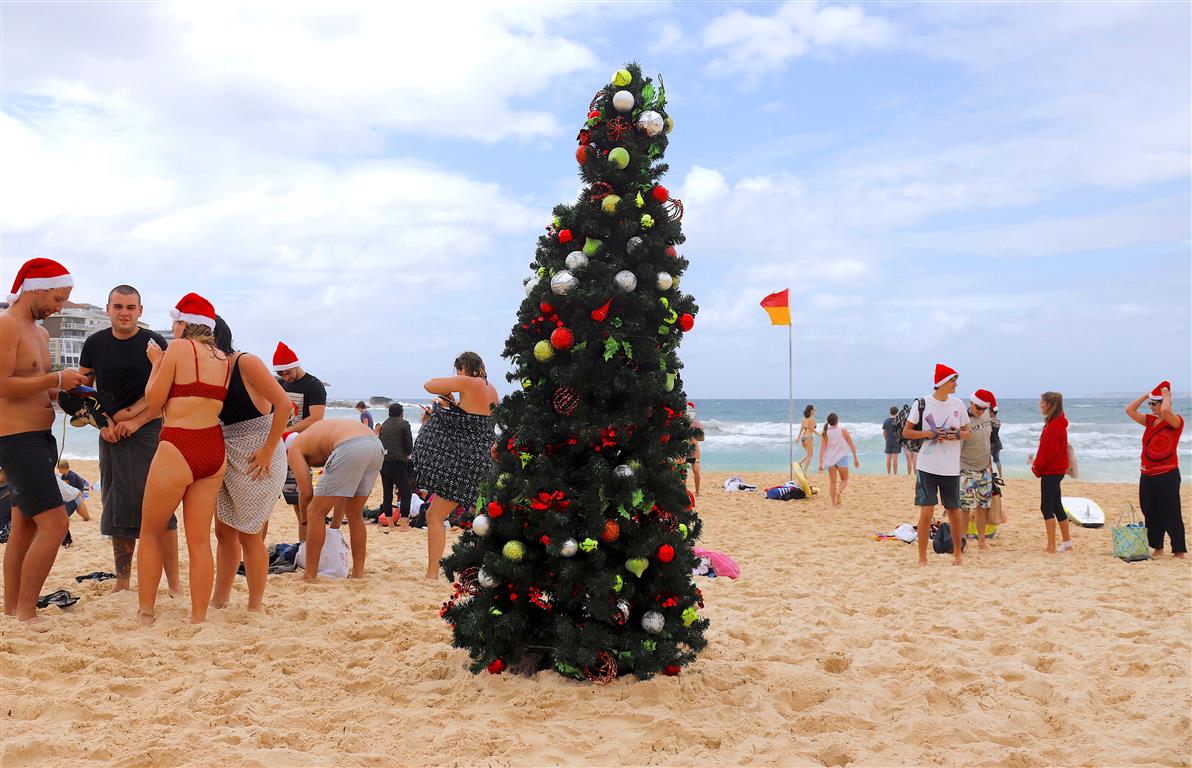 Australians are celebrating Christmas, some in relative chilly conditions, and others in sweltering heat, with lunches, fun runs and backyard cricket.
People in Melbourne, Sydney and Hobart began the day in mild conditions, with drizzle and winds expected later.
Melbourne can expect a top of 22C , Hobart is expected to hit 21C and Sydney will experience an unseasonally low top of 23C.
But the lack of sun won't deter revellers from their backyard barbecues, or heading down to the beach for their Christmas swim.
The heat is expected to return to Melbourne on Tuesday, in time for the expected large crowd at the Boxing Day Test, with the city set to hit a maximum of 29C.
A surge of energetic people around the country held off unwrapping presents to take part in a 5km fun run part of their Christmas morning tradition.
Huge numbers of runners took to 73 free ParkRun events around the country on Monday morning, where Santa hats, reindeer antlers, festive running shirts and people even full St Nick suits sweated in the summer heat.
Almost 800 people hit the pavement in Brisbane's South Bank ParkRun despite the mercury reaching 28C at their 7am start time.
A sizzling 34C in Brisbane is expected to drive people to the beach to cool down. Some parts of Queensland will hit steamy tops of 40C, with Birdsville in the remote outback near the South Australia and Northern Territory border likely to hit 45C.
Adelaide can also expect glorious weather for barbecues, with blue skies and temperatures up to 29C while Perth is expecting a sunny top of 33C.
Prime Minister Malcolm Turnbull helped serve food at Sydney's Wayside Chapel and joined the street party with free food and festivities amid cloudy conditions.
Mr Turnbull thanked volunteers and posed for selfies at the event, which serves up about 1000 meals for Sydney's less fortunate.
The Christmas celebration, which is now in it's 14th year brings together people who may be struggling with homelessness, addiction or financially struggling to enjoy the day with other members of the community.
Churches are expecting thousands to attend services across the country with Australia's leading Catholic saying the year's end united people in their need for hope.
"For people of faith you might say it's been an annus horribilis," Catholic Archbishop of Sydney Anthony Fisher said in a statement on Friday.
"But the Christmas story insists there is a star in the dark sky, light amidst the fears and failures. Christmas speaks of new hope."
He said young people were not naive to the shameful chapters in the church's past but want to help it move forward.
Anglican Primate of Australia and Archbishop of Melbourne Dr Philip Freier, said there was "widespread mistrust and dissatisfaction" in Australia and more suffering than there should be.
"Yet, in the worst times and worst of situations, salvation is at hand through God's precious gift of his son, Jesus Christ," he said.