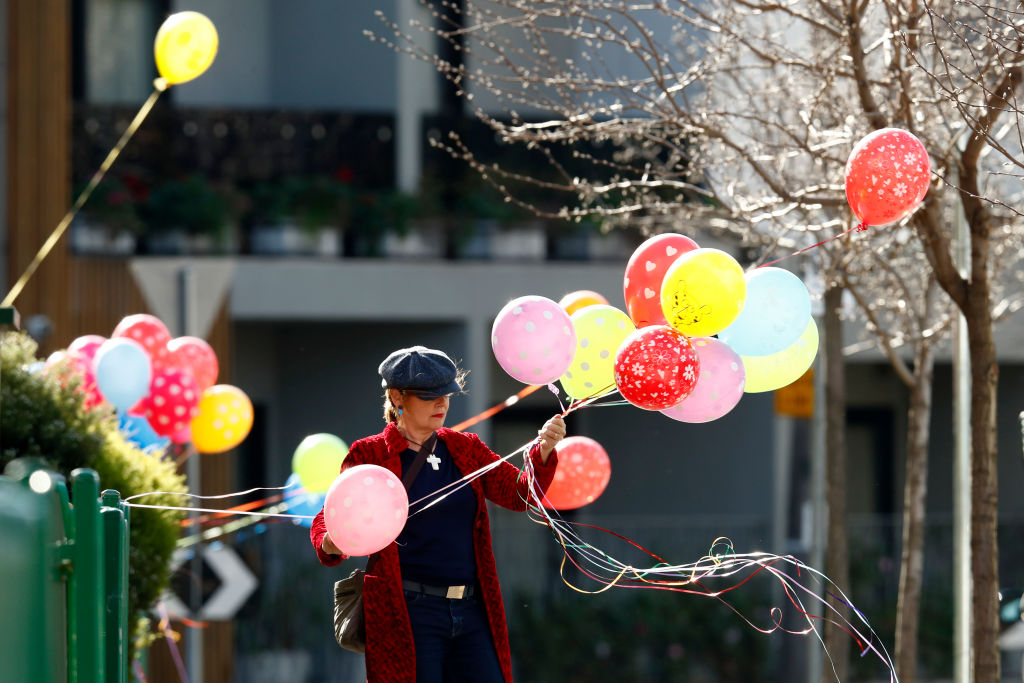 Australia's deputy chief medical officer has conceded Melbourne's second lockdown will be harder than the first as millions live with tough restrictions.
Greater Melbourne and Mitchell Shire to the city's north returned to strict stay-at-home orders overnight after another day of triple-figure coronavirus infection increase.
Victoria on Thursday reported 165 new infections have been detected in the last 24 hours, an increase on the previous day's 134 cases.
Deputy Chief Medical Officer Nick Coatsworth said distancing would be the crucial weapon against the spike in cases.
"This is clearly harder the second time around when only a short time ago we were lifting restrictions," he told reporters in Canberra.
He said Victorians had proved they were capable of following the rules to get on top of coronavirus.
The ACT lost its virus-free status after three people in their 20s contracted the disease following a visit to a hotspot Melbourne suburb.
Dr Coatsworth urged anyone with symptoms who had been in Victorian to immediately get tested and isolate.
"As soon as you feel at all unwell please do not interact with other people. Get tested," he said.
Prime Minister Scott Morrison said there was always a risk Melbourne's outbreak could spread to other states.
"We're all Melburnians now when it comes to the challenges we face," he said.
"We're all Victorians now because we're all Australians and that's where the challenge is right now."
The federal government is moving to cap international flights after state premiers warned of pressure on the hotel quarantine system.
When flights to Melbourne stopped as infections rose, other capitals faced rising passenger arrivals who must spend two weeks in hotel isolation.
"I'll be taking a proposal to national cabinet to slow that down as of this Friday," Mr Morrison said.
The prime minister is two weeks from outlining the future of coronavirus support payments including JobKeeper wage subsidies and the boosted JobSeeker dole payment.
The six-week Melbourne lockdown is expected to have a major economic impact.
National Australia Bank predicts reinforcing restrictions will hit Australia's gross domestic product by 1.1 percentage points for the year's third quarter.
Annual GDP is expected to fall by 0.3 percentage points, or around $600 million a year.
Mr Morrison said there would be ongoing support through federal programmes.
"Because of what has happened in Victoria, obviously the need there will be far greater than was previously and that need will be met," he said.
MORE STATE BORDERS CLOSE
Other states and territories have recorded few or zero Covid cases in recent weeks and are continuing to reopen their economies.
The northern state of Queensland said it would ban non-residents arriving from Victoria. It will open its borders to people from other states and territories on Friday.
Even people travelling from Victoria who were willing to pay for the mandatory 14-day hotel quarantine would be banned, the Queensland government said.
"They are making the decision that that two weeks and that cost is worth it to get out of Victoria," deputy premier Stephen Miles said in a televised news conference. "We don't want that to continue."
The country's most populous state, New South Wales (NSW), closed its heavily trafficked border to neighbouring Victoria on Wednesday. South Australia also closed its border with Victoria.
"We're definitely at a different stage of the pandemic," NSW Premier Gladys Berejiklian told reporters in Sydney.
The NSW authorities reported 13 new coronavirus cases in the 24 hours to Thursday morning, of which 11 were overseas arrivals in hotel quarantine and two were members of a family who had returned from Melbourne. NSW says anyone arriving from Victoria must self-isolate for 14 days.
The island state of Tasmania kept its border closed to Victoria and extended a state of emergency to the end of August because of the Victorian outbreak. Tasmania itself has not reported a new case in nearly eight weeks.
Western Australia state had closed its border to the rest of Australia indefinitely before the latest outbreak in Victoria.
After enforcing restrictions early in the coronavirus outbreak compared to most other countries, Australia had begun to ease its lockdown in May to revive its economy after a significant slowdown in infection rates.
Australia has so far recorded about 8,900 infections and 106 deaths by Thursday.
- AAP and Reuters