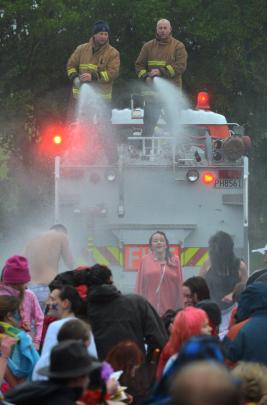 Bleak weather and a move to Dunedin's Middle Beach failed to dampen the spirits of swimmers at the annual Polar Plunge yesterday.
St Clair Surf Lifesaving Club chairman Anthony Mason said 600 people braved the miserable conditions.
Most swimmers stayed in the water for about five minutes but a few had a 20-minute frolic.
The change of location because of sea-wall damage at the Esplanade at St Clair had made the event easier to run because the registration stalls were sheltered from the gusty onshore easterly wind behind sand dunes.
''If we'd been on the Esplanade, the wind would have been howling. It would have been awful.''
The club collected about $1000 in donations yesterday, which was less than usual.
''It's slightly under, but for us it was about making sure the event ran.''
At the Polar Plunge starting line yesterday, hula girls huddled and people in pyjamas waited for a wintry wake-up.
Miner Mike Cowie, of Dunedin, said he finished a night shift underground yesterday morning then changed into a pink tooth-fairy costume for the plunge. He reported conditions were ''warmer than last year''.
St Hilda's Collegiate School pupils also wore pink for the plunge to support principal Melissa Bell in her fight against cancer.
Stairs on the St Clair sea wall were damaged further at the weekend and may be removed, Graeme Hamilton, Dunedin City Council transportation operations manager, says.
Mr Hamilton said the stairway nearest the salt water swimming pool, at the southern end of the wall, was loose and
might have to be removed for safety reasons.
The council was aware an unusually high tide was expected this week.
''We'll do as much as we can in between now and then,'' he said.
Repair work on the sea wall stopped yesterday because of the Polar Plunge at Middle Beach.
• Photos by Gerard O'Brien; prints available from otagoimages.co.nz.