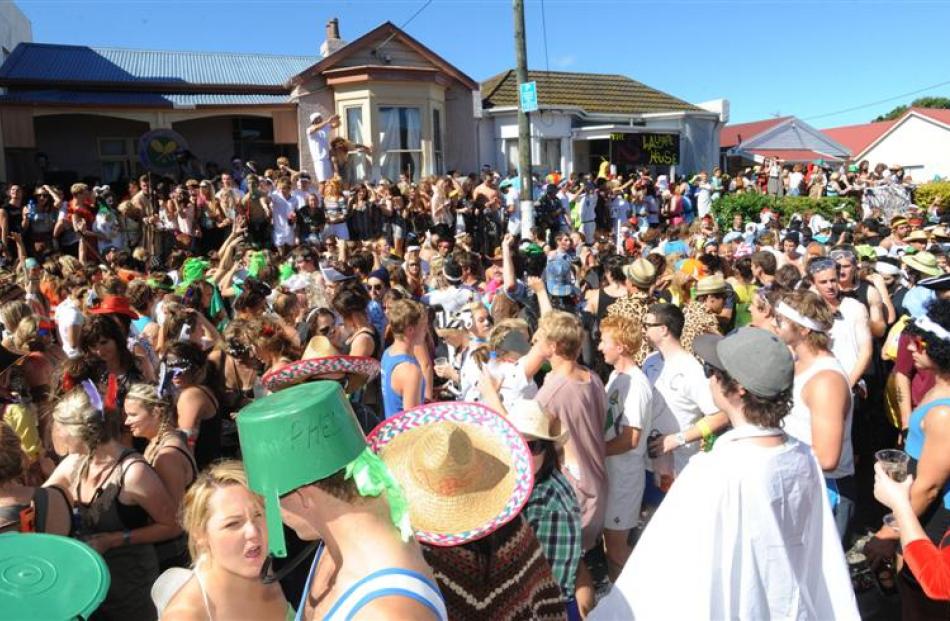 The University of Otago has come a long way from its ''Get over it'' attitude to students' alcohol consumption. Rosie Manins discovers what has changed and how the university is continuing to influence the student drinking culture in the final part of our Booze Control: Stop and Think series.
Otago's barfy, scarfie days might be over.
The university's Dunedin campus, once known for its excessive drinking culture, is becoming a safer place, those at its core say.
Initiatives to raise awareness about dangerous drinking in recent years have involved not only the faculty, but Campus Watch, the Otago University Students' Association (OUSA), the university magazine Critic, residential college staff, and even students themselves.
Director of student services David Richardson cited a range of initiatives aimed at reducing alcohol-related harm on campus.
He said in 2009 the university eliminated alcohol advertising and sponsorship from its campuses, and since February 2012 Vice-chancellor Prof Harlene Hayne had personally met every student who came to the attention of Campus Watch because they ended up in a dangerous situation due to alcohol.
Over the past few years, the university had also written to all students providing them a link to an online alcohol assessment tool, which research showed had a harm-reduction effect through simple participation, he said.
The university's student health services offered support and guidance on alcohol issues, including health lifestyle clinics and health education programmes, and residential college and Campus Watch staff provided ''in the field'' support and guidance to students.
Mr Richardson said the university worked closely with the OUSA to pursue initiatives to moderate alcohol consumption by students, and in 2012 it established an Alcohol Implementation Group including public health professionals.
He said Campus Watch ran a safety patrol service aimed at reducing risk for students who found themselves separated from their friends at night or who had too much to drink, and the proctor's office promoted advice for students about staying safe when drinking alcohol.
The university had regulations in place regarding alcohol consumption, and residential colleges had their own internal policies about how alcohol was managed on site, he said.
Prof Hayne said she was ''cautiously optimistic'' about changes in the drinking culture.
She said there would be a formal evaluation later this year of the effect of policies and programmes implemented by the university in respect of alcohol, which would provide a greater understanding of changes.
''There are several signs that we have made a dent in the antisocial behaviour that commonly accompanies dangerous drinking, but I suspect that we still have some way to go,'' she said.
Prof Hayne said changes had to be made to New Zealand's endemic drinking behaviour, not just the student drinking culture, and such change required the continued efforts of society as a whole.
''At Otago, we are doing our part. As New Zealand's only truly residential university, we see it as our responsibility to help students develop a range of habits that will increase their health and prosperity,'' she said.
''Research has clearly shown that dangerous drinking has negative consequences not only for educational outcome, but also for general health and psychological wellbeing. From this perspective, helping students learn to drink responsibly is very important to the university,'' Prof Hayne said.
Studies showed Campus Watch had a positive impact on students and the wider North Dunedin community, by reducing hazardous drinking and some alcohol-related harms, she said.
Prof Hayne said alcohol was not limited to university students, but in Dunedin dangerous drinking was more visible at the university because students congregated in a small area.
She said the university's attempts to curb dangerous drinking had been met with considerable support from students, and the OUSA put student safety ''first and foremost'' in its planning of social events.
The university's biggest challenge was that the bulk of students arrived with a history of dangerous alcohol consumption, and the belief that drinking too much was the only way to have fun and meet people.
''Our goal is to change these attitudes, and in doing so, change the behaviour.''
Prof Hayne said changes to policies and practices in the university's residential colleges had led to major changes in the way first-year students treated alcohol, and this year the university would develop initiatives to help students transition into flats.
There was no ''magic bullet'' solution to the problem of excessive alcohol consumption among students, but the key was to be clear about expectations, provide support as necessary, and have clear consequences for when things went wrong, she said.
''In the end, this slow, steady and consistent approach makes students happier and healthier. At Otago we are in this for the long run.''
Prof Kypros Kypri, of Otago's preventive and social medicine department, said the university was in denial about student drinking during the 1990s, when it banked on Dunedin's reputation as a party town.
The ''Get over it'' campaign run by the university was indicative of the mentality at the time, which changed when Sir David Skegg became vice-chancellor, and when Prof Hayne took over the role, he said.
''They completely modified the attitude of the university. Instead of being insular and laying blame outside of the university, they acknowledged they could be involved in changing the unhealthy drinking culture among students,'' he said.
''The university has come out of its shell and started becoming proactive in its environment, particularly by making submissions on liquor licence applications and to the Government on issues that are likely to affect alcohol issues.''
Prof Kypri, who divided his time between Otago and the University of Newcastle in Australia, said he would consider sending his children to a residential college in Dunedin, ''whereas 10 years ago there was no way I would want my kid going to one''.
He said Campus Watch had struck the right balance between security and student liaison, which had reduced the number of adverse alcohol-related events around campus late at night such as couch fires and sexual assault.
''Interestingly, it's also reduced drinking. The university can be proud of itself for helping the reduction in hazardous drinking and associated antisocial behaviour,'' he said.
''The important thing now is for the university to remain active, in association with the city and with Government about how alcohol is sold and promoted.''