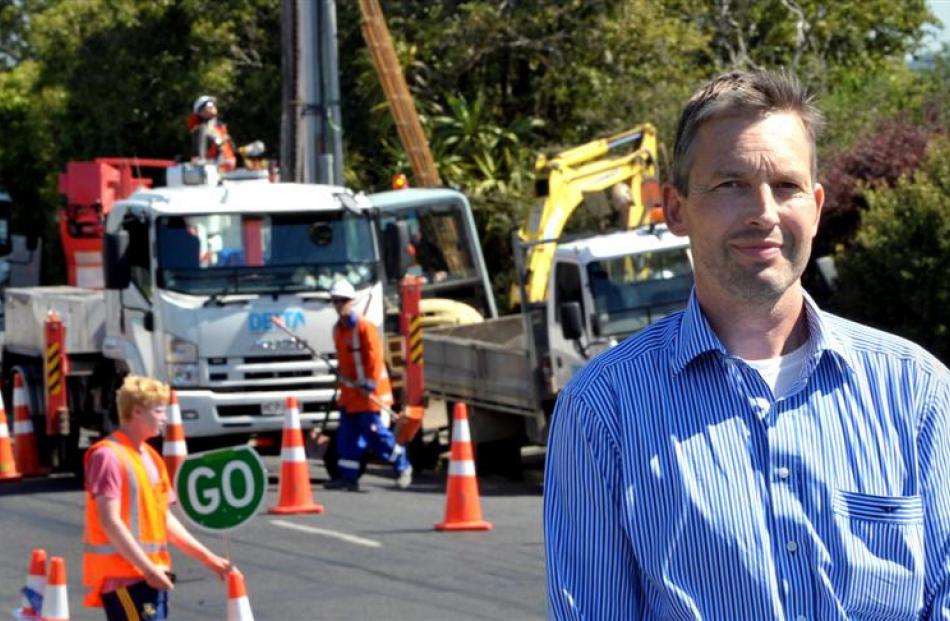 A Dunedin man fears a ''cavalier attitude'' to power outages could put lives at risk.
The warning came from Shiel Hill resident Lars Grau after Delta workers cut power to 205 customers in Shiel Hill and Waverley for most of yesterday - a week earlier than expected.
Mr Grau said he had been told by his power company, Mercury Energy, to expect an outage on February 24 or 25, when work to replace a power pole in Larnach Rd was to be carried out by Delta.
Instead, the power was switched off without warning about 10am yesterday, after Delta workers arrived to begin work.
The outage lasted until about 6pm, meaning Mr Grau, who is self-employed, could not work from home as planned.
A neighbour with a young child also returned home to find herself locked out, having left her keys inside and taken only the remote for an electrically-powered garage door opener.
However, Mr Grau said his concern was for the safety of others who might be reliant on life-supporting medical equipment.
He also worried about the ''cavalier attitude'' of Delta staff yesterday when he raised concerns about the impact of the outage on medically-dependent customers.
Mr Grau said he phoned Mercury Energy, which apologised for the mistake but said it was not of its making.
He then phoned Delta's Dunedin headquarters and spoke to a staff member, who claimed the unexpected outage was no different from a storm, and advised anyone with a problem to call an ambulance.
He was ''gravely concerned'' by Delta's ''cavalier attitude'' to the mistake.
''In our country, people have died when the power was disconnected ... They can't be bothered putting any thought or effort whatsoever into the safety of people who rely on their power supply.''
His concerns followed the 2007 death of Auckland woman Folole Muliaga, three hours after her power was disconnected by a Mercury Energy contractor over an unpaid bill.
Mrs Muliaga was dependent on an oxygen machine, and a coroner later ruled cutting off power played a part in her death.
Mr Grau said he was speaking out to avoid another tragedy occurring, in Dunedin or elsewhere.
''I very much hope we don't need someone else to die before we pick the ball up and say this is not good enough.''
Delta asset management general manager Derek Todd, in a statement yesterday, expressed ''sincere regret'' for the earlier-than-expected outage.
The company had planned to do the work yesterday, but had ''mistakenly'' told electricity retailers the work would be carried out a week later, on February 24, he said.
''We take responsibility for providing the wrong information and apologise for the inconvenience this has caused affected consumers.''
The outage was required for safety reasons, as Delta workers replaced a power pole and other equipment, he said.
The company notified retailers, such as Mercury Energy, before planned outages, but retailers then liaised with their customers, including those who identified themselves as medically dependent on electricity, he said.
It was ''impossible to guarantee'' an uninterrupted power supply, and anyone medically dependent on electricity should ensure they had a back-up, he said.
A Mercury Energy spokeswoman declined to comment.