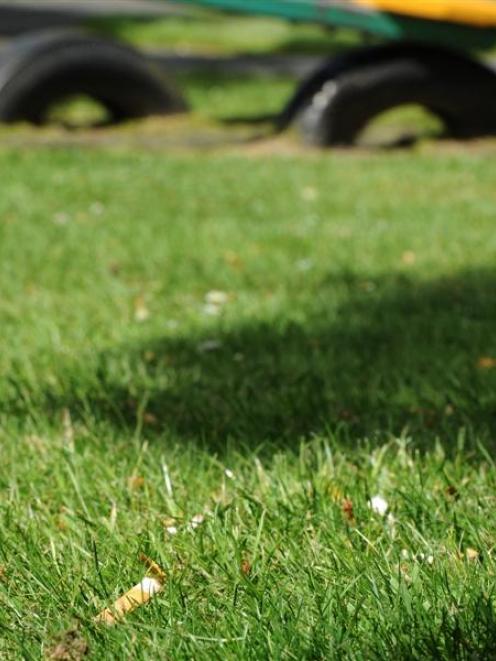 The Dunedin City Council and the smoke-free lobby are hoping peer pressure will stub out smoking in the city's playgrounds.
A joint campaign by the council, the Cancer Society, Otago Polytechnic and the Southern District Health Board will get smoke-free signs installed from early next month at about 20 of the city's 113 playgrounds.
Council parks manager Lisa Wheeler said Smokefree Otago had been lobbying for many years to make playgrounds smoke-free, but the council had struggled with the proposal because of enforcement issues.
She said a compromise was agreed after the group met council chief executive Paul Orders about six months ago.
They agreed the effort would be purely educational and the council would contribute $5000 from its parks budget. The Southern DHB and the Cancer Society would contribute $2500 each for printing and installing the A3 signs, which would be designed and made by the polytechnic.
Three design options were presented to the community, the Early Childhood Liaison Group and the Well Child Group for feedback, and more than 300 responses were received.
The signs will be installed at larger playgrounds and smaller signs, provided free from the Health Promotion Agency, will be placed at small neighbourhood playgrounds.
Cancer Society Otago and Southland Division health promotion manager Penelope Scott said children were influenced by what they saw adults doing. The signs, while not policy, were a start.
She hoped the signs would outline an expectation and support people in pointing out to smokers that the area was smoke-free.
Playgrounds in most major cities were smoke-free and the groups would continue to push the council to make smoke-free playgrounds a policy, she said.