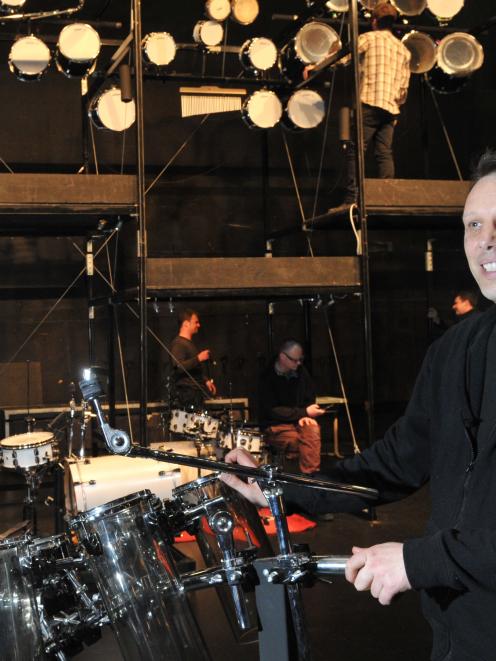 The percussion ensemble Strike will start its show with a ''big bang'' at the Regent Theatre tonight, says sound producer Ollivier Ballester.
The show Between Zero and One was inspired by mythology of the gods and begins with a ''cosmic ambience'' followed by a big bang.
More technology would be introduced to the performance as civilisation evolves from the Stone Age to the digital age, he said.
''As you get to the end of the show you have this special piece where we get well-known musicians from all around the world - America, Asia, Europe - on Skype playing with us on stage.''
During the performance, 3-D video would be projected on to the stage.
The drum sound was fed from the microphone to a computer to calculate the shapes and colours projected, to match the intensity of the performance, he said,''If they play softly, the image is soft, if hard the image is hard and the whole spectrum in between.''
The ''complex'' audio-visual production was technically demanding, he said.
''It's not a music concert where you can close your eyes and let yourself drift. You get strong visuals to take you to another level.''
The show has been performed five times in New Zealand and shows had sold out in Wellington and Nelson.
Mr Ballester had been sound operator, sound producer and technical director for the Wellington-based ensemble for nearly 10 years.
In the technical team were him, the production manager, stage manager and artistic director.
The drummers in several rock bands were the wildest members, such as Keith Moon or John Bonham, but the six Strike percussionists - five men and a woman - were reasonably well behaved.
''When you don't have to compete with a guitarist, bassist and singer you don't have justify anything, so everything is fine.''
The show was booked for a China tour next year and past tours of Asia, they were treated like rock stars.
''Every time we play in Asia, it's sold out and we have queues of people wanting signatures. It's pretty full on.''