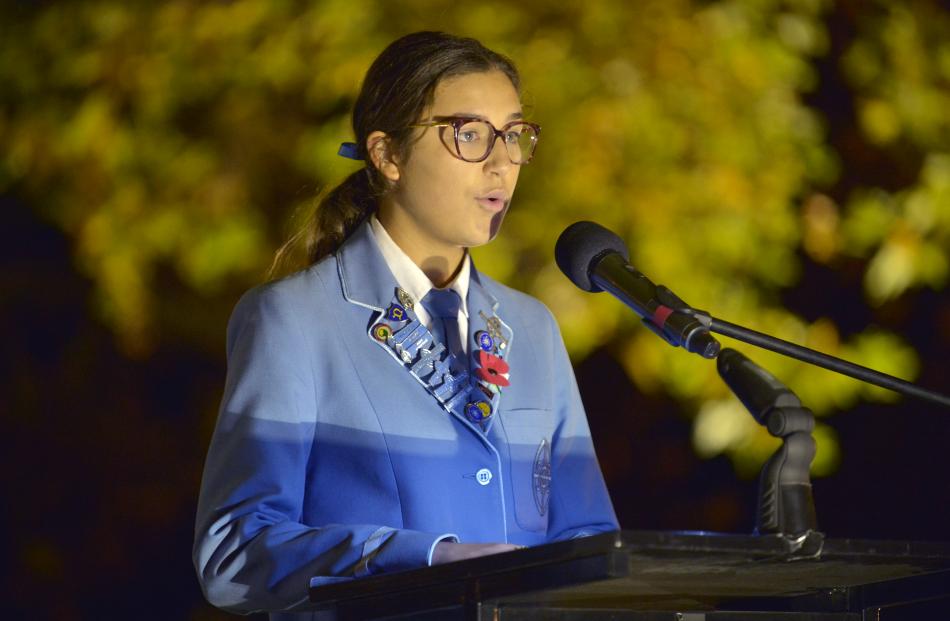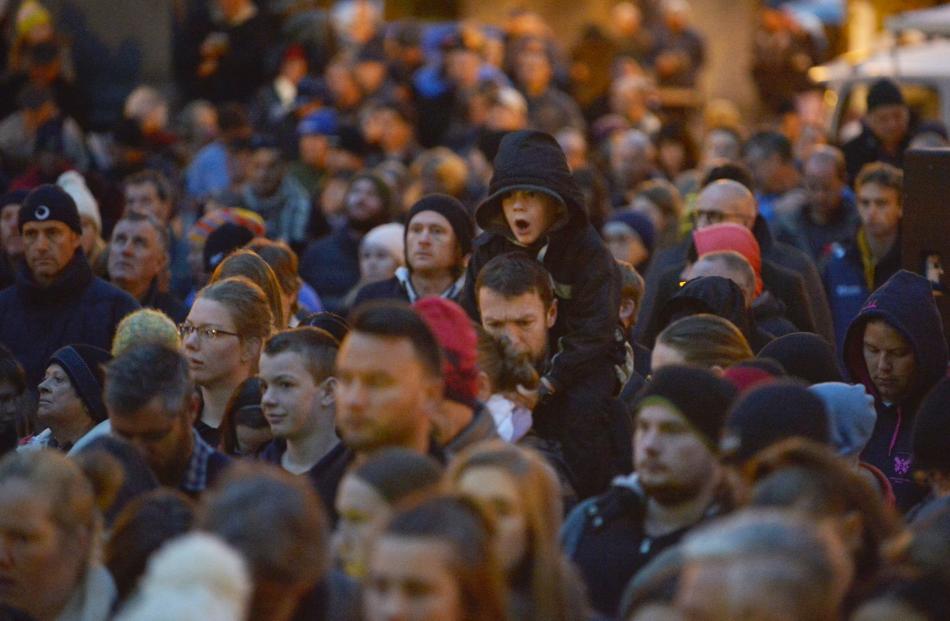 Thousands of people have attended the Anzac Day dawn service in Dunedin to remember those who fought and died in World War 1 and in conflicts since.
Thanks partly to a windless, mild autumn morning and a temperature of about 10degC before dawn,  the crowd of several thousand stretched all the way from the Leviathan Hotel south towards the corner of Queens Gardens and Crawford St.
Delivering this year's Anzac address, Royal New Zealand Navy Commodore and deputy commander, joint forces New Zealand David Proctor said while they were there to remember those who had served and died overseas in the Navy, Army and Air Force, they should also take a moment to reflect on the emergency services ''who protect us domestically every day''.
''Today we should remember them as well.''
In keeping with the Returned and Services Association's (RSA) focus on veterans' mental health and the ''unseen scars'' of war, Comm Proctor asked those gathered to remember both the physical and emotional impact of wars on veterans.
''Remember not only those who have died, but also pay tribute to those who returned home bearing lifelong scars as a result of those experiences.''
''I also ask you to think about the families of our veterans, they too pay the cost of service and sacrifice," he added.
The dawn service featured an Anzac dedication from Lox Kellas, stepping down this year after 20 years leading the the city's annual Anzac Day and Armistice Day commemorations.
It also included Bible readings delivered by St Hilda Collegiate School head girl Helen Knott and deputy head girl Sophie Armstrong, along with a prayer led by Rev Monsignor John Harrison and hymnns sung by the Dunedin RSA choir.
A two-round salute was fired by the Otago Gunners Association from a 25-pounder at 6.30am.
A silent tribute followed the playing of the Last Post, before Reveille was played by Ralph Miller and Rev Harrison delivered a final blessing. 
Service for NZ Railways workers 
About 150 people attended a brief Anzac Day service in Anzac Sq, in front of the Passchendaele Plaque at the entrance to Dunedin Railway Station this morning.
The service was held in memory of New Zealand Railways employees killed in all wars.
Warm welcome at Montecillo 
Warm weather attracted about 400 people, including a large number of children, to the Anzac Day service at Montecillo Veterans Home and Hospital in South Dunedin this morning.
Some military officials from the North Island commented that Dunedin needed to keep its good weather a secret, otherwise everyone would come south for Anzac Day services.
The service was accompanied by music from the Dunedin RSA Choir and the Kaikorai Metropolitan Brass Band.
Mosgiel
Hundreds turned out for the citizens' service at 9.15pm in Gordon Rd as a cloudy dawn gave way to a glorious autumn day.
Nikolas Kalmakoff, a cadet in the No 42 City of Dunedin Air Training Corps was a veteran of five of the Anzac Park services.
The University of Otago student said it was ''one of the best turnouts'' he had seen at the Mosgiel service.
Veterans, their family and service members then paraded to the Mosgiel Memorial RSA clubrooms. 
University
The Otago University and OUSA would held a combined Anzac Day Service from 1.30pm at the Otago University Staff Club walkway area. 
About 800 people attended the University of Otago and Otago University Students' Association Anzac Day service outside the University Staff Club.
About half of those attending were students. The ceremony honoured those who fought but there was also a strong emphasis on valuing peace.
Other events
A Posy Laying Ceremony held at Andersons Bay cemetery at 9.30am was an important service during the day, involving Girl Guides, Brownies and Pippins laying posies.
A service at Montecillo Veterans Home & Hospital was held at 11am, led by Msgr Harrison, and included the raising of the New Zealand White Ensign by a party from HMNZS Toroa.
The Anzac Memorial Run, from Bayfield Park to the Soldiers Memorial at the top of Otago Peninsula, would be held from 1pm. Entry by gold coin donation.
A concert would be given by the Dunedin RSA Choir Revue Concert in the Town Hall from 6.30pm.