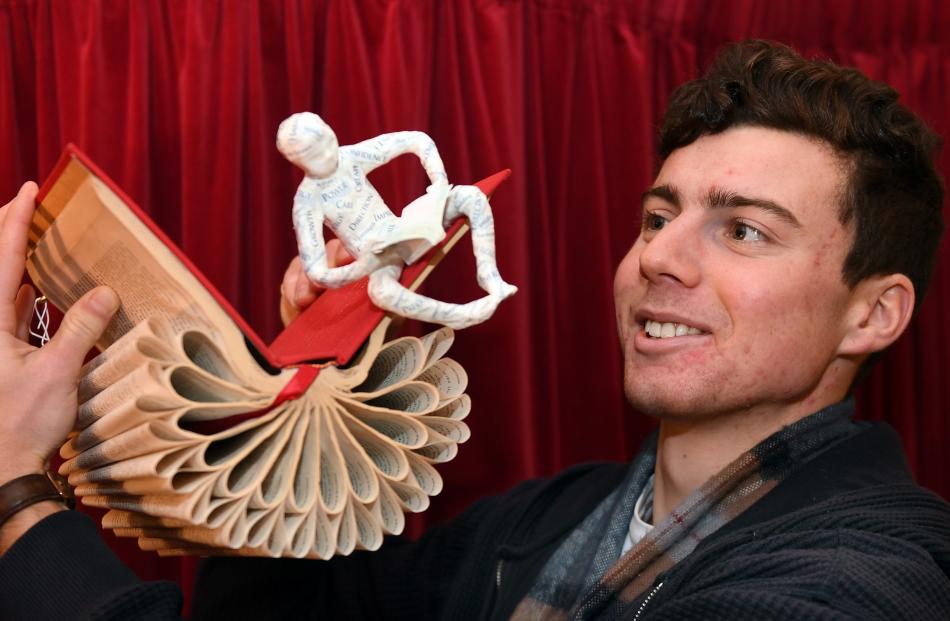 Saucy meets strange in a new section of the The Star Regent Theatre 24-hour Book Sale this year, which is sure to be popular with the punters.
Handcuffs fashioned from the pages of Fifty Shades of Grey, a model of the Regent Theatre complete with ballerinas made from a book of bound science magazines and a bouquet of flowers made entirely from book pages all feature in the "Books As Art" exhibition.
The exhibition is an opportunity for book lovers to turn old unwanted books into pieces of art.
Event co-organiser and Regent Theatre board member Matthias Schorer said the exhibition, which was inspired by a similar annual exhibition in Edinburgh, brought books that were not of interest or good enough quality for the book sale "back to life."
Other items on show include a model of a pair of dinosaurs springing from the pages of a book about the ancient beasts and a model of Alice heading into a rabbit hole under a glass dome.
The model of handcuffs made from E.L. James' 50 Shades of Grey and named 50 Shades of Irony, signifying "society's obsession with popular culture", would also be for sale.
Mr Schorer said the art added a new dynamic to the book sale.
"It's just another way to enjoy books. Everyone who comes here is a book lover, but this is another way to enjoy books in a way that you otherwise wouldn't be able to and in a way that you probably couldn't imagine."
More than 70 items will be on show, and prices range from $5 for signature bookmarks into the hundreds for the more intricate items.
"We let the artists who are selling the items price them themselves, so obviously, some are a little more ambitious than others."
Most items are from local crafters, but several are from prominent artists, including printmaker Inge Doesburg and paper artist Zee Southcombe.
Mr Schorer said 75% of the proceeds would go back to the artists and 25% would go to the Regent Theatre to help fund a new 40 to 50-person "black box" performance space, a small flexible theatre.
The artwork will be open to view from noon until 7pm today and from 9am until noon tomorrow and the public will be able to vote for their favourites for a People's Choice award.
 - Eddy Bramley