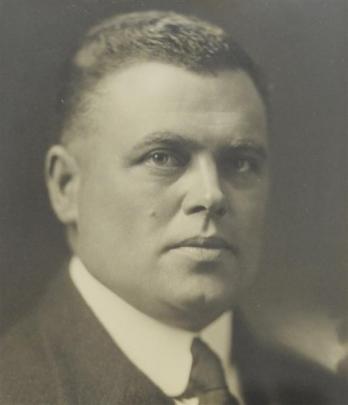 A Dunedin family optometry business has been going strong for four generations. Debbie Porteous speaks to Peter Dick and his son, Peter, about the family legacy and what keeps the business so strong.
For five generations there has been a Peter Dick doing business on or within 50m of Moray Pl.
It started with a watchmaking and jewellery store that morphed into an optometry business which was handed down over the next 100 years through four generations.
And there is something else time-tested about the family's sense of observing tradition.
The naming of Peter Stewart Dick's only son Jeffrey breaks a tradition of calling sons Peter which is even longer than the tradition of each son being involved in optometry.
Peter Stewart's father is Peter Leslie, whose father was Peter Norman, whose father was Peter George, whose father was just Peter.
Peter Stewart (48) operates Visique Peter Dick Optometrists with his father, Peter Leslie (73). They are the last in a line of Peters that reaches back to Peter (no middle name) Dick, who sailed to Dunedin from Fifeshire, Scotland, as a 6-year-old on the ship Alpine in 1859.
He trained as an apprentice with Mr Bernstein, an Octagon jeweller, and in 1889 opened Peter Dick Ltd, a jewellery and watchmaking business at 164 Moray Pl.
Pairing jewellery with optical services was to become the trend and his son, Peter George, eventually travelled to London to train as an optician.
The latter's qualification in the trade in 1915 was to be the start of the Dunedin optical dynasty that continues today.
In 1930, Peter Norman took over the practice from his father, Peter George.
He built up the optometry side of the business, largely in a new Princes St store, upstairs in the building where the bar Toast is now.
In 1962, his son, Peter Leslie, joined him.
''I sort of thought it was a really good job. You were helping people, able to give them something to fix their problems.''
Together they expanded the optometry practice and eventually sold the jewellery side of the business to the Daniels family.
Both Peter Leslie and his father, Peter Norman, travelled around Otago to see clients regularly, becoming well known to a large clientele across the region, a tradition continued by Peter Leslie and his son, Peter Stewart.
Peter Norman retired in 1979 and died in 1994.
Peter Stewart had joined his father a few years earlier and they opened an Oamaru practice.
The Dicks' practice also extends to Mosgiel, where they see clients at their rooms in Glasgow St, and Peter Leslie also has regular clients at the dental rooms in the Cromwell Mall.
Their Oamaru practice has since been passed on to Dave Roberts, and Peter Leslie has slowed down to three days a week while Peter Stewart gradually takes over the reins of the business.
The family are not only in business - they have also been involved in the industry's development in New Zealand.
Peter Leslie, who qualified in 1962, has been involved with the New Zealand Association of Optometrists as a councillor and has served on the Opticians Board.
Peter Stewart is also a member of the New Zealand Association of Optometrists and the Cornea and Contact Lens Society of New Zealand.
Peter Leslie expects to be involved directly in the business for a few more years yet.
Peter Stewart officially joined the business in 1991 but, as in most family enterprises, was involved throughout his childhood.
He knew from the age of 10 he wanted to be an optometrist.
He is the fourth generation Peter Dick and will one day, in the not too distant future, be the last Peter at the helm of the family business.
From the moment he begins to talk about the business, it is obvious that optometry is a true passion which he lives, eats and breathes.
He qualified in 1986 and worked in Christchurch for nearly two years for a practice that specialised in children with reading disabilities.
He then spent six months working in Melbourne, Australia before going to the UK, where he worked as a locum optometrist around the southeast of England.
He joined his father on his return to New Zealand, and has not looked back. .
It is special to both him and his father that it was only recently that the last of their patients who had seen all four generations of Peter fools, died. For any family business to make it to 100 years over four generations is akin to attaining Olympic gold. So how did they do it?
''We don't argue about anything,'' Peter Dick sen says.
''I guess we are lucky - all the way through we have agreed. I had a great relationship with my father, and we [him and his son] get on great, too.
''You've got to think the same. We've never had any problems.
''It's sort of important in this kind of job, where you are in contact with each other all day long.''
Probably the biggest changes over the time he had been involved were in the technology - particularly the introduction of computers and the retinal camera, which ''totally'' changed the way optometry was done.
The fathers and sons through the times had all adapted to change, and consideration of the suggestions of younger generations with new ideas is crucial to the evolution of the business, Peter Leslie says.
''If you don't change, you're a dead duck.
''Things go on - they'll just be different.
''It's just the way it is. I never had any thoughts of working anywhere else.''