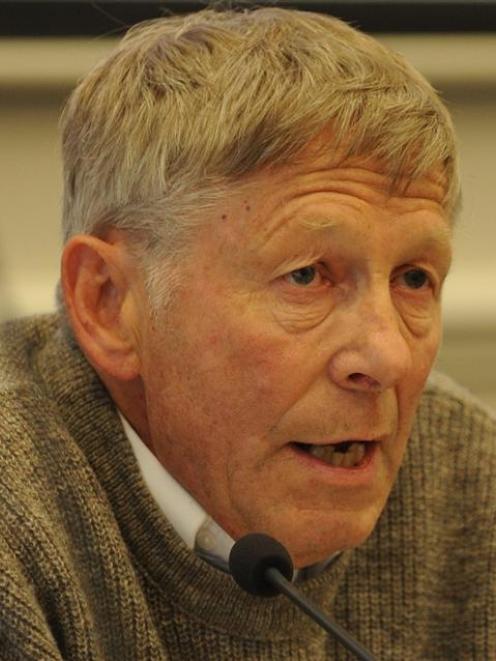 Dunedin City Council critic Lyndon Weggery has called for the city to reduce its annual $3.7 million funding of the Otago Museum, claiming that would be the best way to force change at the institution.
Mr Weggery, speaking at a council public forum yesterday as an individual, rather than as a member of the Dunedin Ratepayers and Householders Association, continued the debate over claimed problems at the museum.
That included concerns raised about museum chief executive Shimrath Paul's salary package of $310,793 in the year to last March, and claims of "bullying" levelled at museum managers by a group of disgruntled former staff.
[comment caption=Should the DCC reduce funding for Otago Museum?]The public forum allows members of the public to tell councillors their concerns about council issues.
Mr Weggery said the salary issue was "precisely the sort of local scandal that the former occupiers of the Octagon were on about", referring to the recent "Occupy Dunedin" protests.
It was a concern to ratepayers because the museum received almost half its annual funding from the council, totalling $3.77 million in 2011-12 and about $30 million since 2003.
He called on the council to freeze or reduce the funding, which would be "the greatest incentive" for the trust board to reduce the salary.
He also called for the council to implement a 2008 report by Dr Rodney Wilson, which suggested a merger of the museum and the Otago Settlers Museum.
Mayor Dave Cull said he wanted it on public record the councillors appointed to the museum trust board - Crs Kate Wilson, Syd Brown and Colin Weatherall - were not there as representatives of the council; instead, their role was to do their best for the board.
The council appoints one board member, a role filled by board chairman Graham Crombie.
Cr Jinty MacTavish said her understanding was the council could not reduce its funding under the Otago Museum Trust Board Act.
Cr Wilson said yesterday under a heads of agreement the council had signed, it could not reduce its funding.
Strategy and development general manager Sue Bidrose said as part of the council's review of operational expenditure, staff would consider the way institutions like the settlers museum and the Dunedin Public Art Gallery were governed.
But the council was only one funder of the museum, and was constrained in its ability to make any changes.
Cr Teresa Stevenson, speaking at the end of yesterday's community development committee, requested a report on ways the accountability and allocation of council funding for the museum could be improved.
She asked committee chairman Cr Bill Acklin to consider the request, but Cr Richard Thomson retorted staff could be confused by the request.
"I don't really know what that means."
In response, Dr Bidrose said a report would follow detailing what accountability arrangements were already in place, leaving councillors to decide whether to look at other measures.